–
/ By Albert Hecht /
Please help us out :
Will you offer us a hand? Every gift, regardless of size, fuels our future.
Your critical contribution enables us to maintain our independence from shareholders or wealthy owners, allowing us to keep up reporting without bias. It means we can continue to make Jewish Business News available to everyone.
You can support us for as little as $1 via PayPal at office@jewishbusinessnews.com.
Thank you.
David Rubenstein has proved once again how open minded he can be by providing an open-ended loan that will see three female elephants from the flood damaged Calgary Zoo in Canada, arrive at the Smithsonian National Zoo in Washington DC in the spring of 2014.
Rubenstein is not only co-founder of the Carlyle Group, one of the US's largest and most successful private equity investment companies but also, in recent years, one of the country's leading philanthropists.
Rubenstein's gesture to fund the arrival and upkeep of the three elephants, Kamala, Maharani and Swarna is not the first time that Rubenstein's innovative form of philanthropy has been felt at the Smithsonian Zoo. In the autumn of 2011, David Rubinstein donated the sum of $4.5 million to the  Zoo to fund its giant panda reproduction program.
–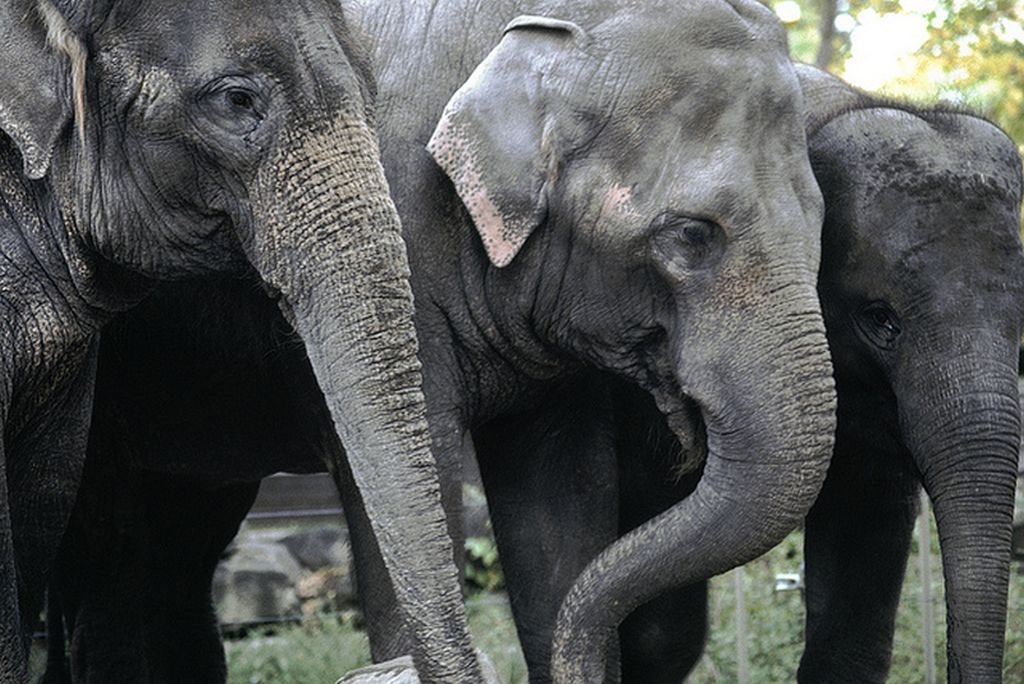 A $2 million gift : Kamala, Maharani and Swarna (Courtesy of Bill Quayle, Calgary Zoo)
–
The zoo's panda complex given the name of the "David M. Rubenstein Family Giant Panda Habitat" for at least for the coming five years. The fund will also allow conservation biologists from the U.S. and China who are recipients of Smithsonian National Zoo fellowships for their work in conserving and breeding pandas to be given the title "David M. Rubenstein Fellows."
Rubinstein's donation and the center's efforts and expertise bore fruit in the finest of fashion when their first giant panda cub was born early in 2012 through artificial insemination.
Now Rubinstein will be able to welcome the three new Asian elephants, who are due to take up residence at the Zoo in early spring 2014, after spending around a month in quarantine.
Then they will be joining up with the Smithsonian zoo's existing herd of four Asian elephants in their specially developed elephant habitat, which opened in the Spring of this year after a complete revamp, which cost more than $50 million and took seven years to complete. Now Kamala, Maharani and Swarna will be able to enjoy the habitat's spacious facilities, which will eventually house ten adult elephants as well as hopefully their young. The Smithsonian Zoo elephant habitat is among the largest and most advanced in the US, with its own walking trail, rubber floors and a shower that the elephants will even be capable of operating themselves.
–
THE Panda
–
David Rubenstein was born and raised in Baltimore, Maryland. Rubinstein graduated from Duke University in Durham, North Carolina before going on to earn his law degree at the University Of Chicago Law School.
After graduation Rubenstein went on to practice law with Paul, Weiss, Rifkind, Wharton & Garrison in New York, later becoming domestic policy advisor to President Jimmy Carter during the late seventies, later working in his own private law practice , before establishing Carlyle in partnership with William E. Conway, Jr. and Daniel A. D'Aniello in 1987.
David Rubinstein is known for his generous philanthropy, having made considerable gifts to Duke University, the University of Chicago Law School, the John F. Kennedy School of Government at Harvard University as well as to Johns Hopkins University.
One of David Rubenstein most well known acts of benevolence was when he paid out $21.3 million the last privately owned copy of the Magna Carta at auction in Sotheby's  in New York in 2007, which he promptly placed on permanent loan at the National Archives in Washington D.C. Four years later Rubenstein donated the sum of $13.5 million to the National Archives to help build a new gallery and visitor's center.
In 2012, Rubinstein donated $7.5 million towards the cost of repairing the Washington Monument, and the following year made two significant endowments, the first $50 million to the John F. Kennedy Center for the Performing Arts to help build a 65, 000 square foot extension as well as further $10 million to the Thomas Jefferson Foundation to be used in the historical reconstruction of the second and third stories of Jefferson's home as well as at least two buildings in the slave community at Monticello.
Rubenstein is estimated to have a net worth of $3.0 billion, and is recognized as being a member of the Giving Pledge, a group of American billionaires who have pledged to donate more than half of their wealth to philanthropic causes or charities during their lifetime.
Read More About David Rubenstein :
Carlyle GMS Finance Enters Into Strategic Relationship With Stifel
Testing The Waters : Chilly Temperatures Still For IPOs Lately
Private Equity Giants Ponder Bid For Singapore Telecom's Australian Unit Optus Satellite