David Geffen Auditorium ((Simulated image Herzog de Meuron, Mann-Shinar Architects) Entertainment mogul David Geffen has donated $150 million to the Yale School of Drama. The money will be used to make the school's program tuition-free for all of its students. This comes after David Geffen endowed an auditorium for The National Library of Israel More...
Tailor Brands co-founders, from left, Nadav Shatz, Yali Saar and Tom Lahat (Tailor Brands) Tailor Brands is an Israeli More...
YOOBIC founders Fabrice Haiat, Avi Haiat, and Gilles Haiat. (Photo: Ivo Nogueira) YOOBIC is an Israeli startup that offers More...
Blackstone Real Estate Income Trust, Inc. ("BREIT") is More...
Supreme Court Justice Stephen Breyer Official Portrait (Wikipedia) Stephen Breyer, the U.S. Supreme Court More...
Canterbury Cathedral( Wikimedia Commons) Next year will mark the 800th anniversary of the passage of a More...
Charles Schumer, the senior senator from New York and the U.S. Senate majority leader, is getting behind More...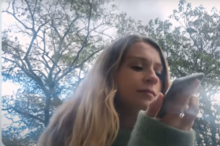 Google is being sued by 36 U.S. states and the District of Columbia. The lawsuit is over what the plaintiffs More...
James Franco Movie Clip Oscar nominee James Franco has agreed to a settlement in his sexual misconduct More...
Facebook dodged a bullet this week as a Washington D.C. federal court on Monday dismissed a bunch of antitrust More...
Noa Kirel is a huge pop star in Israel. Now the 20 year old is trying to make it big internationally...
Jacob Steinmetz might just be the next Sandy Koufax. ...
Dr. Iair Arcavi, a researcher at Tel Aviv University's Faculty of Exact Sciences, was part of a team that found a...
by Contributing Author Embarking on your very first college journey is no small feat. In fact, it is possibly one of...