–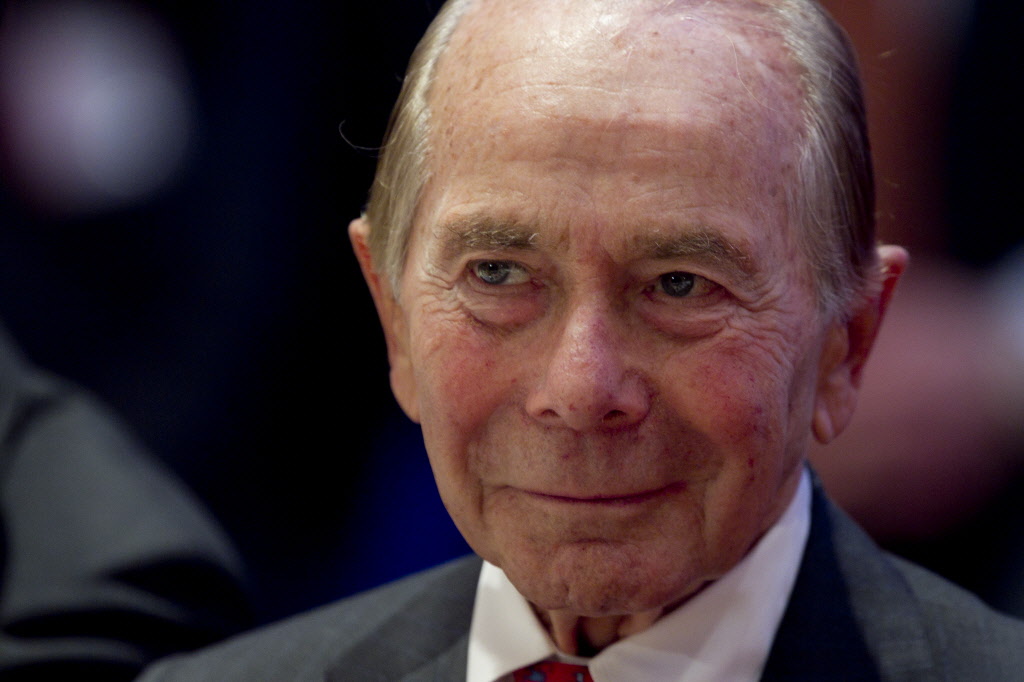 Hank Greenberg / Bloomberg
–
/By Clive Minchom/
Please help us out :
Will you offer us a hand? Every gift, regardless of size, fuels our future.
Your critical contribution enables us to maintain our independence from shareholders or wealthy owners, allowing us to keep up reporting without bias. It means we can continue to make Jewish Business News available to everyone.
You can support us for as little as $1 via PayPal at office@jewishbusinessnews.com.
Thank you.
Bloomberg reports that Judge Thomas Wheeler of the U.S. Court of Federal Claims in Washington wrote, in a ruling today, that Maurice "Hank" Greenberg can continue his $25 billion lawsuit he had initiated against the United States Government over losses from the bailout of his former company, former insurance giant American International Group Inc. (AIG), without making claims on behalf of the insurer itself.
Greenberg and other minority shareholders have made an adequate showing that the government took from them a portion of the company's value and their voting power and as a result they "suffered a direct and substantial impact to their own property rights, " Judge Wheeler wrote.
The Judge did throw out other derivative claims brought by Greenberg's investment company Starr International Inc. however, while also saying he is "troubled that counsel for the US Treasury Department (the defendant agency) made threatening statements to AIG's board members."
"We are pleased that the Court of Federal Claims has denied the motion of the U.S. and permitted Starr International to pursue the claims of two classes of AIG shareholders for tens of billions of dollars that the government took without just compensation and/or illegally exacted in 2008 and 2009, " David Boies, of Boies, Schiller & Flexner LLP, Hank Greenberg's lead lawyer, said in an e-mailed statement.
Allison Price, a spokeswoman for the Justice Department, declined to comment on the ruling. Jon Diat, a spokesman for AIG, said the company is pleased with Judge Wheeler's ruling.
Starr International, Greenberg's closely held investment firm and a significant AIG shareholder, sued the government for $25 billion in 2011. Greenberg called the assumption of 80 percent of the company's stock by the Federal Reserve Bank of New York in September 2008 a taking of property in violation of shareholders' constitutional rights to due process and equal protection of the law.
Earlier, in January of this year the AIG board declined to join Greenberg in the suit, saying that it was unlikely to succeed and risked harming the company's reputation after the bailout.
In an amended suit filed on March 12, Starr International had asked Wheeler to reject AIG's decision, arguing that the board was coerced by the government and failed to conduct an independent review of the merits of Starr's complaint.
Wheeler said in today's ruling that despite threats from a lawyer representing the government and political pressure on the company to stay out of the suit, the AIG "board nevertheless made a rational business decision."
A related case brought by Starr International against the Federal Reserve Bank of New York was dismissed last November by another judge, in New York.
About Hank Greenberg
Maurice "Hank" Greenberg is Chairman and CEO of C.V. Starr & Co., Inc. and other affiliates, known collectively as "Starr Companies", a diversified financial services group that is named for the founder of AIG, Cornelius Vander Starr.
He was the Chairman and CEO of American International Group (AIG), which at its peak was the world's 18th largest public company and its largest insurance and financial services corporation until its spectacular bankruptcy in 2008 at the height of the last financial crisis in the United States when it was bailed out by the Untied States Government.
Greenberg, who is now 88, had earlier stepped down as AIG's Chairman and Chief Executive Officer in 2005 amid an investigation tied to an accounting scandal. But he remained a very large shareholder of the firm through his Starr companies.
In 2012, Greenberg's Starr International announced a lawsuit against the US federal government seeking $25 billion in damages stemming from the government's financial bailout of AIG.
He is the son of Jewish candy store owner Jacob Greenberg. His father died when he was seven, and his mother, Ada Rheingold, later re-married to a dairy farmer. He served in the U. S. Army in Europe during World War 2, participated in the Liberation of Dachau and later served in the Korean war, rising to the rank of Captain. He graduated from New York Law School in 1950 and was admitted to the New York Bar in 1953.
He married Corinne Phyllis Zuckerman in 1950 and they have four children; Jeffrey former Chairman and CEO of Marsh & Mclennan, Evan President and CEO of ACE, Scott a venture capitalist in New York and Cathleen who is a doctor in Brookline, Mass.