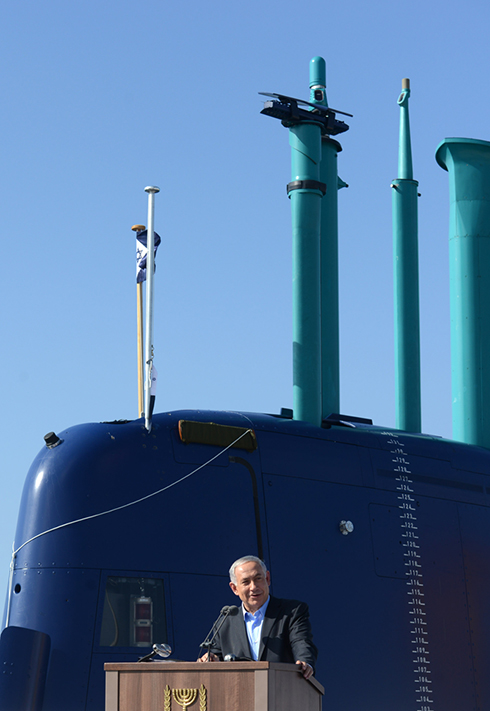 Israel Police announced on Thursday that it had completed their investigation in the submarines scandal called case 3000.  Police found sufficient evidence to charge Prime Minister Benjamin Netanyahu's lawyer, relative and confidant, David Shimron, with facilitating bribery.
submarines scandal revolves around alleged corruption surrounding a $2 billion deal to purchase submarines and other naval vessels from German shipyard company ThyssenKrupp.
Please help us out :
Will you offer us a hand? Every gift, regardless of size, fuels our future.
Your critical contribution enables us to maintain our independence from shareholders or wealthy owners, allowing us to keep up reporting without bias. It means we can continue to make Jewish Business News available to everyone.
You can support us for as little as $1 via PayPal at office@jewishbusinessnews.com.
Thank you.
The police added that there was evidence against another five involved on bribery, fraud and money laundering: Netanyahu's former bureau chief, and Secretary of EAPC David Sharan, Brig. Gen. (Res.) Avriel Bar Yosef served as the director of the Knesset Foreign Affairs and Defense Committee and later served as Deputy Head of the National Security Council. Brig. Gen. (Res.) Shai (Shayke) Brosh, a close associate and close friend of Bar Yosef, served as a private businessman during the relevant period, when it was suspected that he had been "intentionally" introduced by Bar Yosef as a mediator between Bar Yosef and Ganor for a transaction for the purchase of a vessel, in order to blur the connection between the two. Subsequently, it is suspected that Ganor and Brosh signed a fictitious consulting agreement in the amount of €120,000, which was intended to cover the transfer of such bribe money.  former Navy Commander Maj. Gen. (res.) Eliezer (Chayni) Marom, former Minister and Keren Hayesod Moody Zandberg.
Police said evidence against another of Netanyahu's attorney Yitzhak Molcho was insufficient to charge.
Adv. David Shimron is a partner of Adv. Yitzhak Molcho in a law firm, a relative of Prime Minister Netanyahu and private attorney of the Prime Minister and his wife.
It is suspected that Shimron acted on Ganor's behalf as a representative of the German corporation in order to promote the protective ship deal between Israel and the shipmaker, while using his position and his proximity to Prime Minister Benjamin Netanyahu vis-à-vis government and public officials with whom he worked to advance the flotilla deals.
Shimron Law Office worked in connection with his public role as the Prime Minister's special adviser and envoy on political matters, all without reporting to the Prime Minister's Office and contrary Which is imposed on him by virtue of the conflict of interests arrangement that applies to the law firm.
In return for his activity, as stated on Ganor's mission, Adv. Shimron received, according to his suspicions, payments that were defined as a "reward of success" in a number of batches and a cumulative sum of NIS 270,000. Ganor's interests in the purchase of vessels, and therefore his actions appeared to be a "brokering bribe."
In addition, it is suspected that Adv. Shimron acted on Ganor's mission to promote a $ 100 million investment of the Germany-Israel Science Fund in Swiss Credit Suisse. As planed entering Ganor as a fictitious intermediary to disguise Ganor's involvement in the deal A conflict of interests between him and the chairman of the fund, Atalia Rosenbaum. All this while attorney Shimron presents a false representation to banking entities in Israel and abroad about his real involvement in the investment transaction.
In return for this, according to the suspicion, attorney Shimron fraudulently received a 20% commission from the investment money that he transferred to Ganor (offsetting 20% of fees), against the issuance of fictitious invoices for "consulting" services that Ganor provided to the law firm.
"I have not yet read what they said to the media, I do not know in detail what they are saying, but I can guess, I'm not happy, but I'm not worried," Shimron told Ynet. "Since I have not committed any offense – in my estimation and against the background of familiarity with the matter in general and its details, in the end this case will be closed with nothing to the State Attorney's Office," he added.
According to the police's statement, "the conduct of the investigation and the collection of evidence were flawed in all matters relating to administrative arrangements among various bodies, vis-à-vis business and private entities, in all matters relating to security and strategic acquisition of the State of Israel. These deficiencies require the production of insights and lessons learned by the competent authorities, in order to improve and streamline the security procurement procedures in the State of Israel and protect them from foreign interests and improper influences from a forward-looking perspective. The police intend to contact the relevant authorities and bring them to these conclusions."
Case 3000 deals mainly with alleged allegations of bribery, fraud and breach of trust, money laundering and other offenses committed within the framework of a network of relationships involving public officials, business entities and senior executives, whether directly or through business and private entities that acted as intermediaries, In order to promote business interests relating to the acquisition of submarines and vessels for the State of Israel by the German corporation ThyssenKrupp, alongside the promotion of additional business interests.
Michael (Miki) Ganor, who during the relevant period was a representative of the submarine maker ThyssenKrupp in Israel, has turned state's evidence (July 2017). Ganor had served in the navy with Brig. Gen. (res.) Avriel Bar-Yosef, who police also recommended to charge.
According to the findings of the investigation, over the years the German corporation Tysenkrupp provided the State of Israel with five submarines, which are in active service as part of the navy's submarine system, and until 2009 Brig. Gen. Shaike Barkat served as the corporation's representative to the State of Israel. Businessman Michael (Gan), who began to act as a representative of the corporation and broker for the purchase and services of the corporation with Israel.
The findings of the investigation reveal that Navy Commander Maj. Gen. (res.) Eliezer (Chayni) Marom and then deputy head of the NSC, Avriel Bar Yosef, had a dominant involvement in Ganor's selection to serve as Barkan's representative, The remuneration of the representative is paid by the corporation, and these are very significant sums of money calculated according to the percentage of the value of the transactions.
During the period in which Ganor served as a representative of the corporation, between 2009 and the open investigation days, in mid-2017, a ship purchase agreement was completed at a value of hundreds of millions of Euros.
In the course of the investigation, suspicions arose that, during the relevant period, a series of former and current public officials and senior executives, together with business and private entities – all or part – took and/or demanded benefits from the deal.
The evidence collected by the police includes recordings that Ganor performed in real time at least two of the main participants: Cheney and Ben Yosef. The tapes apparently indicate that the two asked for a bribe from Ganor, which was diverted through intermediaries or fictitious consulting agreements. This is in return for the promotion of the acquisition of vessels from ThyssenKrupp.
The recordings were made by Ganor in order to hold an insurance certificate for him in case the relationship is exposed. At the same time, Ganor hired the services of attorney David Shimron to gain moves in the Prime Minister's Office. He hired Shimron as a real estate consultant, with the aim of working to promote a deal for the purchase of corvettes from Germany.