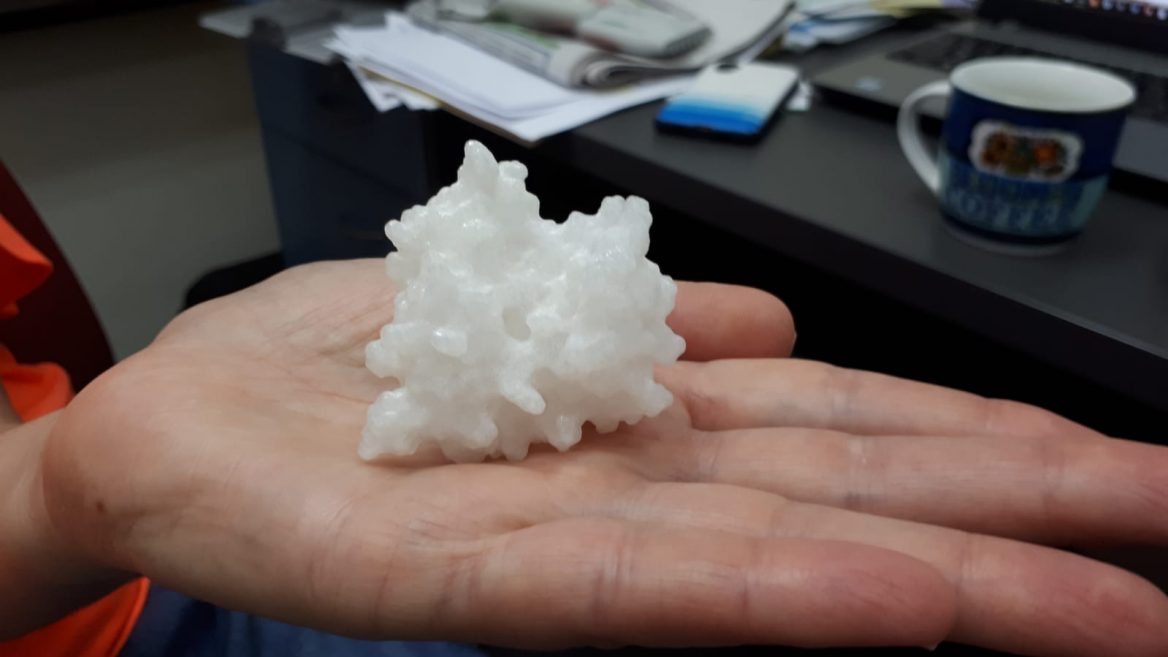 Ninety-nine percent of all fruits in the world derive their sweetness from sugar. But there are a dozen or so fruits that grow along the equatorial belt that contain a sweet protein, rather than a sugar.
What if that protein could be turned into a commercial product? Proteins used as a sweetener would have significant advantage over added sugar: they're digested by the body just like any other protein in the GI tract, they don't raise your blood sugar or insulin levels, they steer clear of your liver, don't burden your kidneys, nor do they affect the microbiome in the same way as sugar.
Please help us out :
Will you offer us a hand? Every gift, regardless of size, fuels our future.
Your critical contribution enables us to maintain our independence from shareholders or wealthy owners, allowing us to keep up reporting without bias. It means we can continue to make Jewish Business News available to everyone.
You can support us for as little as $1 via PayPal at office@jewishbusinessnews.com.
Thank you.
That means a protein-sweetened candy bar would not contribute to diabetes or obesity as would its sugary cousin.
That's what Ilan Samish was thinking when he first learned about thaumatin, the sweet protein in katemfe, a plant which grows primarily in Nigeria.
"The world is spending huge amounts of money to cure disease," he tells ISRAEL21c, pointing to how obesity has been classified by the World Health Organization as a global epidemic. "But we're not focusing on curing the food that's causing the disease. We need to cure the food rather than cure the disease."
Telling people to cut down on their sweets doesn't work, Samish says. "Sweetness makes people happy. So we need to find a way to allow people to enjoy themselves, but in a healthy way. Now we have a way to do just that."
Samish wasn't the first entrepreneur to think about harvesting sweet protein-containing fruits, but other companies have run into obstacles: the costs of picking and shipping the fruits to a lab (from Africa to somewhere in the west, as is usually the case) and then extracting and processing the protein into a powder can be prohibitive.
Enter computational protein design (or CPD). Samish is a CPD expert. He studied with William DeGrado, considered the "father" of CPD, at the University of Pennsylvania. Samish even published a book on the subject.
CPD utilizes massive computer processing to map and model the structure and energetics of proteins. "Proteins are like a necklace of beads," Samish explains. "The beads are the amino acids that make up a protein." Samish uses CPD to mix and match beads on the necklace until the resulting protein has just the right composition to successfully work as a sweet protein fit for the mass food market.
Samish's company, Amai Proteins, bases its design on several sweet proteins including the thaumatin found in the katemfe plant, but doesn't actually use any of the plant itself. "I've never even seen the katemfe fruit," Samish admits. "I've never been to Nigeria."
As a result, his laboratory-produced sugar substitute is "a 100 percent designer protein" that's even better than the original. "It's more soluble and binds less to the tongue," Samish says. That gives it an advantage over Stevia, another sugar-alternative (derived from the leaves of the Stevia plant). Stevia adheres to the tongue and causes a long-lasting and unpleasant aftertaste.
CPD is resource intensive. Samish says he is grateful to Amazon and Google, which together donated $120,000 worth of cloud computing time on their systems to power Amai's protein designs.
The next step in the process for Amai is to actually generate the designer protein at scale. For this, Samish turned to a less technological solution than Amazon for inspiration.
Brewing beer?
"We take the DNA we've designed and put it in yeast where it grows," Samish explains. "It's like brewing beer, but instead of making alcohol, our yeast makes a sweet protein."
The resulting powder is a pure protein. That means Amai's sweet proteins are not genetically-modified organisms, which some consumers shy away from consuming. For a food to be considered a GMO, you'd have to be eating a modified version of the plant or the yeast itself. "Our final product contains no remnants of the host organism's DNA," Samish says. "It's protein powder only, brewed at the fermentation facilities located at our labs in the Weizmann Science Park in Rehovot."
Sweet protein powder is several thousand times sweeter than sugar, Samish adds. "So instead of adding, say, 4 grams of sugar into a product, we need less than 2 milligrams of protein sweetener." That will help keep the costs down, but winds up creating a different challenge.
"If we replace the sugar in chocolate with our protein sweetener, the chocolate will weigh only half as much," he says. "So the chocolate maker will need to add nutritional fibers." That may, in turn, change the cost as well as the taste and experience of eating the chocolate.
So far, this is all theoretical: no actual Amai protein-sweetened products are on the market yet. But Samish and his team have been doing extensive tests. At the recent FoodTechIL exposition in Tel Aviv, Amai gave samples of a protein-sweetened lemon soda to some 1,000 attendees. "The feedback was excellent," Samish says.
For its current tests, a 50/50 mix of protein sweetener and another sweetener (sugar or Stevia) was used. The aim, however, is to get to 100 percent sugar reduction. Amai also demonstrated some other products at FoodTech, including a strawberry-flavored drink, a whipped cream concoction and a yogurt.
Amai has received NIS 3 million ($825,000) in investment to date from the Israeli-run Strauss food conglomerate. The investment was made through Strauss's Tel Aviv-based food incubator, The Kitchen Hub, where Amai is a portfolio company.
Amai Proteins is one of a growing number of Israeli startups addressing the world's sugar addiction. The sugar substitute market is huge – worth around $9 billion a year, Samish says. By comparison, that's only a tenth of the market for sugar itself. Samish believes companies like Amai can change that. "Current substitutes are not as tasty as sugar and are either unhealthy or perceived as such," he says.
Among the other Israeli companies to keep an eye on, there's DouxMatok ("matok" is Hebrew for "sweet") which adds an "inert" mineral carrier to sugar so that a food or beverage can contain less sweetener while delivering the same sensation. (It works because it's just the surface of the sugar that the body "enjoys," so why not substitute sugar with something less harmful.) DouxMatok has raised $8 million.
Unavoo's Heylo sweet takes a similar additive approach as DouxMatok, but for Stevia not sugar. Heylo adds a dietary fiber so you get less Stevia (and less aftertaste) while experiencing the same sweetness.
A1C uses regular sugar in its chocolates and ice creams but adds a special formulation that the company says lowers the glycemic index of its products. The company was founded by Ran Hirsch, whose daughter was diagnosed with diabetes, in collaboration with Mariela Glandt, the endocrinologist who treated her.
Then there are companies like Spirugar that swap out the sugars and carbohydrates typical in cakes and cookies with flours made of nuts, almonds and seeds plus fruit and vegetable-based sweeteners (all 100 percent vegan).
Amai is already working on two other sweet proteins. Ultimately, the company aims to expand into other areas where CPD can be beneficial in food design. That includes so-called "functional foods" (cereal or bread that are fortified with vitamins, herbs and nutraceuticals, for example) and "medical foods" (foods that are formulated for management of disease that cannot be met by normal diet alone).
"We've already received requests and we definitely plan to do it," Samish says. After all, he adds, "we are a platform company for food applications." For now, though, the company's sweet spot is thaumatin and other lab-grown proteins.
If he plays his fruit right, perhaps Samish will even get to see a katemfe plant in person someday.
By Israel21C