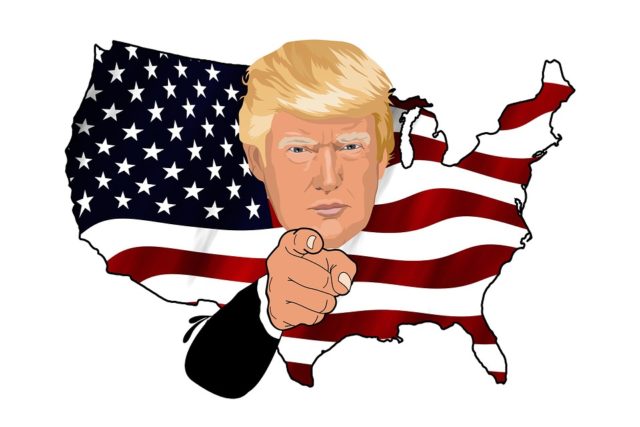 Trump wants you to think that the Russian Collusion matter is what is dividing our nation.  So why did I decide to intervene in October 2016 before the election?
Even Israelis and Jews around the world would not be eligible for asylum under these new policies that nobody should tolerate.
Even federal corrections officers in federal prison are feeling deceived today by Donald Trump, making their job more dangerous.
The battle to protect human beings is far from over as courts continue to stop the Trump-Sessions Axis which is stepping on the rights of people and American values.
Please help us out :
Will you offer us a hand? Every gift, regardless of size, fuels our future.
Your critical contribution enables us to maintain our independence from shareholders or wealthy owners, allowing us to keep up reporting without bias. It means we can continue to make Jewish Business News available to everyone.
You can support us for as little as $1 via PayPal at office@jewishbusinessnews.com.
Thank you.
A serious cautionary reminder is this.  Hitler told a lie to consolidate his power.  Trump to date has told about 3,500 lies and he finds new ways to violate the rights of people, even as he loses battles.  It may be your turn next!  If you have heard that hit song by Meghan Trainor "It's All About that Bass," you will realize that whenever Trump is wrong he must keep that base in place.  It's All About that Base."
Let us begin with the Reichstag fire which was blamed on the major opposition to Hitler and the Nazis.  The day after the Reichstag Fire, there was the Reichstag Fire Decree signed into law in Germany by President Hindenburg.  There was an almost complete suspension of civil liberties which was promoted by the Nazi News.  There was hysteria in Germany that in one day eliminated habeas corpus, freedom of expression, freedom of the press, freedom of association, freedom of public assembly, and freedom to send letters in the mail and make phone calls.
Long before Donald Trump spoke about Mexicans and called countries "shithole" countries, there was a strong leader speaking to his people and he said "These sub-humans do not understand how the people stand at our side. In their mouse-holes, out of which they now want to come, of course they hear nothing of the cheering of the masses."  People who later became our allies were arrested all over Germany and executed.  Maybe Trump learned that from Hitler?
The German National Socialist Party soon had a majority in the government as the Communists were eliminated.  Hitler blamed the fire on the Communists even though there was no proof and we still do not know today how the fire got started.  It was a lie that threw all that power to Hitler, the kind of lie we have come to expect here in the United States. That kind of lie is not actually the kind of "lie" in Obama Care in the promise that you can keep your doctor.  That lie permeates much of the work of Attorney General Jeff Beauregard Sessions as he assaults human beings who have rights.
Here in our nation, there was a major move to wipe out the Communists and/or communist sympathizers after World War II, but the Communist Party continued to exist and still exists.  Sympathizers were blacklisted which was another way of destroying them.  Today there is almost a daily rant against Socialism and I keep hearing people talk only about Venezuela and how that country is failing and not mentioning great nations that have much more socialism than the United States has (social security is a form of socialism). Denmark, Ireland, New Zealand, Canada, Finland, the Netherlands, Sweden, Norway are considered great countries, but they are not large countries like the United States is.  I repeat that they are great countries.
Socialists won in France in 2012, urging an increase in the minimum wage and 60,000 more teachers.  The current president of France, Emmanuel Macron, who is more centrist was the economic minister of socialist president Hollande.
Here in the United States, we constantly hear about paying more and more taxes and we are under the impression that Donald Trump has put an end to that.  We are paying more at the pump and if we buy a new car in this tariff war it is highly likely that your tax refund will evaporate.  Trump gives with one hand and takes with the other.  Even the Automobile Association of America has pointed out that a huge number of drivers expect to drive less this summer due to higher gasoline prices.  Today, July 4th, gasoline prices are fifty-eight cents higher per gallon than they were on this day a year ago.
Jeff Sessions, it has been reported, is violating international law in denying domestic violence victims the right to asylum and he is prosecuting immigrants seeking asylum at the border.  Donald Trump has thrown his promise of "extreme vetting" out the window and replaced it with "zero tolerance."  Trump and Sessions are apparently violating international law and/or treaties signed by the United States during World War II (something that our men and women fought for).  Those immigrants or refugees should not be penalized and this is a violation of the Refugee Convention.
On that note, the White House is very silent.  Take a look at "RISE OF ISIS" the book by White House lawyer Jay Sekulow.  He cites Article 28 of the Geneva Convention, the Rome Statute, and Article 48 of the Additional Protocol I in attacking Hamas on the subject of protecting civilians in war.  He writes about terrorists being war criminals under the law of war, citing the rule of necessity when mortar attacks are not used against military targets.  Then he writes about the rule of distinction where terrorists dressed as civilians and fired at civilian and military targets.  Where is Sekulow's statement about the violation of law of those immigrants?
In Germany a woman named Beate Zschaepe who has been hiding with two men for ten years who killed ten people (8 Turks and 1 Greek migrants) is trying to convince the judge that she had nothing to do with those killings.  The assassins themselves were involved in a murder-suicide.
The German media has been writing about these so-called "Doner Murders (Turkish sandwich)" for some time now and the police investigation pointed to organized crime.  There was shredding of evidence by Germany's Domestic Intelligence Chief and he was forced to resign.  Family members have protested what they felt was an official cover up and now the German government is involved in a deep investigation.
There is no Mexican border.  Can we expect the same thing from Americans who are neo-Nazis?  Oh!  The other person who was murdered was a police officer.
I know that the F.B.I. has its eyes on hate groups, including neo-Nazis, but under Attorney General Sessions, I really do not trust our government to end up doing the right thing and its best for all people.  Germany has never put out the fire and Trump-Sessions are inflaming people.