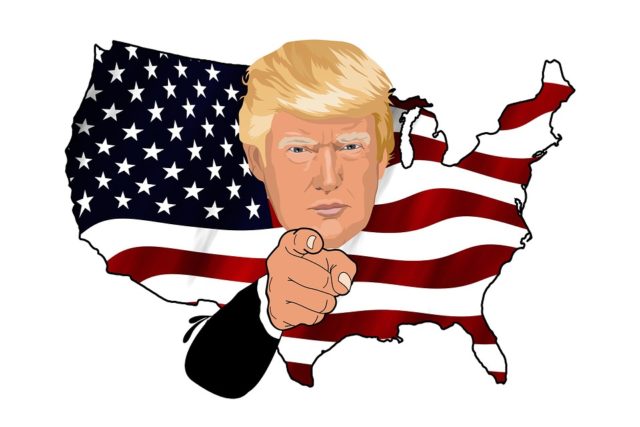 "As to dangers arising from an irrational American president, the best protection is not to elect one." — From a March 14, 1976 personal letter from General Taylor, a former chairman of the Joint Chiefs of Staff, to Louis René Beres.
Please help us out :
Will you offer us a hand? Every gift, regardless of size, fuels our future.
Your critical contribution enables us to maintain our independence from shareholders or wealthy owners, allowing us to keep up reporting without bias. It means we can continue to make Jewish Business News available to everyone.
You can support us for as little as $1 via PayPal at office@jewishbusinessnews.com.
Thank you.
…
It's not complicated. Amid the growing chaos in the Trump White House, no foreseeable peril is conceivably greater than an improper or irrational exercise of nuclear decision-making authority. In this context, almost by definition, no other plausible expression of presidential debility could ever produce such unimaginably grave consequences.
One further conclusion should immediately be obvious: The country as a whole must discuss ways to override and counteract this unthinkable presidential danger.
I have been writing about US nuclear decision-making issues for almost 50 years. There are, of course, various structural protections built into any presidential command to use nuclear weapons. Nonetheless, virtually all of these mostly redundant and mutually reinforcing safeguards would become operational only at lower command levels.
Plainly, they do not apply to the very highest level of national decisional authority — that is, to the president of the United States.
In essence, this means, at least to the extent that answers are still discoverable, that there exist no permissible legal grounds (whether codified or "customary") to disobey a presidential order to use nuclear weapons.
To be sure, in principle, certain very senior individuals in the military chain of command structure could invoke pertinent Nuremberg obligations to resist anticipated "crimes of state" — but any such last-minute invocation would almost surely yield to more obvious manifestations of US domestic law, whether statutory or constitutional.
If an American president — operating within a bewildering chaos of his own making — were ever to issue an irrational or seemingly irrational nuclear command, the only way for the secretary of defense, the chairman of the Joint Chiefs of Staff (JCS), the national security adviser, and several possible others to effectively obstruct this catastrophic order would be illegal — prima facie — on its face.
Naturally, under the very best of circumstances, such informal safeguards might somehow manage to work for a time; but the necessary assumption of "best-case scenario" is hardly a rational or even sensible path to meaningful national security.
At this already late date, we Americans ought still to inquire about identifying more suitably predictable and promising institutional impediments to a debilitated US president.
This inquiry, moreover, should be immediate.
In candor, we are already navigating here in uncharted waters. While President Kennedy did engage in personal nuclear brinkmanship with the Soviet Union back in October 1962, he had calculated the odds of a superpower nuclear war as "between one out of three and even."
This troubling calculation, corroborated both by JFK biographer Theodore Sorensen — and by my own later private conversations with former JCS Chair Admiral Arleigh Burke — suggests that President Kennedy was either genuinely irrational in imposing his Cuban "quarantine," or that he was acting out completely untested (in a nuclear crisis context) negotiating principles of "pretended irrationality."
Yet although obvious event comparisons should now come to mind, one key difference warrants prompt emphasis:
Donald Trump is no Jack Kennedy.
Moreover, JFK operated in tandem with authentically serious and capable advisors, and not on the basis of a seat-of-the-pants bravado drawn from fundamentally shallow calculations and distressingly empty witticisms. Following his capable UN Ambassador, Adlai Stevenson, Kennedy, inter alia, very carefully selected the term "quarantine" — because "blockade" was presumptively more belligerent and hence more dangerous.
During the Kennedy years, there were assuredly no good reasons to believe that the American president was in any way personally beholden to Chairman Khrushchev, or that he was wittingly a pawn of the Kremlin.
In those days, such "crazy" thinking could never have risen to a remotely credible or even audible level. But these are very different times.
Today, Mr. Trump, without any hint of nuance or even a scintilla of serious underlying thought, repeatedly heaps praise upon Vladimir Putin as an ironic sort of partner — and, upon a posture of pretended irrationality as an equally ironic nuclear strategy.
These unreflective positions are being advanced not because this president is in any way personally acquainted with US nuclear strategy, or even with its most rudimentary contours, but rather as some sort "common sense" metaphor drawn from assorted casino-based or "Apprentice"-type negotiations.
To successfully "play" a properly dialectical strategy with his opposite number in Russia would call for a far greater depth of historical understanding and analytic subtlety than Donald Trump could ever reasonably be expected to muster.
Looking ahead, the most serious threat of a mistaken or irrational US presidential order to use nuclear weapons flows not from any "bolt-from-the-blue" nuclear attack — whether Russian, North Korean or American — but from an incoherently uncontrollable escalatory process that has somehow run amok.
Fortunately, in 1962, Soviet premier Nikita Khrushchev "blinked" early on in the "game," and thereby prevented mutual and potentially irrecoverable nuclear harms. Now, however, any escalatory initiatives undertaken by President Trump could plausibly express very narrowly visceral and ad hoc decision-making processes.
This means that such initiatives would not be guided by an utterly indispensable body of antecedent strategic theory. Such initiatives, therefore, might not be met by Mr. Putin with any reassuringly Khrushchev-type concessions.
Such initiatives could — therefore — end instead with bitterly unforeseen and manifestly unacceptable costs.
In principle, at least, it is vital that Donald Trump soon understand the very great and unprecedented risks of being locked into an escalatory dynamic from which there could be no release other than capitulation or nuclear war.
Although this vastly unprepared American president might sometime be well advised to seek "escalation dominance" in crisis negotiations with either the Russians or North Koreans, he would also need to acknowledge a distinctly corollary caution to avoid catastrophic miscalculations. Ominously and also obviously, the more numerous the participating national "players," the more complicated and perilous any such negotiations would quickly become.
Whether we like it or not, and at one time or another, nuclear strategy is a grievously bewildering game that Donald Trump will likely have to play. To best ensure that this easily-distracted president's calculated moves will be rational, purposeful and cost-effective (both strategically and tactically), it will first be necessary to enhance the formal decisional authority of his most senior military and defense subordinates.
At a minimum, the secretary of defense, chairman of the Joint Chiefs of Staff, the national security adviser, and one or two others in appropriate nuclear command positions should already be preparing to undertake more fully collaborative and secure judgments in extremis atomicum.
The alternative is plainly unspeakable.
Louis René Beres is professor emeritus of political science at  Purdue University. Beres is the author of twelve books including, "Surviving Amid Chaos: Israel's Nuclear Strategy," which was published in 2016 by Rowman & Littlefield. He is lectures and research focus on international relations, terrorism, and international law.
This article was first punlished in Algemeiner