Published On: Thu, Jan 26th, 2017
Shia LaBeouf Arrested for Assaulting Trump Supporter Who Made Nazi Remarks
Hateful speech that you may not like: Legal.

Physically attacking someone for hateful speech: Not legal.

That was easy.

— Leah the Boss (@LeahRBoss) January 26, 2017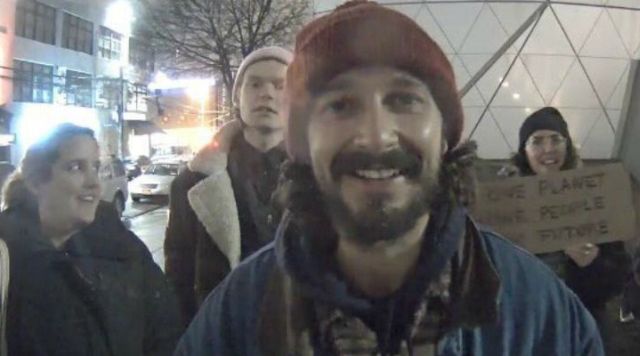 Shia LaBeouf done got himself arrested for assault. So much for his comeback! But this time Shia might have been provoked by a nazi Trump supporter.
The nutty actor has gotten himself arrested before. He for some reason decided to smoke a cigarette while watching a play a few years ago in New York and, when he caused a further disturbance after being asked to leave ,Shia LaBeouf was arrested for disturbing the peace.
Shia LaBeouf was arrested at an anti-Trump rally early Thursday morning https://t.co/ik4SNjXczu pic.twitter.com/8pccvOBj6U

— CNN (@CNN) January 26, 2017
This time, Shia LaBeouf was arrested for assault, again in New York City. He allegedly pushed a man during an anti Donald Trump protest. Variety reports that the arrest was made earlier today at about 12:30 A.M. It quotes a New York Police Department spokesman who said that LaBeouf grabbed the scarf of a 25-year-old man, "causing a scratch to the man's face."
But some of the witnesses to the event have said that he was provoked by a nazi who made antisemitic comments.
One tweeted: "Shia LaBeouf, a Jewish man, was arrested for defending himself against a literal nazi. What year are we living in? #shialabeouf #freeshia."
The twitter hashtag "#freeshia" is already a thing now.
Shia was nonviolent, you'll arrest him for verbal "assault" and then ignore rampant hate speech on a day to day basis #freeshia

— ? (@SIGMAKLlM) January 26, 2017
Hateful speech that you may not like: Legal.

Physically attacking someone for hateful speech: Not legal.

That was easy.

— Leah the Boss (@LeahRBoss) January 26, 2017
Like/RT if you stand with Shia Labeouf. He's done so many amazing things this week and he deserves recognition #FreeShia pic.twitter.com/4WqguPxqZH

— Kait ? (@itzzkait) January 26, 2017
This tweet references Shia's movie "Holes" where he played a kid who was wrongfully sent to prison:
My Boy Shia Done Did His Time Already, We Need To Free This Man #FreeShia pic.twitter.com/nKWIgrS6XN

— Chill Vibes (@Icey_Flake) January 26, 2017
And this tweet has a clip of the incident itself. A man asked to pose for a selfie with Shia LaBeouf only to shout "Hitler did nothing wrong" after the actor agreed to pose with him.
Shia LaBeouf has been arrested by NYPD, because of this video #HeWillNotDivideUs #FreeShia pic.twitter.com/Sj8RqP7uGm

— #HeWillNotDivideUs (@HWNDUS) January 26, 2017
What an A**hole! And the video does not show any real assault. Well if Shia LaBeouf really did smack the guy because he was an alt right, white supremacist, racist, bigoted antisemite then good for him. These people have been giving crazy idiots a bad name. They should leave being jerks in public to the people who are best at it: celebrities like Shia LaBeouf.
Maybe, just maybe, there is a different reason for Shia's behavior, though. Maybe he was just angry at being ignored by all of the different movie awards organizations. The Oscar nominations were announced the other day and a lot of people had said that Shia LaBeouf deserved a nod for his performance in "American Honey." But both the actor and the movie were snubbed.
Oh Well! So Much for a comeback movie for Shia LaBeouf.