–

–
Giant US media company Time Warner Inc (NYSE: TWX), based in New York City, confirmed today its long rumoured plans to sell its current headquarters building, the Time Warner Center, on Columbus Circle in mid-town New York.
Please help us out :
Will you offer us a hand? Every gift, regardless of size, fuels our future.
Your critical contribution enables us to maintain our independence from shareholders or wealthy owners, allowing us to keep up reporting without bias. It means we can continue to make Jewish Business News available to everyone.
You can support us for as little as $1 via PayPal at office@jewishbusinessnews.com.
Thank you.
The 1.1 million square feet of space it owns in the 2.8 million square foot center has now been sold, for US$1.3 billion, to a joint venture led by the original developers of the property, The Related Companies which is led by Stephen Ross its founder and Chairman.
Time Warner will be moving ultimately to a new building, which will also be developed by The Related Companies, on the West side of midtown Manhattan in the area known as the Hudson Yards. Pre-arranging the sale of their existing building therefore is a smart move for both sides, and particularly for Stephen Ross, who can now continue to control large portions of the market for commercial space in and around Columbus Circle.
It pays to have good partners for deals of this kind of size, in order to make them happen without stubbing your toe with excessive financial leverage. Stephen Ross, master builder, has no shortage of excellent relationships to call on as partners and here he has perhaps even outdone himself.
The Government of Singapore sovereign wealth fund, or GIC as it is known, is one of two partners he has in the deal to buy the Columbus Circle building. Additionally the Abu Dhabi sovereign wealth fund, the Abu Dhabi Investment Authority, or ADIA, is the second partner. These are perhaps two of the finest long term investors in the world to have long term relationships with.
With Time Warner, The Related Companies now have a lead tenant for the second of the Related Companies planned new office towers on the 28 acre site at the Hudson Yards, located at 10th Avenue and 33rd Street – and part of the overall development will be built on a huge platform being built over existing rail tracks.
Their new building at 30 Hudson Yards, where it will occupy more than one million square feet, will sit right beside the new subway station at the end of the extension of Line 7, but will not be ready until 2019. Until then Time Warner will lease back the space on Columbus Circle and continue to use it as its headquarters.
–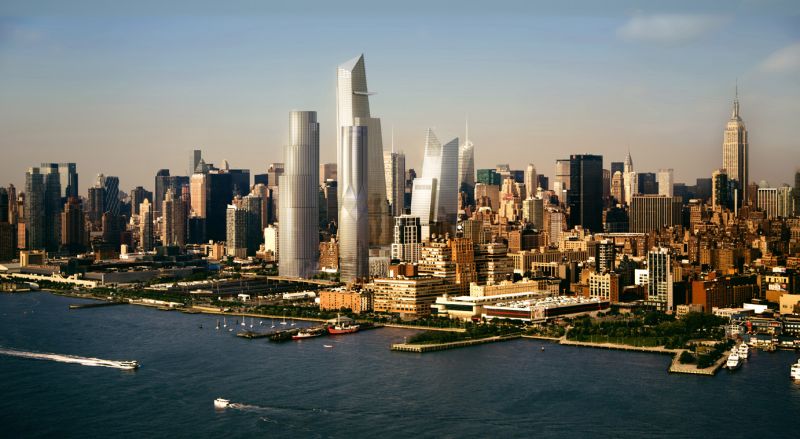 Hudson Yards
Time Warner at the Hudson Yards – rendering courtesy The Related Companies Note the subtle Number "7" signage – the station for the new subway extension of Line 7 is right outside!
It sounds like a long time but it is only five years, which is just barely a blink of an eye for major redevelopments of a whole neighbourhood, which is what is going on at the Hudson Yards.
30 Hudson Yards will be an 80 storey building standing 1, 227 feet high and offer a total of 2.6 million square feet. The planned neighbouring address, 10 Hudson Yards, already has major tenants such as Coach, L'Oreal and SAP lined up.
The Related Companies also has a great partner for the Hudson Yards Development, in the Oxford Properties Group. With offices in Toronto, New York and London, Oxford Properties is a major international real estate developer in its own right. Formerly a Canadian public company today it acts as the real estate arm of the Ontario Municipal Employees Retirement Fund, or OMERS, one of the largest pension funds in Canada, representing all municipal workers in the Canadian Province of Ontario.
With respect to leasing of the space at 30 Hudson Yards the announcement of the deal officially states only that Time Warner has made an initial financial commitment, that the parties have signed an initial agreement for the development of 30 Hudson Yards, and all parties expect to complete final building development documents by the first half of 2014. In real estate speak that sounds like Time Warner has signed an agreed term sheet and put up a – probably very large, somewhere in the millions – deposit. It would be very unusual indeed for such a term sheet not to lead to an ultimate final agreement.
The business motive for the Time Warner move is clear, to consolidate a lot of people into one building. As their Chairman and CEO Jeff Bewkes said on the announcement,
"The sale of our office space in Time Warner Center to Related Companies and its partners is an important step toward moving our New York City-based employees into a dynamic new complex"… "We began a process two years ago to evaluate our commercial real estate footprint within the New York Metropolitan area, where we currently own and lease space in seven buildings"… By consolidating our space to Hudson Yards, New York's next great neighborhood, we will be able to reallocate substantial savings…"
–
 Hudson Yards
–
The Related Companies led the development of Time Warner Center in Columbus Circle and when the 2.8 million square foot Time Warner Center opened in 2004, it became the first vertical, mixed-use facility of its kind in New York City.
With respect to today's purchase Chairman Stephen M. Ross said, "We are pleased to be partnering with ADIA and GIC in the acquisition of the office space Time Warner has occupied since 2004. Since opening, Time Warner Center has become one of the most celebrated and successful mixed-use developments"… "Time Warner has been a great steward for what will inevitably be some of the most sought after commercial office space in the City."
With respect to the new building at 30 Hudson Yards, Ross added, "Time Warner has always been a visionary media company and Time Warner, led by Jeff Bewkes, is again showcasing its innovative and pioneering spirit in anchoring 30 Hudson Yards. Hudson Yards will be home to some of the most iconic brands in business and we are thrilled at the prospect of once again working with Time Warner to not only build a best-in-class headquarters site but also a community."
Hudson Yards is set to become the largest private real estate development in U.S. history, and the largest development in New York City since Rockefeller Center. The site will eventually include 17 million square feet of commercial and residential space, more than 100 shops and restaurants, approximately 5, 000 residences, a unique cultural space, 14-acres of public open space, a new 750-seat public school and a 150-room luxury hotel.
–