George Soros is making an investment in Spain. George Soros' hedge fund Soros Fund Management LLC has just bought some shares, representing 3% of the company, in publicly listed Spanish construction giant Fomento de Construcciones y Contratas (FCC), for just under US$100 million in what could be quite a strategic investment.
The economic story of Spain in recent years had been one of spectacular growth fuelled by massive investments in public infrastructure and the housing industry, funded by cheap credit from the European Union, followed subsequently by a huge implosion with the onset of the European recession in 2007. This had serious consequences for the country's over-stressed financial system and led to severe austerity measures which were demanded by its northern European creditors, including, particularly, by Germany.
Please help us out :
Will you offer us a hand? Every gift, regardless of size, fuels our future.
Your critical contribution enables us to maintain our independence from shareholders or wealthy owners, allowing us to keep up reporting without bias. It means we can continue to make Jewish Business News available to everyone.
You can support us for as little as $1 via PayPal at office@jewishbusinessnews.com.
Thank you.
Spain is indeed still struggling today, at the end of 2013, to emerge from the economic impact this has had, and the country has a continuing huge overhang of unemployment, particularly youth unemployment, as well as the debris left by hundreds of thousands of mortgage defaults and unsold housing units.
Introduction to Fomento de Construcciones y Contratas
FCC is a leading Spanish construction, public infrastructure and environmental services group, listed on the Spanish Stock Exchange. As such its own fortunes really have mirrored those of Spain itself, from whence it derives over 40% of its revenues. A glance at the chart of its share price for the last thirteen years since the year 2000 shows this very clearly:
–
FCC share price history since 2000 – chart courtesy Yahoo
–
There is an almost perfect parabola, with the left hand side showing basically uninterrupted growth in the shares for seven and a half years, until the "perfect economic storm" that hit Spain so hard pushed the business and its share price into free fall all the way to this year, when in 2013 it has at least recently started to recover.
With around US$9 billion (Euros 6.6 billion) of corporate debt at September 30th, 2013, the Barcelona and Madrid based FCC has been struggling for some time to keep itself on an even keel.
–
Doña Esther María Koplowitz y Romero de Juseu.  she is also Eighth Marquise of Casa Peñalver – a Spanish noble title – Esther María Koplowitz / Getty
–
Meet the controlling shareholder, Esther Koplowitz :
In November, Bloomberg News reported that Spanish billionaire, and the controlling shareholder of FCC, Esther Koplowitz had asked the boutique investment banking firm of Messier Maris & Associés, headed by former Vivendi group chief executive officer Jean-Marie Messier, to advise on reorganizing some of her own reported US$1.3 billion (Euros 800 million) of personal debt tied to her controlling stake in the company. It seems her personal bankers for these loans are Banco Bilbao and Bankia SA, according to the Bloomberg report.
Esther Koplowitz's full name is Doña Esther María Koplowitz y Romero de Juseu, and she is also Eighth Marquise of Casa Peñalver – a Spanish noble title. That is an interesting combination of antecedents, and quite a mouthful to digest, which we shall come back to shortly; however, first, more about the business.
More about FCC
FCC is a very big company; with operations in 56 countries it has construction projects scattered all over the world. For example, the company is building a new, US$8.2 billion (Euros 6 billion), subway system for Riyadh in Saudi Arabia. At 176 kilometres in total length, on completion it will become the longest subway in the world. FCC is also building a smaller one in Panama, which will be Central America's first ever subway system. Other projects include a new US$650 million (Euros 475 million) bridge in Long Beach, California, and a new hospital outside Belfast in Northern Ireland, which was inaugurated by the Queen in 2012.
With its own domestic market still in disarray however, in the nine months to September 30th, the company lost about US$925 million (Euros 675 million). Over 90% of the loss came from operations it categorizes as discontinued and which it states are available for sale, including some of its activities in Austria.
The company has 127.3 million common shares outstanding, and even at its current still relatively depressed price of US$22 (Euros 16.05) per share, it still has a market capitalization of about US$2.7 billion (Euros 2.0 billion) – this is just one fifth of its peak valuation six years ago, however.
FCC has also been reported to be in discussions to refinance some US$ 6.8 billion (Euros 5 billion) of its own corporate debt, or about three quarters of the total.
FCC now has some significant new shareholders
In October Bill Gates himself saw value and bought a large number of shares, and he now holds about 6% position in the company paying about US$155 million (Euros 113 million) for the privilege. This was likely quite astute as Spain should begin to do better now economically, and so therefore should FCC, other things being equal. So far he is up about 10% already on his investment.
–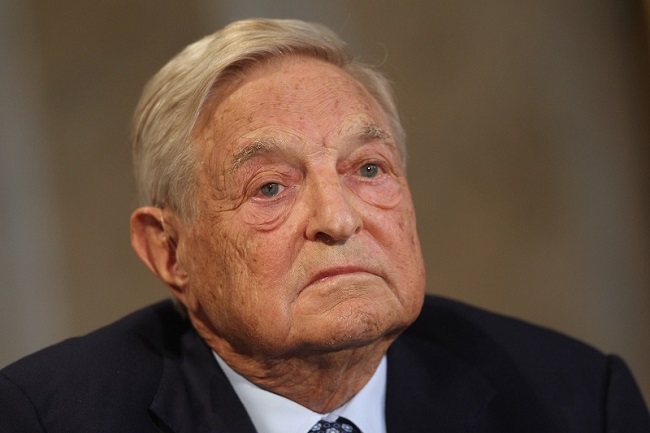 George Soros / Getty
–
Bill Gates' investment has attracted other big names to take a look too, and just last week George Soros' hedge fund Soros Fund Management LLC bought some shares, in this case as part of Esther's own personal debt rearrangements.
The following details have just been announced. First, George Soros bought a 3% stake in FCC. He bought the shares from Esther Koplowitz's family holding company B-1998, which sold in total 3.8% of its majority stake in the firm for about US$100 million (Euros 72 million). The transaction price was US$20.38 (Euros 14.88) per share, with Soros picking up three quarters of her shares. After the announcement FCC shares responded positively, and closed Friday at US$22 (Euros 16.05) per share; so he is already in profit.
Esther Koplowitz controls a majority of FCC
Esther Koplowitz
Esther Koplowitz inherited shares in the firm from her father Ernest Koplowitz, initially sharing control with her sister Alicia. Esther later bought out her sister's 28.26% stake in FCC, for what was then over US$ 800 million (Euros 821 million). Hence, perhaps, the name of her holding company which is called "B-1998" – representing the new beginning. After the transaction just announced Esther still owns 50.01% of FCC, and therefore remains an absolute majority – barely- as controlling shareholder.
By the way, as a historical footnote the Euro itself only launched in 1999 as a full currency, and prior to its launch European countries used its immediate predecessor the "European Currency Unit" only as a unit of account, not as a full currency. When the Euro did launch it was much closer to parity to the US dollar than it is today at its current exchange rate of 1.37. This now elevated rate has indeed been another problem for Spain and the other "southern" members of the European Union, as there has been no scope for internal currency devaluations within the EU simply because of the common currency itself.
Earlier this year, Esther had cemented her operating control by appointing her eldest daughter Esther Alcocer Koplowitz as its Chairman, and a non-family member Juan Béjar Ochoa as Executive Vice-Chairman and the new Chief Executive Officer. Her sister Alicia is not part of FCC anymore, but Esther's two youngest daughters Alicia (also) and Carmen are. Very much a family affair, therefore one can still say.
With the new transaction with George Soros, this presumably now eases some of Esther's own personal financing pressures. One can also readily infer that the addition of one more blue chip name to the roster of the company's shareholders is likely to be helpful, as it works hard to restructure its corporate debt moving forward into 2014. This will be a new year and offer a new beginning for the firm; having ridden out the worst of the economic storm there are grounds to hope it can resume profitable trading again.
So who was Ernest Koplowitz ?
Esther Koplowitz, who was born in 1953 and today is 60 years old, is the daughter of a German Jewish immigrant to Spain, Ernest Koplowitz, and Esther Romero de Juseu y Armenteros. As such Esther's full name carries both her patrimonial and maternal family designations, in accordance with Spanish naming customs, which is why it is such a mouthful. By her second marriage she was also even associated with the Spanish Royal house itself.
Ernest Koplowitz founded the family construction company FCC after he had immigrated to Spain. His full name was Ernest Koplowitz Sternberg, son of Wilhem Koplowitz, who was a pharmacist, and Clara Sternberg. He came originally from the German region of Upper Silesia, which today is part of Poland, and he travelled to Spain initially in the early nineteen thirties and then, finally, fled there after the outbreak of World War II to escape the Nazis and to avoid the holocaust.
After the war, and despite his poor command of Spanish he built a business, initially working to represent a number of German companies there, including AEG, before branching out into construction itself.
In 1946, and after a brief courtship, Ernest married Esther Romero de Juseu y Armenteros, who was the daughter of a Cuban aristocrat, and who held a number of titles of nobility that eventually he left to his daughters according to Spanish custom. They married in a Catholic ceremony.
In 1952 he acquired a small construction company called Building and Repair, that changed its name much later on to FCC, but which was the forerunner of the giant firm we see today. In 1962, Ernesto Koplowitz died in a riding accident when his daughters were still young girls. Their mother died just six years later.
And what then of Esther & Alicia Koplowitz ?
Both girls were brought up by an influential and trusted family confidante, and barely debutantes they married very young. Esther married in 1969, to Alberto Alcocer and her younger sister by one year, Alicia, married his cousin Alberto Cortina six months later. This was very much a case of two beautiful and very rich heiresses marrying "up" into the Spanish establishment. The two "Albertos" were good in business though, and in the seventies and eighties the company grew spectacularly well under their guidance with the two girls content to build their families.
Esther had three daughters with Alberto Alcocer; named Esther, Alicia and Carmen. Both sisters got divorced during the nineteen nineties. In Alicia's case this came after a huge scandal involving Alicia's husband Alberto Cortina and a married woman, the then wife of Fernando Falcó Marqués de Cubas. Later, in 2003 just to keep things simple, Esther married the Marqués herself after they had both divorced. In subsequent years they also divorced.
In 1997 Esther bought her sister Alicia's 28.26% of the company, and she subsequently took a lot more interest in it as an active investor with her, at the time, newly combined 56.52% position. With today's transaction this has shrunk now to just 50.01%. But both numbers still give you majority control, which is all that counts.
Esther devotes a lot of time still to charitable causes, through the Esther Koplowitz Foundation, which is endowed entirely by her, and which aims to provide assistance to the elderly, disabled and helpless and to minors and other persons facing problems of social integration or at risk of social exclusion due to physical, social or cultural reasons. As her private art collection includes works by Goya, whose representations of those who were socially cast out were both revolutionary and subversive of the established order in his own time, that is a splendid goal for her charitable activities in our own time.
Just when you thought her personal life story could not be more colourful, it seems that at the end of 2012 DNA evidence proved that Esther and Alicia also have a half brother, Carlos Iglesias. 
–
Alicia Koplowitz / Getty
–
And Alicia, what about her ?
Well Alicia sold out to her sister long before the construction business got into trouble, and today is said by Forbes to be worth as much as US$2.5 billion, compared to just US$1 billion for her sister Esther. Alicia has three children by her first husband and has remained unmarried since.
Alicia's fortune has done quite well however. According to Forbes she has invested in steelmaker Acerinox, electric utility Iberdrola and Banco Sabadell. She also has a stake in Hospes, a chain of luxury hotels in Spain, and owns hotels in Italy and Miami. Her assets in Spain and England reportedly total more than $1 billion.
Alicia has also established her own venture capital firm called Omega Capital.
Alicia's philanthropic endeavours match her sister's, and in 2009 she was named an honorary member of the Spanish Society of Psychiatrists for her efforts to promote the study and development of child and adolescent psychiatry.
Clearly even with all their troubles Esther and Alicia Koplowitz remain enormously wealthy, fascinating and, even today, remarkably beautiful women.
–
Esther Alcocer Koplowitz / Getty

–
Finally, who then is Esther Alcocer Koplowitz ?
There are two Esther Koplowitzes? Yes there are indeed, meet Esther Alcocer Koplowitz who is Esther's eldest of three daughters, by her first husband, and who is leading the charge for the next generation.
Altogether in fact there are three as her late grandmother, Ernest's wife, was also called Esther. And indeed in Jewish history Esther was the perfect example of an empowered, brilliant woman, so it is somehow all entirely appropriate even though the social context today is obviously very different.
Ms. Alcocer graduated with a law degree and also completed the Senior Management Program (PADE) at IESE Business School. She was appointed Chairman of the company in March, 2013 and is also a member of the key Executive, Strategy, and Audit & Control Committees which operationally control the busines
Like her mother she is both beautiful and brilliant, and is well equipped to tackle the not-yet-easy task of steering the business back to its former glory. We can only wish her all success. What a remarkable family, all round. Ernest Koplowitz has founded an enduring dynasty, albeit in a land completely foreign to his birth.
Recognitions and awards for Esther Koplowitz
Grand Cross of the Civil Order of Environmental Merit – In May 2013, the Spanish Cabinet awarded Esther Koplowitz with one of the highest civil decorations in Spain – the Grand Cross of the Civil Order for Environmental Merit, in recognition of "her contribution to the defense of the environment in her role as FCC's principal shareholder and through the Esther Koplowitz Foundation".
Gold Medal for Scientific Merit -In July 2013, the Barcelona city government awarded Esther Koplowitz the Gold Medal for Scientific Merit, the city's highest distinction, in recognition of her extraordinary philanthropic work to promote science, and biomedical research in particular.
In 2012 Koplowitz was decorated with a Legion of Honor award from France for her philanthropic and business activities.
–