–
Simmons will have to decide whether to include the band's original members Peter Criss and Ace Frehley when the band is inducted into the Rock and Roll Hall of Fame for 2014.
 –
Please help us out :
Will you offer us a hand? Every gift, regardless of size, fuels our future.
Your critical contribution enables us to maintain our independence from shareholders or wealthy owners, allowing us to keep up reporting without bias. It means we can continue to make Jewish Business News available to everyone.
You can support us for as little as $1 via PayPal at office@jewishbusinessnews.com.
Thank you.
(L-R) Gene Simmons (left)  and Paul Stanley  (right) with Frehley's replacement Tommy Thayer in the center and Peter Criss 's replacement Eric Singer  on drums
–
Gene Simmons, founder of the glam rock pop group KISS is facing a dilemma.  KISS,   who sprang to fame during the Seventies, as much for their dramatic stage presence, including donning face paint, pyrotechnics and wearing  weird uniforms as their musical ability, finds himself with a dilemma with the news that the band have been chosen for induction into the Rock and Roll Hall of Fame for 2014.
Now Simmons and his fellow founder member  Paul Stanley will allow Peter Criss and Ace Frehley , who were also original members of the band, to appear in the band's line up at the induction ceremony, after they left the band not once but twice during its most successful spells, both times under a cloud of their own making.
Criss, better known as Catman, was the group's drummer at the height of the success in the Seventies but was sent packing by Simmons and Stanley at the start of the Eighties due to his erratic, often substance induced, behavior. Ace Frehley left  KISS a few months later, apparently due to his inability to get along with Simmons and Stanley, mostly on musical matters.
In 1996, both  Criss and Frehley  joined up with  KISS as part of a  reunion tour which proved to be an outstanding commercial success,  and with all wounds apparently and disputes settled, in 1998  the original KISS  lineup set off on  successful world tour, during which some of the cracks that had been plastered over began to reappear and became increasingly apparent,   meaning that Frehley and Criss were once again were given a final KISS goodbye and the group were never to perform again, at least in their original and most commercially successful line up.
–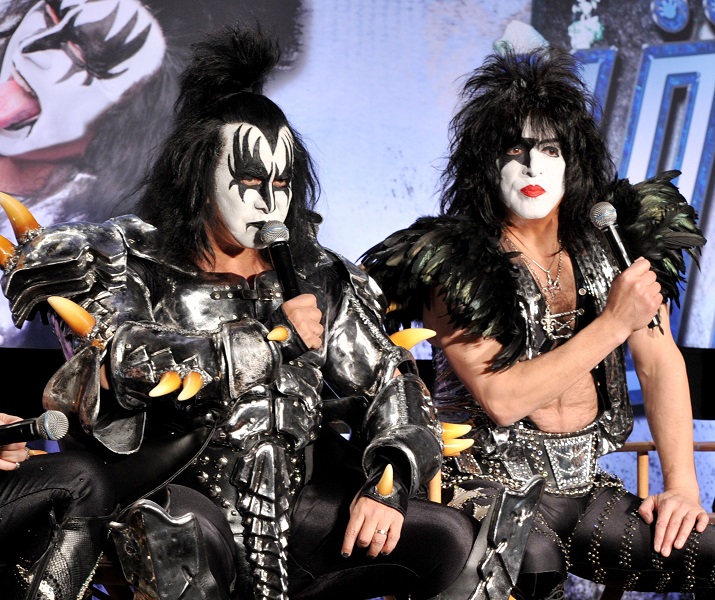 Musicians Gene Simmons (L) and Paul Stanley / Getty
–
In a recent interview after it was announced that KISS would be stepping up to the Rock and Roll Hall of Fame,  Gene Simmons  was asked whether Frehley and Cross's contribution to the group  would be acknowledged and, even more so,  if they would be performing at the induction ceremony to take place  on the 10th of  April at the Barclays Center in Brooklyn,  Simmons replied that  Frehley and Criss  were equally important in the formation of the band as he and Paul Stanley had been .
Between the lines, most music industry pundits are predicting that the Seventies super group's  massive fan base will refuse to accept that any of the bad blood still remaining be set aside for the performance so that they can see their heroes performing together for the first time in fifteen years, fully decked out in face paint and breathing fire just like the good old days, even though these particular " bad boys of pop" are now well into their sixties.
Gene Simmons  was born Chaim Witz in Haifa and emigrated with his mother to the United States in 1957, when he was just eight  years old.
Simmons is generally regarded as being the creative force behind the KISS image which brought the group global recognition, and help them to sell over 100 million albums worldwide in a career stretching more than forty years.
–
 Nick Simmons, Gene Simmons and Shannon Tweed on March 26, 2013 in Hollywood / Getty