–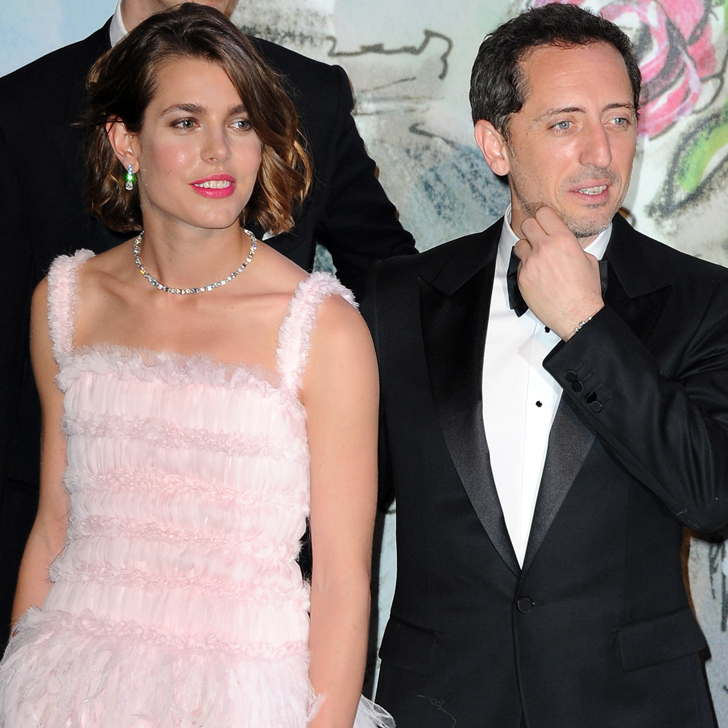 Charlotte Casiraghi and Gad Elmaleh / Getty
Please help us out :
Will you offer us a hand? Every gift, regardless of size, fuels our future.
Your critical contribution enables us to maintain our independence from shareholders or wealthy owners, allowing us to keep up reporting without bias. It means we can continue to make Jewish Business News available to everyone.
You can support us for as little as $1 via PayPal at office@jewishbusinessnews.com.
Thank you.
Charlotte Casiraghi, daughter of Princess Caroline of Monaco and her late husband Stephano Casiraghi, has just had a baby boy called Raphael. Mother and child are doing well as, reportedly, is the father Charlotte's partner Moroccan born French actor and comedian Gad Elmaleh.
While technically Charlotte is not a princess, she is still fifth in line to the Monégasque throne. Charlotte is a highly regarded habituée on the élite social scene in Europe, and is an accomplished horse rider. She is currently also the face of Gucci as one of their riding models.
Charlotte's father was killed when she was only four years old in a boating accident, when his speedboat flipped over at very high speed just off the coast of Monaco in the Mediterranean.
Charlotte's partner and new father Gad Elmaleh is a very lucky guy. After the birth he tweeted to thank everyone for their kind messages:
"Merci à tous pour vos gentils messages. Très touché.
– Gad Elmaleh (@gadelmaleh)
The French actor-comedian has one son already called Noe, who is twelve years old, from a former relationship with actress Anne Brochet.
Elmaleh had spoken with People magazine in October about becoming a father again, "There's lots of joy and excitement. I'm at a certain point in my life where building a family is very important."
And as a man clearly very much in love, he was quick to be lyrical over how terrific his partner Charlotte will be as a mother,
"She's healthy and very happy to become a mother. She will be the best in the world because she is generous and very loving. She has all the gifts for being a mother. She's precious and very loving and kind."
Gad Elmaleh is a famous actor and comedian in France, who looks and sounds like a French version of Seinfeld. His stand-up style of comedy even includes lots of references to his Jewish family background, including their habit of spending too much money on bar mitzvahs and triggering familial guilt when children don't call or come to visit often enough.
Charlotte's mother is Caroline, daughter of the late Prince Rainier and the late American actress Grace Kelly and sister to Prince Albert.
–
Charlotte Casiraghi /Getty
About Gad Elmaleh
Gad Elmaleh was born in 1971 into a Moroccan Jewish family in Casablanca where he grew up, He first went to a primary school in the neighborhood of Maârif, then to high school school at Maimonides Casablanca and at the Lycée Lyautey.
He is the brother of actor Arie Elmaleh and Judith Elmaleh, actress and director. Gad ( גד ) means " joy " in Hebrew, and Elmaleh means " salty " in Arabic (El Male'h) . He is the son of David Elmaleh, a local businessman who also practiced the art of mime as an amateur in Casablanca, and of Régine Elmaleh.
When he was 16, Gad left Morocco to study political science at the University of Montréal in Québec. Then, in 1992 he moved to France in to undertake his professional artistic training in Paris at the "Cours Florent" acting school. He trained there for two and a half years after winning a scholarship programme "la Classe Libre".
Subsequently he has gained fame and fortune as an actor, director and comedian. He has made several movies including one Tintin adventure. Even so he has still found time to help those in need.
Since 1997, he has been a sponsor of "The Silence of the Righteous", a charity organization which helps children with autism and psychosis .
In 2006, he was the sponsor of "Act React", a CD issued to help the victims of an earthquake that shook the region of Al-Hoceima, in Morocco on February 24th, 2004.
On 22 March 2006, he was made a "Chevalier (Knight) des Arts et des Lettres" by the French Minister of Culture, for his contribution to the arts. Five years later, in 2011, he was made an "Officier" (Officer) of the same order by the Minister Frédéric Mitterrand.
On 16 June 2007, he received an honorary master's degree in humanities and social sciences at Al – Akhawayn d'Ifrane University in Morocco.
–