–
Russian President Vladimir Putin has announced his decision to  pardon Khodorkovsky, at one time one of the country's most prominent business figures.
–
Please help us out :
Will you offer us a hand? Every gift, regardless of size, fuels our future.
Your critical contribution enables us to maintain our independence from shareholders or wealthy owners, allowing us to keep up reporting without bias. It means we can continue to make Jewish Business News available to everyone.
You can support us for as little as $1 via PayPal at office@jewishbusinessnews.com.
Thank you.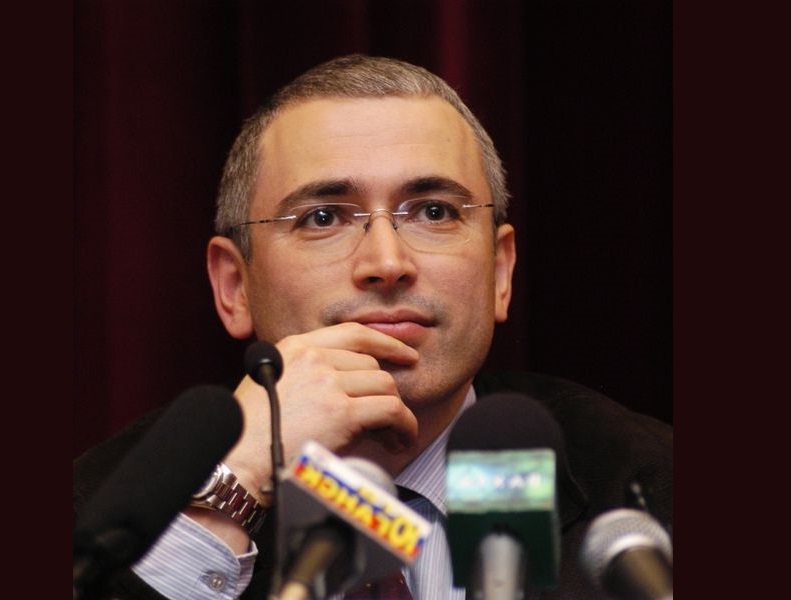 Mikhail Khodorkovsky In 2001
–
Mikhail Khodorkovsky, at one time one of Russia's wealthiest men and for the last ten years  one of it most famous prisoners  is looking likely to be released from prison in the very near future.
Khodorkovsky, was  head of Yukos, an international conglomerate  before his  arrest in 2003 and subsequent conviction for fraud in 2005, with a later  charge  of embezzlement and money laundering imposed on him  in 2010 which brought an additional jail term extending his prison sentence to 2017.
However it now appears that if Putin keeps his promise, hopefully  Khodorkovsky will soon  be a free man, hopefully  even before the end of 2013.
Putin hinted very strongly that he was considering giving a positive response to Khodorkovsky's request for a pardon, which, if it does come to pass, will be in the very near future.
When questioned on whether Khodorkovsky could face further charges, or even a third trial, President Putin apparently remained totally non-committal and refused to be drawn when questioned.  Putin did admit that  Khodorkovsky having  spent more than 10 years in prison is a serious term.
In the aftermath of  Putin's promise, Khodorkovsky's  lawyers came out with a statement, denying  that they  had asked for a pardon, although there has been considerable pressure applied on Putin, particularly from  Mikhail Khodorkovsky's son Pavel.
Under the a recently introduced amnesty law, a number of high profile " political prisoners" are due to be pardoned and released from Russian prisons, among them  members of the female punk band Pussy Riot, as well as a number of activists from the Greenpeace party, who  were arrested after  protesting  against the effects of ecological damage caused by  drilling for oil in the Arctic region of  Russia.
Even a few days ago, many observers in  Russia were convinced that Khodorkovsky was "too hot a potato" to be granted amnesty,  with his case regarded  as having  too many political undertones given the personal nature of criticism  of  Putin's regime  ahead of the tycoon's arrest and his alleged backing of political parties holding political views more liberal than that of Putin.
While the promise has been made, the timing of Khodorkovsky's release remained unclear, as does the legal basis for the pardon.
In 2004, Khodorkovsky was the wealthiest man in Russia and one of the richest people in the world, ranked 16th on Forbes list of billionaires.
Mikhail Khodorkovsky sprang to prominence in the business world as a Moscow student under Mikhail Gorbachev's heady days  of glasnost and perestroika during the Nineteen Nineties.
While only in his thirties Khodorkovsky succeeded in  established a number of successful industrial concerns from the privatization of former state assets under the umbrella of his holding company  Yukos , particularly based around  the development of oil fields in  Siberia, under the free hand of  Putin's predecessor Boris Yeltsin.