–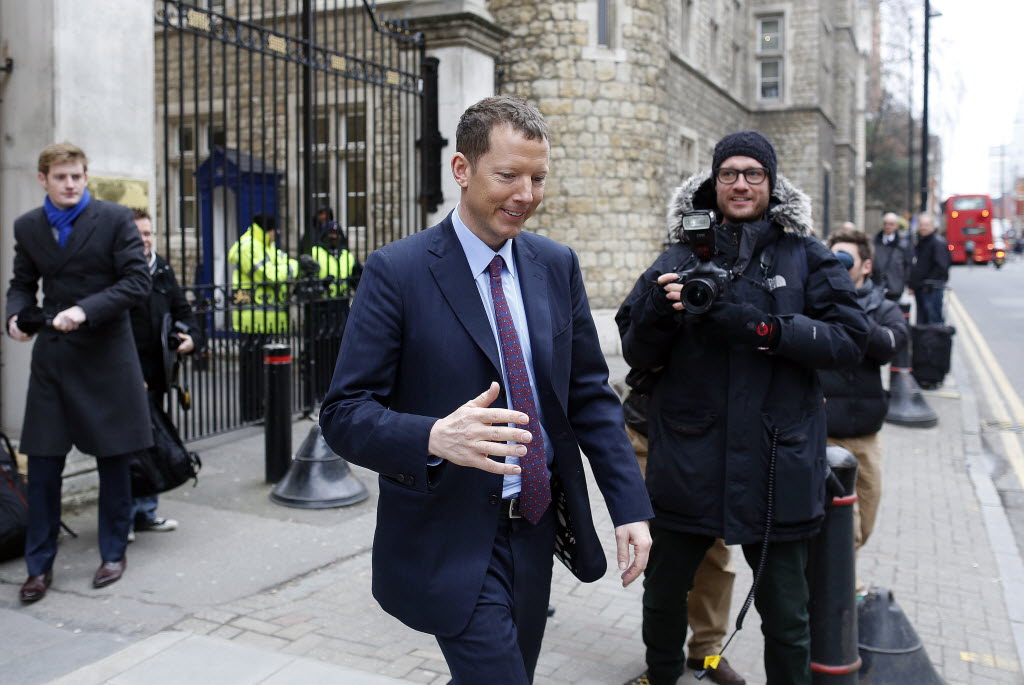 Nat Rothschild leaving his office / Getty
Please help us out :
Will you offer us a hand? Every gift, regardless of size, fuels our future.
Your critical contribution enables us to maintain our independence from shareholders or wealthy owners, allowing us to keep up reporting without bias. It means we can continue to make Jewish Business News available to everyone.
You can support us for as little as $1 via PayPal at office@jewishbusinessnews.com.
Thank you.
–
Well it's not quite the "Gunfight at the O.K. Corral" yet, but it is getting close as we approach an important special general meeting of shareholders of Indonesian coal mining company Bumi plc, listed on the London Stock Exchange.
Originally scheduled for December 4th Bumi plc, which owns interests in two large coal mines in Indonesia, has just announced that meeting will now adjourn as soon as it begins and then re-convene again about two weeks later than planned, sometime during the week of December 16th.
The purpose of the special meeting will be for shareholders, who have been at war with each other for much of the year, to vote on a complicated, and also inter-conditional, set of proposals that should result in one group of significant shareholders, the Indonesian Bakrie family, completely steppin aside from their involvement with the company.
It is intended this will be accomplished by the Bakries, first, selling their own 23.8% stake in Bumi plc to its current company Chairman, Samin Tan, for US$223 million. Then, in a separate deal the Bakries are to also simultaneously buy out Bumi plc's 29.2% interest in one of its affiliates, Jakarta publicly listed Bumi Resources, for US$501 million in cash.
This would then leave Bumi plc with a majority 84.7% holding in its second mining company Berau Coal Energy. Bumi plc would also then change its name to Asia Resource Minerals plc to avoid any confusion and everybody can then drive happily off in the sunset.
In another intriguing o and important – sub-plot, however, the former Director of Berau Coal Energy, Rosan Roeslani, has so far failed to pay back to the company about US$173 million that appears to have been "misplaced". His repayment of these funds is also supposed to be a part of these inter-conditional transactions.
His failure to make a committed progress payment of US$ 30 million in September has now apparently led to Bumi plc taking the issue to arbitration, and so far without triggering any kind of criminal investigation. Even so, about a month ago we read that Mr. Roeslani was still able to be part of an investment consortium that successfully bid to buy the Inter Milan Football Club, possibly for as much as US$400 million.
Altogether though there has been an unraveling of a chain of business relationships; one that started with harmony and accord, but is now ending in total acrimony. Nathaniel Rothschild put the shareholder groups together to create Bumi plc originally in 2011. He secured the London listing, for a time sat on the Board, controls himself a 21% voting position in the company and has been livid at the corporate mis-governance that appears to have gone on up to this point.
He has also to date been opposed to these particular "separation arrangements", as they are called by Bumi plc. If the company's independent shareholders in the end approve them with a majority vote, and if everything then actually proceeds according to plan the result will be for Chairman Tan's own companies the Borneo Group and RACL, acting together, to double his existing stake to a 47.6% control position without paying a premium for it.
Moreover Tan would then be able do so without being required to make a follow up offer to everybody else, having gone over a 30% market limit beyond which this is normally required, under Rule 9 of the City Code – known affectionately as a "Whitewash" by market practitioners.
Bumi plc first called for the December 4th meeting on November 7th, to put these matters to a vote. On November 20th Bumi plc announced a postponement, as it had not received by a required cut off date proof of financing for the acquisition of the Bakrie shares by Chairman Tan's companies.
Then on November 29th Bumi plc announced it had finally received the proof, which, in an extension of a deadline, it had given Chairman Tan until November 29th to provide. Accordingly, it also announced a rescheduling of the special meeting at which the vote of the independent shareholders will now take place. This is expected to be during the week of December 16th, with the final date to be announced in a new circular to be issued shortly. Tan has now said he has secured a US$223 million loan from Austria's Raiffeisen Bank for the transaction.
Still unresolved however is the other major issue, of how can the Bakrie family pay for Bumi plc's 29.2% interest in Bumi Resources for US$501 million. This is obviously linked to their getting the cash from Chairman Tan for a big part of it as the proceeds of their own share sale, so this could well go right down to the wire.
A spokesman for the Bakries has said simply that the balance of US$278 million the Bakrie's will need has been long available in the form of a "direct cash investment by the Bakrie family".
And as a supremely elegant last wrinkle for the whole thing, if and when Bumi plc receives its US$501 million from the Bakries it intends to quickly pay out US$400 million of it as a special dividend to shareholders.
With a 47.6% holding Chairman Tan's companies would himself receive US$190million of the special dividend. Accordingly his loan from the Raiffeisen Bank could well be regarded primarily just as a bridging facility therefore.
All this money really does seem to just be going around in circles at times… all except for the still mysteriously missing US$173 million.
Finally, all this shareholder wrangling takes place against the backdrop of a fall in the price of coal that took place over the last year, with soft economic conditions worldwide and slower growth even in China. In addition, for some investors, there are even doubts beginning to surface about coal's long term environmental impact.
However China still depends on coal for more than 70% of its energy needs. In addition, Bumi Resources, the company the Bakries are buying back from Bumi plc, which is a highly leveraged company, is in the middle of negotiating new loans with China's Sovereign Wealth Fund, the China Investment Corporation, which is also a shareholder.
With Bumi plc shares today less than a quarter of their IPO price in 2010, however, it should be an interesting special meeting when it finally does take place. Even if the deals are all ready to close, with the cash in place where it needs to be, the proposals will require approval of a majority of independent shareholders, or by my count, if I have not left something out, say about half the outstanding shares excluding the Indonesian interests.
Since Nathaniel (Nat) Rothschild holds a 21% voting position himself, this could mean he would not be far from being in a blocking position if that were to be his stance. So far, whilst heavily criticizing both the company and these proposals he has not yet said how he will actually vote. This will be an argument he will hold with himself between his conscience and his pocket book, I should think, once it finally gets down to a decision.
The only thing one can really say for sure is that the sooner the company changes its name to Asia Resource Minerals plc and can put this all behind them the better.
–