–
The philosophies of building a successful business and building a winning sports team may not be so different.
–
Please help us out :
Will you offer us a hand? Every gift, regardless of size, fuels our future.
Your critical contribution enables us to maintain our independence from shareholders or wealthy owners, allowing us to keep up reporting without bias. It means we can continue to make Jewish Business News available to everyone.
You can support us for as little as $1 via PayPal at office@jewishbusinessnews.com.
Thank you.
Stephen Ross / Getty
–
/By Clive Minchom/
As the 95% owner of the Miami Dolphins football team, which cost him a cool US$1 billion in 2008 and 2009, and which has endured now four consecutive losing seasons since, billionaire Stephen Ross sounded remarkably patient last Wednesday at a press conference given after the team's practice session. After authorizing US$240 million for player acquisitions over the off-season he might have been expected to be anxious for quick results; however he resisted the obvious temptation to thump the table a little.
–
 Miami Dolphins/ Getty
–
Instead Ross simply said."You want to bring back the winning tradition. You want to see progress" … "We certainly want to make the playoffs, but I want to see growth in the team in building the foundation for this season and future seasons. I don't want to be a one-shot wonder." Ross also spoke to the team itself before the Wednesday practice.
As well as inspiring his team, the Miami Dolphins owner also said Wednesday that he remains committed to winning public dollars to contribute to major stadium renovations proposed for the Dolphins' home the Sun Life Stadium, which he also owns, and would not rule out asking for again next year. Ross had been hoping to gain both State and County financing for a much-needed US$350 million stadium rehabilitation project, but it died when Speaker of the Florida State House Legislature earlier in the year declined to put the bill up for a vote during the final legislative session.
"Have I given up? The answer is no, " Ross said, speaking to reporters during his first major news conference since last Spring's legislative defeat. "I was very disappointed that we lost that, " Ross said.
So in his reactions to the team's progress on the field, and to the political process for making-over his stadium, Stephen Ross is in both cases demonstrating his legendary patience.
Stephen Ross Chairman & founder Related Companies
Stephen Ross is now 73 years old, worth US$4.4 billion according to the 2013 Forbes rich list, and has made his billions in the real estate business, largely in New York. New York real estate developers are all a group of quintessentially quite, patient people where, nevertheless, he has triumphed by being, absolutely the ultimate, most-patient-developer of all, hand holding the political approval process for complicated development schemes, ones that can take even decades to bring to fruition, finding a way to progress when others either wouldn't try or simply gave up.
His company, Related Companies, is the developer of many of the landmark buildings in New York, including the Time Warner Center on Columbus Circle, where he both lives and works himself when he is in New York.
–
Time Warner Center Columbus Circle/ Wikipedia
–
Currently the company is taking on the US$15 billion redevelopment of a major chunk of the west side of Manhattan in a project known as the Hudson Yards Redevelopment. This will entail transferring the air rights of part of the existing rail yards there to adjacent properties, and also entail building directly on top of much of them on a raised platform. Their highly experienced New York competitor Tishman Speyer walked away from the project, finally running out of patience with the complexity of negotiations to get things done, but Related seems now to be finding a way to make it work. Critics of the company have pointed to possibly over-close relationships with the current Mayor of New York Michael Bloomberg as well, but their similar can-do approach to development that benefits the city as well as its developers seems to have been good for both.
–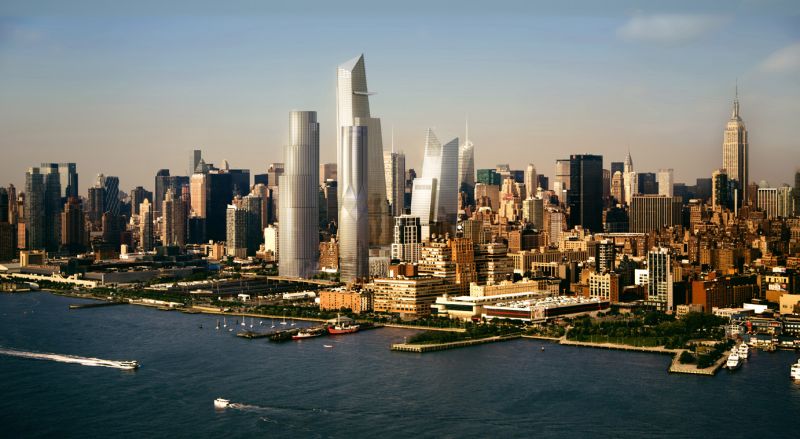 Hudson Yards Redevelopment
–
Related's seemingly endless negotiations with unions to keep the lid on construction costs are also complex and can at times be intense. At the Hudson Yards redevelopment Related wants the project to be union-built, but to-date for negotiating purposes hasn't ruled out using some non-union workers if it doesn't get the efficiencies it wants; it puts labour costs under a microscope everywhere it goes, to help make its developments happen.
The Hudson Yards redevelopment will have 26 million square feet of Class A office space, 20, 000 housing units, 2 million square feet of hotel space, a 750 child public school, 1 million square feet of retail space and more than 20 acres of public open space by the time it is all done.
This kind of clout even makes intransigent union leaders listen carefully, and Paul Fernandes, Chief of Staff at the Building and Construction Trades Council of Greater New York, has characterized their conversations with Related as "a genuine effort to figure out how we resolve these issues to get the project built."
Related is a completely privately owned real estate firm with offices and major developments in Boston, Chicago, Los Angeles, Las Vegas, San Francisco, South Florida, Abu Dhabi, Sao Paulo and Shanghai, and employes around 2, 000 people. The company is currently also the largest owner of luxury residential rental properties in New York with over 5, 000 units, including one at the prime address 1214 Fifth Avenue, beside Central Park at 102nd St.
Unlike many New York City development companies, Related is not a family kleptocracy or a remotely owned investment trust. Mr. Ross, now 72, has two partners: President Jeff Blau, who is 44, who handles financing and deal structures, and Executive Vice President Bruce Beal, who is 42, who takes care of project planning, building costs and execution. The company's more than 2, 000 employees also receive equity stakes in the projects on which they work.
"A lot of our success has to do with the way Stephen originally set up the company, " said Mr. Blau, the president. "People join Related and they know it's a meritocracy. We hire the best and the brightest, train them and allow them to grow."
Another possible cloud on the company's horizon may be the departure in 2014 of Mayor Michael Bloomberg, whose view of how the city should grow and liking for big projects – a bit like Georges Pompidou in Paris if you will – has synchronized well with developers such as Ross. But Related has long shown an ability to adapt, whether to political, economic or social changes, as the case may be and whoever is the new Mayor will find a professional and adaptive partner for continuing to grow the city .
"We continually question the way we do things and take the time to really understand what makes up every component of our developments, " said Mr. Beal, Related's Executive Vice President. "It's about the details, getting into the weeds on every aspect."
About Stephen Ross
Stephen Ross grew up in Detroit and later graduated from Miami Beach Senior High School. He went to the University of Florida and then back to Michigan to the University of Michigan Business School, where he earned his Bachelors degree in accounting in 1962. He later received a Doctorate of Jurisprudence from the Wayne State School of Law in 1965, and a Master of Laws degree in taxation from the New York University School of Law in 1966.
He first embarked on his business career as a tax lawyer at Coopers & Lybrand in Detroit. Then, in 1968 bored with his chosen profession, he moved to New York where he worked as an Assistant Vice President in the real estate subsidiary of Laird Inc. and later in the Corporate Finance Department of Bear Stearns. In 1972, sure in his mind that the real estate business was for him, he quit and borrowed US$10, 000 from his mother to start his own company. Forty years later it has worked out pretty well for him, though with some difficult hiccups along the way during some of the bad times.
He and his wife Kara, who is an entrepreneur in her own right and a jewelry designer, live in New York at the Time Warner Center on Columbus Circle, together with her two daughters from a previous marriage. Ross can get to work pretty quickly as Related's headquarters office is in the same Center. He also has two children from his own first marriage. When they have time to go south, they can also chill in their 11, 000 square foot home in Palm Beach, right on the Atlantic ocean – and barely a short helicopter ride to his beloved Miami Dolphins in rush hour traffic, one can imagine.