–
The Apple One computer, one of the first 25 ever produced in 1976, was hand built by Steve Wozniak, the computer giant's co-founder, who made it even more unique by adding his trademark "Woz" signature to it. The extremely rare computer fetched $432, 000 when it went on the block at Christie's recent online auction of vintage technology items.
–
Please help us out :
Will you offer us a hand? Every gift, regardless of size, fuels our future.
Your critical contribution enables us to maintain our independence from shareholders or wealthy owners, allowing us to keep up reporting without bias. It means we can continue to make Jewish Business News available to everyone.
You can support us for as little as $1 via PayPal at office@jewishbusinessnews.com.
Thank you.
 Steve Wozniak, Apple co-founder / Bloomberg
 –
/ By Stanley Green /
Ted Perry, the man who put the computer up for auction was both delighted and overwhelmed by his windfall, stating "This is a piece of history that made a difference in the world, it's where the computer revolution started, "
Perry recalls picking up the old Apple sometime during the late 1970s, swapping some other items of early computer hardware for it. After the original Apple one became outdated, Perry recalls stashing it away in a cardboard box in the attic his California home, before discovering that it had a tremendous value as a collector's item.
Vintage Apple products have grown increasingly in demand and value since Wozniak's partner and fellow Apple founder Steve Jobs passed away in October 2011, after having built a global empire. An empire that began when he and Wozniak got together to build computer prototypes in a California garage in the early 1970s.
Perry was told by Christie's to expect a six-figure sum for his collector's item, with an Apple-1 having been sold as recently as last month for a world record $671, 400 at an auction held in Germany, narrowly passing the previous record of $640, 000 set in November of last year.
The reason why Perry's computer "only" went for just over $400, 000, despite the fact that it was one of the first 25 Apple One computers ever assembled and , clearly bearing the historical serial number 01-0025 hands marked in black ink alongside the "Woz"  signature was that only the Apple motherboard remains original, with a keyboard, monitor and a storage device being added later.
Even then Perry could not have been disappointed with his profit windfall, with the original Apple One computer selling for the instantly re-callable figure of $666.66.
–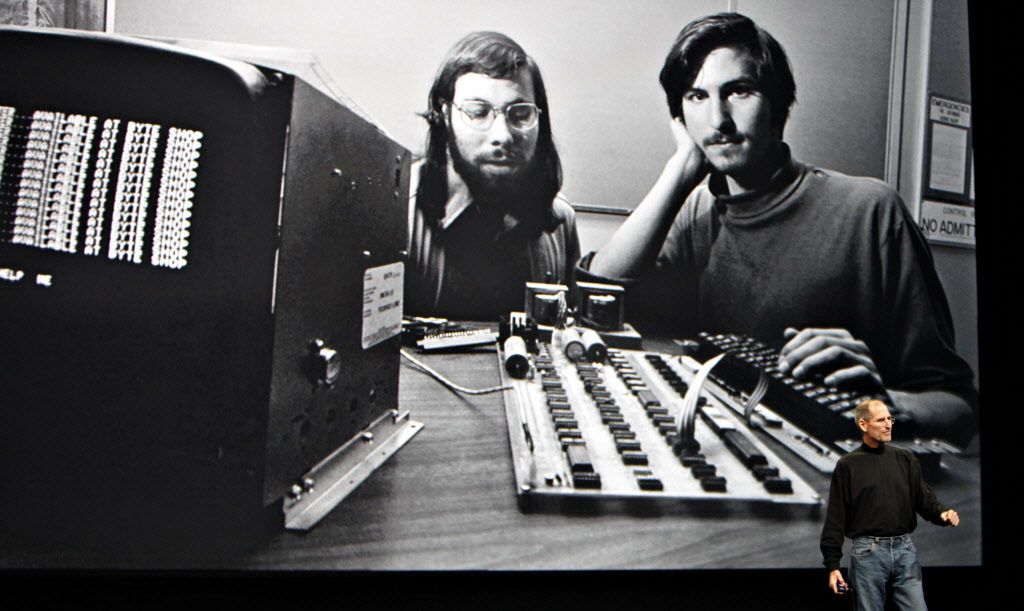 Steve Jobs and Apple co-founder Steve Wozniak/ Bloomberg
–
Apple only produced 200 of their One model computers were made, meaning that any other systems still in situation liable to be rare and expensive collectors items. According to end industry sources somewhere between 30 and 50 units are still believed to exist.
To give an idea of proportions, the original Apple one came with just eight kilobytes of memory, with even the most average home computer today being one million times more powerful.
When interviewed Perry, a retired child psychologist recalls approaching Wozniak asking them to provide Apple's "internal code" that would allow them to create interactive lessons for his students using the new technology. Wozniak was more than happy to help out.
Wozniak formed his friendship/partnership with Steve Jobs took a summer job with Hewlett-Packard in 1971, where Wozniak was already employed as a computer technician having quit has studies at the University of California.
The pair became relatively close friends through their mutual interest in computers, and they spent most of their spare time tinkering with all kinds of prototypes until they had, what they felt, was a commercially viable product.
That breakthrough came in April of 1976, Jobs and Wozniak got together to form the Apple Computer with Wozniak finally quitting his job at Hewlett-Packard to take on the role of vice president of the company with special responsibility for research and development at Apple.
After the initial and tentative success of the Apple One, Wozniak also single handedly designed its follow-up the Apple II. The Apple II was considerably more sophisticated and powerful being the first personal computer to come with its own integral BASIC programming language as well as the capability to display color graphics.
Wozniak continued to be a driving force at Apple, despite almost losing his life after crashing his private airplane in February 1981. After the accident Wozniak took some time off from the high-pressure world of computer development returning only in 1983 to Apple's product development, and agreeing only to take up a more passive role in the Apple workforce.
Wozniak permanently wound up his full-time employment with Apple in February 1987, although he still receives a stipend from the company, as well as being a considerable Apple shareholder.
However his role in the history of the modern computer can never be undervalued, as is obvious by the value placed on some of his most heavily and simple efforts.