More than 150 supporters of President Donald Trump, some of whom were armed, gathered outside the building where votes are being counted by the Election Commission in Maricopa County, Phoenix, Arizona.
"Count the votes," the protesters called on the committee. Fox News and the Associated Press have announced a victory for Joe Biden by a small margin in Arizona, after counting 86% of the vote.
Please help us out :
Will you offer us a hand? Every gift, regardless of size, fuels our future.
Your critical contribution enables us to maintain our independence from shareholders or wealthy owners, allowing us to keep up reporting without bias. It means we can continue to make Jewish Business News available to everyone.
You can support us for as little as $1 via PayPal at office@jewishbusinessnews.com.
Thank you.
Supporters of the president also reached out to the Detroit Election Commission in Michigan, where they called for an end to the count. Last night, Trump announced his intent to petition the courts to stop the vote count in Michigan. Fox News hs already declared Joe Biden the victor in that state.
Before the election Americans feared the possibility of riots after the polls closed because of many accusations of vote tampering, whether such claims were founded or not. Store owners boarded up their doors and shop windows. "Some people will want to cause a riot," said Washington Mayor Muriel Bauer. She had not previously seen so many boarded up stores. "It saddens me," Bauer said.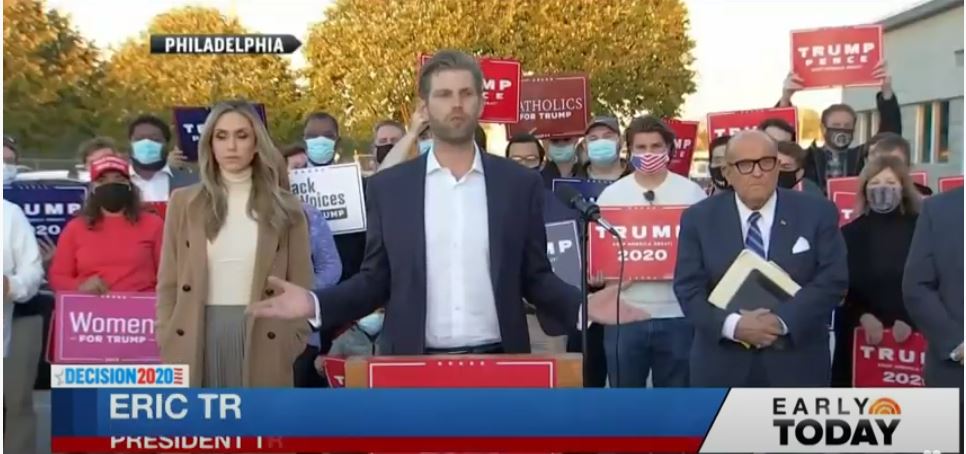 A day after the election Biden supporters were out protesting the president's claim of "election fraud", and the legal battle he intends to wage. They could be heard shouting, "Trump is a liar, count every voice."
There have been arrests and confrontations in New York, Portland, and Seattle. Right-wing organization Proud Boys has claimed that 4 of its members were stabbed in Washington.
Fear of Trump-backed militias possibly engaging in intimidation and violence has led to many people taking to the streets.
Demonstrators, however, have yet to protest the legal battle that President Trump intends to wage based on what he calls allegations of fraud and forgery. In some polls, protesters called for "defending the vote and not letting Trump steal the election."
Last night in the United States, demonstrators took to the streets of major cities like New York, Philadelphia, Washington, Chicago, Atlanta and Detroit.
In New York, hundreds of protesters took to the streets of Manhattan and other hotspots in the city. They waved U.S. flags and signs that read, "Count every vote, every vote counts." At least 50 protesters were arrested during demonstrations in New York. Police accused them of blocking traffic and disrupting public order.
New York police have posted on social media photos of protesters setting fire to garbage in Manhattan. "It's very important that we make sure our democracy is maintained," a Manhattan protester said. "This election is causing so much anxiety."
In Washington, D.C., more than a thousand people demonstrated against the president in Black Lives Matter Square near the White House. Hundreds of others marched downtown, occasionally blocking traffic and lighting fireworks. "Whose streets? Our streets!" the protesters shouted in protest in Washington, "If we do not have justice, they will not have peace." The protesters waved signs that read, "Trump lies all the time."
Enrique Trio, leader of the far-right Proud Boys organization, told Reuters that he and three other members of the organization were stabbed near the White House. He said one of the attackers wore a Black Lives Matter mask.
Local police have not yet confirmed the report and have not made any arrests. Black Lives Matter said they had nothing to do with the attack reported by the trio.
In Philadelphia about 200 protesters marched near the city's Independence Hall. The protesters belonged to labor unions and activist organizations, including the fight against global warming.
The demonstration in Philadelphia began even before the Trump campaign announced that they were demanding a halt to the vote count in Pennsylvania on the grounds of lack of transparency. "We want Biden to win, but we want every vote to be counted – no matter what," said one Philadelphia protester.
More tumultuous demonstrations have taken place in Seattle and Portland. In each of the demonstrations, hundreds of people protested against Trump, and several rioters were arrested. In Seattle, police arrested several people, including protesters who scattered nails on the road and a driver who broke through a police checkpoint. There were no casualties in the protest in Seattle.
"This is what democracy looks like," shouted Portland protesters. Protest organizers said before it began that the protest would not be violent, and that regardless of the election results they would continue to protest against racism in the U.S. The local sheriff's office said some of the protesters came to the demonstration with guns. Portland police made arrests and confiscated fireworks, hammers and rifles.
Oregon Governor Kate Brown has called on the state's National Guard to be on alert following a protest in Portland. There have been stormy demonstrations in the city almost every evening since the murder of black detainee George Floyd in Minneapolis in May.
Portland Mayor Ted Wheeler wrote on Twitter: "There will be no tolerance for violence of any kind, intimidation and criminal destruction." He noted that residents need to be confident adding, "while making their voices heard to express their worldview."