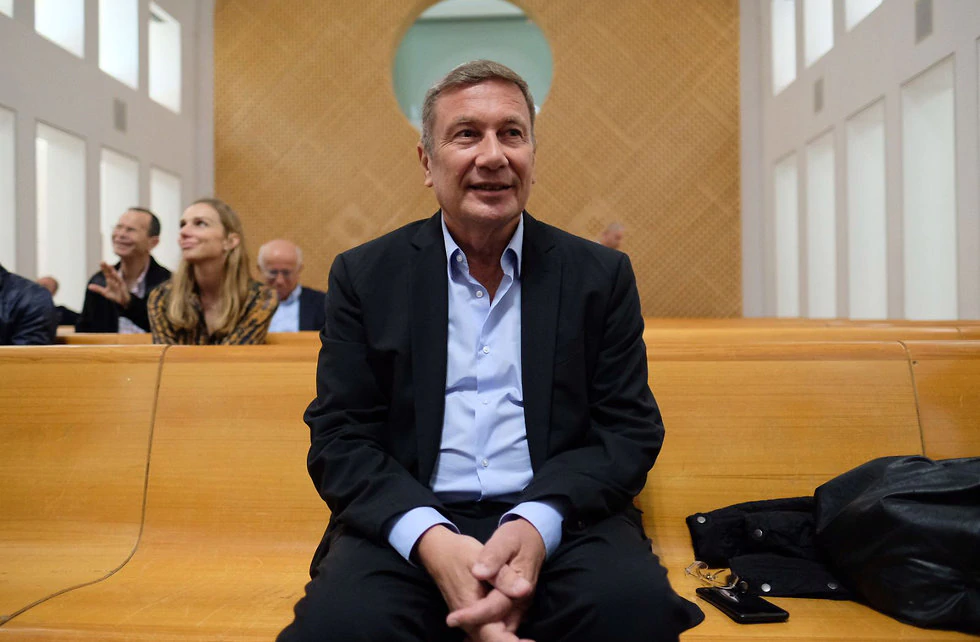 The Supreme Court rejected an appeal Wednesday by Nochi Dankner, once one of Israel's most prominent businessmen, and increased his sentence from two to three years in prison.
Dankner appealed his 2016 conviction for market manipulation and securities fraud, while the prosecution appealed the lenient sentence.
Please help us out :
Will you offer us a hand? Every gift, regardless of size, fuels our future.
Your critical contribution enables us to maintain our independence from shareholders or wealthy owners, allowing us to keep up reporting without bias. It means we can continue to make Jewish Business News available to everyone.
You can support us for as little as $1 via PayPal at office@jewishbusinessnews.com.
Thank you.
The court also doubled the sentence of Itay Strum, who was found guilty of helping Dankner, from one to two years.
The ruling determined that Dankner, the former IDB Holding Corp. controlling shareholder, will begin serving his prison term on October 2 for his role in carrying out millions of dollars' worth of fraudulent transactions in an attempt to influence the share price of the troubled company.
Dankner was convicted in 2016 of providing the finances for a scam involving the purchase of IDB stock on the day it was issued. That day, IDB Holdings' stock registered unusually high activity on the Tel-Aviv Stock Exchange. He manipulated the market on the day of issue—in other words, was involved in a massive acquisition of IDB Holdings stock, along with broker Adi Yehuda Sheleg.
The affair started at 2011, when Dankner foresaw problems in IDB cash flow after years of prosperity. The company had a complex pyramid of control with multiple levels of holding firms and subsidiaries. It hit hard times when the market crashed and some investments, such as a major Las Vegas real estate deal, failed.
Dankner then started looking for funding sources, and alongside his counterparts, had decided to issue securities in order to raise the money.
On February 23, 2012, IDB held a successful securities issue in which it raised NIS 321 million ($83 million). In the institutional phase the company raised NIS 286 million ($74 million) and the public offering yielded NIS 35 million ($9 million) in requests.
The stock acquisition was aimed at maintaining the stock's value ahead of the issue. Once the issue ended, IDB Holdings' stock began plummeting.
At the time, Dankner was chairman of IDB's board and one of the owners of its controlling interest, and financed the scam with his own resources as well as recruited other parties who, according to his instructions, purchased stock that was bought by broker Adi Yehuda Sheleg and businessman Itay Strum to provide the finances to keep the scam going.
IDB took on millions of dollars in debts following a series of bad business deals. The courts wrestled control of IDB away from Dankner as a result.
Sheleg later turned state's evidence and testified against Dankner and Strum, saying that Strum had asked him to "raise the share's value to save Nochi's investment." The two accused him of a false testimony.
Dankner did not give up after his conviction and appealed to the Supreme Court against both the conviction and sentence—a 24-months prison sentence and a NIS 800,000 fine—in February 2017. Strum had also appealed, but the court, as stated, did not accept their claims and rather increased their sentences.
Supreme Justice David Mintz stated on Wednesday that "the case before us is of one of the most severe and unusual securities scams uncovered in recent years, within the most prominent and influential company of the time. Dankner and Strum executed a vast fraud, in which millions were invested in fraudulent stock transactions in an attempt to influence and stabilize the IDB share price."
"Dankner and Strum have extensive complaints about the harsh sentence that the district court gave them. They wish to present their actions as a minor fraud. But these claims should be denied," the judge stressed.
"Furthermore," said Mintz, "not only was the court not harsh on the two—it was easy on them. Too easy."
Mintz concluded that "it was not a 'spontaneous organization' but a well orchestrated share fraud, done by people who know and have an influence on the capital market and its investors, who took advantage of their resources in order to bend the rules for their personal benefit."
Dankner's case has led to economic reforms in Israel, with the government passing regulations to increase market competition and limit pyramid-style companies.
Dankner, a former favorite of Israel's business community, was often credited with helping rescue Israel's economy at the height of a Palestinian uprising. Under his leadership, IDB became Israel's largest holding company and Dankner became a celebrity.
Control of IDB and its subsidiaries has since been sold to Argentinian businessman Eduardo Elsztain.
By Ynet News. Reuters and the Associated Press contributed to this report.