Yair Netanyahu, the son of Israeli Prime Minister Benjamin Netanyahu, shared on Saturday an anti-Semitic caricature on his Facebook page which mocks some Jewish figures whom he identifies as enemies, the way Nazis did.
Yair Netanyahu, calls himself "Yair Hun", described the meme as "the food chain." It features billionaire Georg Soros, a philanthropist who support democratic movements and Human Rights Watch. Soros is known for criticizing Israel for the occupation of the Palestinians territories. Soros is the top in Yair Netanyahu food chain along with two anti-semic figures and former Prime Minister Ehud Barak, social activist Eldad Yaniv who lead the protests to support investigations against Netanyahu and Mani Naftali, the former worker at Prime Minister's official residence who implicated Sara Netanyahu in the case she now being indicted for.
Please help us out :
Will you offer us a hand? Every gift, regardless of size, fuels our future.
Your critical contribution enables us to maintain our independence from shareholders or wealthy owners, allowing us to keep up reporting without bias. It means we can continue to make Jewish Business News available to everyone.
You can support us for as little as $1 via PayPal at office@jewishbusinessnews.com.
Thank you.
Yaniv and Naftali were violently arrested and held overnight by police three weeks ago, for Facebook posts calling on the public to join the protest.
A week ago Benjamin Netanyahu publicly attacked the two men, calling them anarchists and criminals while speaking to his supporters.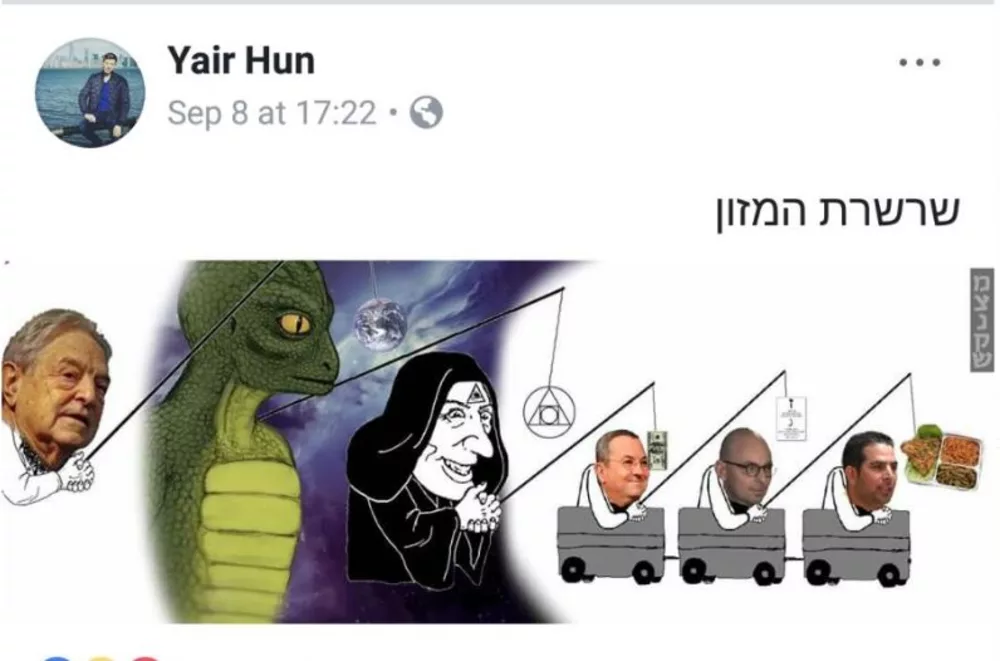 The picture refers to a neo-Nazi caricature showing that Jews are descendants of "lizard people," swept harsh criticism from Members of the Knesset.
In response to the post, former PM Ehud Barak tweeted: "This is what the child hears at home – what is it, genetics or mental illness?"
MK Mickey Rosenthal wrote: "It is possible that the food ordered by his mother is spoiled."
One of those who expressed support for Netanyahu's son's post was David Duke, the former head of the extreme right-wing Ko Klux Klan, when he shared the article.
Netanyahu's son posts a meme suggesting (((Soros))) is controlling the world: "Meme rife with anti-Semitic themes"https://t.co/6WxSTUNU4e

— David Duke (@DrDavidDuke) September 9, 2017
the truth is revealed pic.twitter.com/CiRKseODEe

— Sam the Mule (@SamLeMule) January 20, 2017
In recent weeks, Yair Netanyahu, who is known to hold extreme right-wing views, is intensifying his statements on Facebook.
Last month, after the neo-Nazi demonstrations in Charlottesville, Virginia, he wrote on the subject, claiming that neo-Nazis are an "extinct species" and warned of the increase of "thugs" radical left in the U.S  "Which are becoming increasingly dominant in universities and public life in the United States."
On Friday Attorney General Avichai Mandelblit announced that Sara Netanyahu, prime minister's wife, will be indicted for fraud and breach of trust.