–
Soros's Quantum Endowment fund earned $5.5billion, the second highest return in its history.
–
Please help us out :
Will you offer us a hand? Every gift, regardless of size, fuels our future.
Your critical contribution enables us to maintain our independence from shareholders or wealthy owners, allowing us to keep up reporting without bias. It means we can continue to make Jewish Business News available to everyone.
You can support us for as little as $1 via PayPal at office@jewishbusinessnews.com.
Thank you.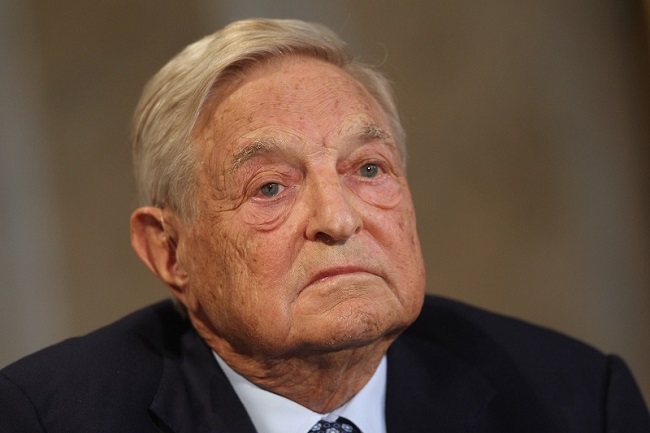 George Soros / Getty
–
George Soros, billionaire chairman of Soros Fund Management, in his role as  primary adviser to the Quantum Group returned his second best ever year in 2013, adding no less than $5.5 billion to his personal fortune, whilst pushing the Quantum fund back to the top of the charts as the current most successful hedge fund in terms of returns.
Solis will be undoubtedly pleased with this remarkable return on investment for the fund, which is now open to family members only, a move which he made in early 2012, apparently to steer clear of anticipated regulatory scrutiny in the wake of the Dodd–Frank Wall Street Reform and Consumer Protection Act which became legal in mid-2010.
Another possible reason for the return of outstanding results in the fund may well be attributed to Scott Bessent, the fund's current chief investment officer who was appointed to the role by Soros in late 2011.
Returning $5.5 billion on the $28.6 billion Quantum fund is indeed a remarkable achievement, although when George Soros himself was at the head of the fund he produced better results both in 2007 and 2009, firstly by anticipating the offset of the financial crisis and secondly by correctly calling that the US economy would move out of the crisis.
Last year's exceptional means that Soros has succeeded in displacing Bridgewater Pure Alpha as the highest earning for its investors since its founding. Industry estimates point to the fact that the Quantum fund has earned close to $40 billion since its founding in more than 40 years ago.
While Soros undoubtedly leads the field for returns in 2013, there were, however, four other venture capital funds  who succeeded earning more than $4 billion in the same year. These were the Lone Pine and Viking funds under the auspices of Julian Robertson of Tiger Management, the Appaloosa fund run by David Tepper  and Seth Klarman's Baupost fund.
George Soros was just fourteen years old, when he  managed to escape their clutches spending the rest of the war being protected by a non Jewish family friend, a high level Hungarian Government official.
After the war emigrated to the UK, and when just seventeen he was accepted to study at the London School of Economics, where he graduated with a Bachelor of Science degree in 1952. With the UK economy beginning to come round after the war years, there were plenty of openings around for a smart and diligent young man like George Soros and he rapidly found himself a psot as a trainee in the highly prestigious merchant bank, Singer & Friedlander.
There he was to remain for three years till in 1956 Soros decided that the time was ripe to leap the big pond and broaden his  experience in the financial markets of Manhattan, first working as an arbitrage trader and later as a financial analyst for Wertheim & Co, where he was employed between 1959 and1963.
George Soros took his step up the corporate ladder from being appointed vice-president at investment bankers Arnhold and Bleichroeder, where he gained his first experience in offshore investments as hedge fund managers. After ten years in the role, Soros by then in his early forties established his own hedging operation, the Quantum Fund in partnership with colleague Jim Rogers. Soros recalls that his intentions were to earn $500, 000 within five years, so that he could retire as further his lifelong ambition to become an author.
Within the next twenty years when he was at this most active in fund management, Soros succeeded in earning his half a million dollars umpteen times over, but remained active in the market with financial coup following financial coup.
In September 16, 1992, forever known as Black Wednesday in the annals of UK financial history , Soros' fund pulled off the largest coup of them all, almost pulling off the legendary act of " breaking the Bank of England" in the process.
Sensing an opportunity of  profiting from the UK government's reticence to raise the country's interest rates to compete with their partners in the European Exchange Rate Mechanism consortium, Soros bought up £10 billion worth of UK currency, which he rapidly resold making a profit of around £600 million in the space of one day.
However by that stage, Soros had already embarked on another course, that of international philanthropist, donating and estimated £4 billion pounds to various international charities and causes. One of his first, and probably nearest to his heart, was in helping to finance the seamless transition from communism to democracy in his country of birth, Hungary as well as a list of other countries throughout the World who have escaped from the yoke of military juntas and dictatorships through the auspices of the Open Society Institute, which he formed and acts a chairman.
–