–
The Israeli high-tech industry is not all fun and games. Or is it? When it comes to gaming, that is exactly what it is. While there are no major studios producing "triple A" console games in Israel yet, according to GamesIS, the Israeli gaming industry is a $450 million a year business.
We've curated six Israeli companies that are leaving their mark on the global gaming market and showcase the diversity of the Israeli gaming scene.
Please help us out :
Will you offer us a hand? Every gift, regardless of size, fuels our future.
Your critical contribution enables us to maintain our independence from shareholders or wealthy owners, allowing us to keep up reporting without bias. It means we can continue to make Jewish Business News available to everyone.
You can support us for as little as $1 via PayPal at office@jewishbusinessnews.com.
Thank you.
–
Funtactix
–
1. Funtactix – Blockbuster company

With the Hunger Games's sequel "Catching Fire" recently released, there's no doubt that Israeli Funtactix's award-winning game will once again be in the spotlight.Funtactix specializes in producing Facebook-game versions of popular movies and their "Hunger Games Adventures" game, originally released alongside the first Hunger Games movie, earned them a Webby award.
"Now if you're a Hollywood studio with a major property you don't go to Vancouver, Paris or San Francisco to make a video game based on that property — you go to a team that's based largely in Tel Aviv, " Funtactix CEO Sam Glassenberg recently said.
The company is headquartered in New York with offices in Tel Aviv and has held a single financing round in 2007, in which it raised $6 million.
–
Plarium
–
2. Plarium – To Russia with love
Plarium, founded in 2009 by CEO Avi Shalel and his brother, VP of Marketing Gabi Shalel, is a major player in online gaming. The company's main focus (roughly 60 percent) is on the Russian-speaking market and they produce multiplayer games, such as strategy game Total Domination, which has millions of active players. "It's the players who feed us, " CFO Yaron Hakimi told Channel 2 News, "they fertilize us and essentially push us to produce the next generation [of gaming]."
Plarium has roughly 90 million registered users overall. The company operates out of Herzliya, with three animation studios across Europe. They employ 400 employees in Israel and abroad.
–
Kazooloo
–
3. Nordau Creative –Augmenting reality for fun
A field that is constantly developing since the introduction of smartphones is augmented reality (AR). Nordau creative has leveraged the technology into the field of gaming with its flagship game: Kazooloo. The game has two components: a physical pad and any smart device with a touch-screen. The player uses their device to battle a 3D monster that "appears" out of the pad when looking through the device screen:
–
–
"We aim to be the first international Israeli children oriented gaming brand, further solidifying and building upon the country's reputation as a technology and content exporter, " Nordau CEO Nimrod Barnea tells NoCamels. Referring to augmented reality glasses, Barna says: "Our product utilizes the most advanced mobile technologies, in an era where heavily AR-based devices like Google Glass and Meta is the future, we will be there with them."
–
4. Side-Kick Games – Getting into the motion
Recently, international technology giant Apple acquired Israeli 3D sensor manufacturer Primesense. However, Primesnse is not the only Israeli company in the motion recognition business. Side-Kick Games is all about putting games in motion, enabling users to play games without a controller, using only physical gestures. Side-Kick was founded in 2010 and has grown from five to 25 employees since. "Side-Kick Games is working with interntional game publishers, such as SquareEnix, DeNA and Majesco to develop games for consoles, PCs and mobile devices, " CEO Guy Bendov tells NoCamels.
Last year, the company launched Mini Ninja Adventures, an Xbox Kinect adventure game, where players use gestures to control a ninja, and has recently launched its latest game, Romans from Mars, which requires players to defend a castle from an alien invasion, which can be played on iOS and Android devices.
–
–
–
5. SixSense – Making the virtual feel like reality
–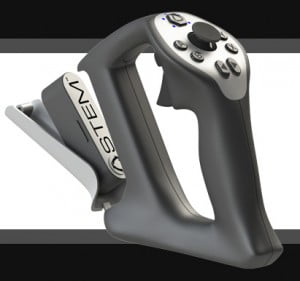 –
In the early 1990′s, there was a short-lived period of virtual reality (VR) video games, which were available at specialty arcades. The VR games didn't last long, however, as the technology lacked maturity.
Nowadays, when 3D graphics are so real, you sometimes can no longer distinguish between a game's environment and the real world. However, the major drawback of current VR technology is that some actions, such as looking over the edge of a cliff or touching one's head, simply don't feel real enough.
Israeli company Sixsense, headed by former Marvel Entertainment president Avi Arad, the company behind the hit Spiderman movie trilogy, has developed a system called STEM. The system is composed of five sensors and two handheld controllers, which can work in perfect synchronization with various VR goggles, such as the Oculus Rift, to give gamers one of the most realistic gaming experiences available. The company used Kickstarter to raise funds for STEM, and smashed their $250, 000 goal, closing the campaign at a whopping $600, 000. The system will ship out July 2014.
–
6. PowerUp Toys – The beauty of a simple paper airplane
Although one might claim that paper planes hardly fall under the realm of "gaming, " PowerUp's high-tech smartphone-controlled paper plane is every gamer's dream. PowerUp 3.0 is a tiny motor that attaches to a paper plane and allows users to control it from their smartphones. Essentially, it's like playing a flight simulator on your phone, only there's an actual plane flying around. "It's a new concept, a brand that focuses on innovative toys that are a fuse between origami creations and technology, " CEO Shai Goitein tells NoCamels.
–
–
To get the PowerUp 3.0 off the ground, the company launched a Kickstarter campaign, that not only reached its $50, 000 goal within 24 hours, it has ballooned to over $400, 000 with more than 50 days left on the campaign.