–
Sussman has made a significant contribution towards the building costs of the hospice, an offshoot of the Pen Bay Medical Center in Rockport, Maine.
–
Please help us out :
Will you offer us a hand? Every gift, regardless of size, fuels our future.
Your critical contribution enables us to maintain our independence from shareholders or wealthy owners, allowing us to keep up reporting without bias. It means we can continue to make Jewish Business News available to everyone.
You can support us for as little as $1 via PayPal at office@jewishbusinessnews.com.
Thank you.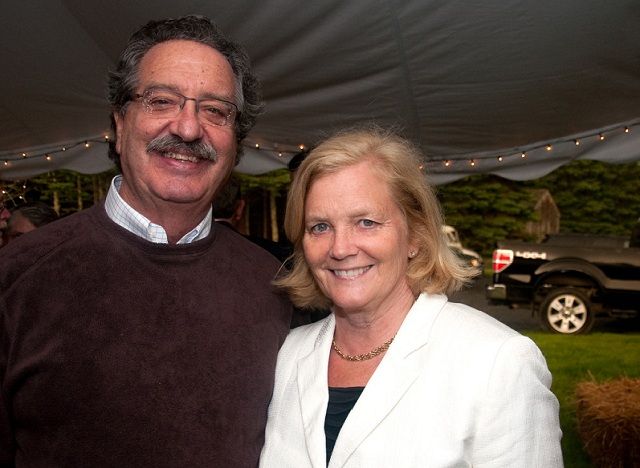 Donald Sussman with his wife Chellie Pingree / maine politics  
–
Donald Sussman,   husband of Senator Chellie Pingree, who has  represented Maine's 1st congressional as a member of the United States House of Representatives, on behalf of the Democratic party, has owned a home  in the State for close to twenty years.
When completed, the hospice which will be known as the Ida Sussman Hospice in the name of Sussman's late grandmother.
Construction is due to get underway in the coming weeks, with completion of the  10, 000-square-foot building scheduled for  August 1, 2014.
The hospice, which will be built in a comforting  farmhouse design, will contain  seven patient suites, each of them with a private bathroom as well as an individual living area, patio, as well as a private garden for the use the patient's family.
The hospice  building is being constructed to  meet  the highest green building standards as well as being designed in such a fashion that it can be expended to include a further seven patient suites for the future.
The total cost of phase one of the project is  budgeted at  $6.6 million, of which  Donald Sussman has put up around 15% of million.
Mr. Sussman, recently underwent some  minor surgery at Pen Bay Hospital and was enthusiastic in his praise of the  quality of care that he received during his stay at the hospital, as well as the friendliness and professionalism of the hospital staff.
Plans have been afoot to build a hospice adjacent to Pen Bay for more than ten years, and thanks to  Sussman's donation as well as the kindness and generosity  of  1, 000 other donors, the  $6.6 cost of constructing the hospice house has now been met.
Donald Sussman  was born and raised in  Miami, Florida. After completing high school, Sussman  earned his BS  from New York University as well as an MBA from  the Columbia College, the undergraduate college at Columbia University.
After a successful career in the world of finance,  Sussman founded found Paloma Partners in 1981,  a hedge fund which went on to handle assets of  $3 billion under management
In 2006, Sussman sold Paloma's middle and back-office operations to  JPMorgan Worldwide Securities Services for a confidential  sum. Following selling a considerable share of his company to  JPMorgan, Sussman has remained  active in the financial markets as an investor, specializing in emerging hedge funds
In 2012, through  a company that he owns under the name of  Maine Values LLC, Donald Sussman  invested more than  $3 million in MaineToday Media,  owner of the Kennebec Journal, the Morning Sentinel and the Coastal Journal, the Portland Press Herald and several digital media properties all of them based in the state, with Maine Values owning 75%  of MaineToday Media.
–