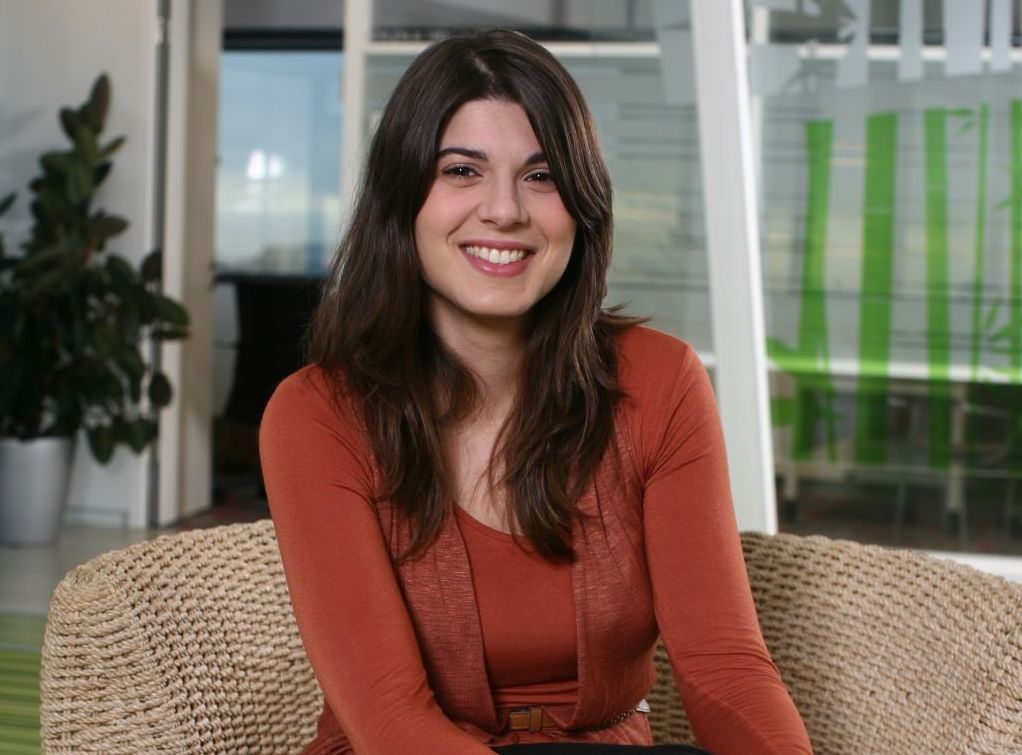 Dr. Kira Radinsky, who completed her doctoral studies at Israel's Technion Institute of Technology, has been selected for the Massachusetts Institute of Technology 2013 list of 35 young innovators as selected by, and published in, the MIT Technology Review.
Every year 35 outstanding young innovators under 35 years old are chosen for this list from hundreds of candidates in many different fields of research and innovation. Dr. Radinsky, who is only 27, made the list as an "exceptional innovator for her outstanding work in the field of software."
Please help us out :
Will you offer us a hand? Every gift, regardless of size, fuels our future.
Your critical contribution enables us to maintain our independence from shareholders or wealthy owners, allowing us to keep up reporting without bias. It means we can continue to make Jewish Business News available to everyone.
You can support us for as little as $1 via PayPal at office@jewishbusinessnews.com.
Thank you.
"Over the years we have chronicled success in the selection of women and men whose inventions and companies they established have made a deep impact on the different trends in human society, " said Jason Pontin, Publisher and Editor in Chief of the Review. "Previous winners include Larry Page and Sergey Brin, the cofounders of Google; Mark ­Zuckerberg, the cofounder of Facebook; Jonathan Ive, the chief designer at Apple; and David Karp, founder of Tumblr. We are proud of all our nominees and the range of achievements they have made, and are proud to add Kira to this distinguished list."
Kira's contribution that gained her entry to this year's list is about using computers to predict events.
Dr. Radinsky was born in Ukraine and immigrated to Israel with her parents as a preschooler. She began her studies at Technion at age 15, joined the Technion's Excellence Program and completed three degrees there under the tutelage of Professor Shaul Markovitch from the Faculty of Computer Science. During her studies, she developed a new prediction method that can foresee events reportedly with up to 80% accuracy.
This was done by means of scanning literature written over the last 500 years, including all the materials published in the New York Times from 1880 onwards, and then looking for strong correlations between various events.
In 2012, when Cuba suffered its first outbreak of cholera in 130 years, the government and medical experts there were shocked. But Kira's software had actually predicted it months earlier. Predictions made by Radinsky's software are so far about as accurate as those made by humans. The promise of further improvement is also there and potential automated uses may be considerable.
During her studies, Dr. Radinsky also went to work at the Microsoft Research Division in the US for a time, headed by Eric Horvitz, and worked there with him and Susan Dumais. She later as gone on to found her own start-up company "SalesPredict" together with Yaron Zakai-Or, which has already raised one million dollars in seed capital. SalesPredict provides predictive analysis to foretell sales expectations, and some of its clients have already effectively grown their sales potential.
Today, Kira also networks with genocide prevention organizations and medical organizations for the purposes of implementing her research findings and to help provide potential solutions for suffering populations. "My true passion, " she says, "is arming humanity with scientific capabilities to automatically anticipate, and ultimately affect, future outcomes based on lessons from the past."
Dr. Radinsky's research has already earned her awards from numerous organizations, including Google, Yahoo and Facebook.
"Kira is a brilliant researcher gifted with unique skills which support her inclusion on this list, " said her former teacher Professor Shaul Markovitch. "Kira possesses intense intellect, creativity and curiosity – a rare combination typical of outstanding inventors. In her doctoral study, she tackled a problem that seemed to be unsolvable with the tools currently available – the development of algorithms capable of accurately predicting global events through the use of vast reservoirs of web-based information sources. Her boldness for taking on such a problem and scientific competence that demonstrated her successful solution is what brought her to be included on this list."
Dr. Kira Radinsky said today in response to news of her selection: "This is a great honor for me to be nominated to the list of "young innovators" of MIT. I hope that it will encourage more Israeli researchers and scholars to study this field, to facilitate the building of an empirical superpower in Israel."
The MIT Review Young Innovators List 2013 with all details can be found at this link: http://www.technologyreview.com/lists/innovators-under-35/2013/
The list:
Dmitri Alperovitch, 32,  The cofounder of the security company CrowdStrike wants to help cyber attack victims strike back.
Caroline Buckee, 34,  Cell phones can become a weapon against disease.
Leah Busque, 33,  In the jobless economic recovery, an online labor marketplace thrives.
John Dabiri, 33,  How is a wind farm like a school of fish?
David Fattal, 34,  A revolutionary type of 3-D display could provide a new look to moving images.
Anthony Goldbloom, 30 ,  A startup called Kaggle tries to bring smart people to knotty problems.
Dmitry Grishin, 34 ,  When the Internet was getting big in Russia, he was in the right place at the right time. Now he hopes to do it again with personal robotics.
Enrique Lomnitz, 30 ,  A design student returned to his native Mexico City after college in the United States to help the megalopolis overcome its water crisis.
Eric Migicovsky, 27 ,  How he invented the smart watch.
Ben Milne, 30 ,  Digital payment systems dreamed up in the Web era still piggyback on credit card networks. There ought to be a faster and cheaper way.
Kira Radinsky, 27 ,  How good can computers get at predicting events?
Laura Schewel, 29,  Looking more closely at the way people move through cities.
Bright Simons, 31 ,  The mPedigree Network, based in Ghana, lets people determine with a text message whether their medicine is legitimate.
Amos Winter, 33 ,  Some problems aren't apparent until you ask.