–
Helsinki Hockey Arena / Getty
Please help us out :
Will you offer us a hand? Every gift, regardless of size, fuels our future.
Your critical contribution enables us to maintain our independence from shareholders or wealthy owners, allowing us to keep up reporting without bias. It means we can continue to make Jewish Business News available to everyone.
You can support us for as little as $1 via PayPal at office@jewishbusinessnews.com.
Thank you.
 –
/ By Alan Gallindoss /
Russian business newspaper Vedomosti reported on Monday that Billionaire Gennady Timchenko will buy Finland's biggest hockey arena in partnership with Arkady Rotenberg and his brother Boris.
Events management company Arena Events Oy, a company owned by Timchenko and Boris Rotenberg, said it would buy the Hartwall Arena in full as well as a minority stake in the local hockey club, Jokerit. The hockey club's current owner, Harry Harkimo, will retain the controlling shareholding.
Timchenko, who has Russian and Finnish citizenship, sits on the Continental Hockey League's (KHL) board of directors and co-owns oil trading company Gunvor.
The present owner of Jokerit, Harry Harkimo, said the Russian businessmen have purchased the stadium and parts of the hockey club because of their love of hockey. The club will of course take part in the KHL in the 2014-15 season.
The cost of the purchase was not reported, but Finnish newspaper Helsingin Sanomat wrote that the arena has struggled to make ends meet over the last two financial years. Last year, it posted revenues of 19 million Euros (about US$25 million) and had an operating loss of 95, 000 Euros.
Boris Rotenberg's son, Roman, who manages Arena Events Oy, said the principle goal now was to develop the arena and to fill its calendar with sporting events and concerts. The arena, which opened in 1997 and has a capacity for over 13, 000 people, could be renamed once the purchase is sealed, he added – if the naming rights are sold commercially, as an example.
Sanoma Media had earlier sold an 18 percent share in the stadium. Sanoma Meida owns the The Moscow Times through which it is also a co-investor in Vedomosti in an international joint venture together with the Financial Times and Dow Jones Company (now owned by Rupert Murdoch). So there is plenty of media spaghetti in in this particular plate of pasta!
About the Rotenbergs
Arkady Rotenberg is a billionaire and among the most influential businessmen in Russia, in part due to his relationship with Prime Minister Vladimir Putin. He and his brother Boris (also a billionaire) were judo sparring partners with Putin and remained close ever since. Starting in 2008 the Rotenbergs began acquiring subsidiaries of Russia's national energy champion Gazprom and built them into Stroygazmontazh Corporation (or SGM Group), one of the biggest suppliers of steel pipe to Gazprom and a major construction contractor in the energy field.
–
Arkady Rotenberg
–
Arkady Rotenberg
SGM recently acquired Gazprom-Bureniye, one of the biggest drilling companies in Russia. Rotenberg owns 51% of SGM, and holds a 26% stake in Mostotrest, a big road construction corporation that in January paid $258 million for the concession to a toll road from Moscow to Saint Petersburg. The brothers also controls SMP Bank. Arkady and Putin are longtime benefactors and leaders of Moscow's elite judo club Yawara-Neva. They both share a love for hockey, too. Rotenberg recently became the president of multi-championship-winning hockey club Dynamo Moscow, which in its early days decades ago was sponsored by the KGB.
Arkady Rotenberg, who is 61, studied at the Leningrad Institute of Physical Culture, is married and has two children. With a net worth of US$3.3 billion he ranks number 412 currently on Forbes world billionaires list. A few days ago on June 30th this newpaper reported here •••[LINK]••• that Arkady was building a huge air freight terminal at Sheremtyevo international airport on the north west of Moscow.
His brother Boris is five years younger, is divorced with two children and also studied at the Leningrad Institute of Physical Culture. With a net worth of US$1.4 billion Forbes ranks him at number 1, 031 on their list of world billionaires.
–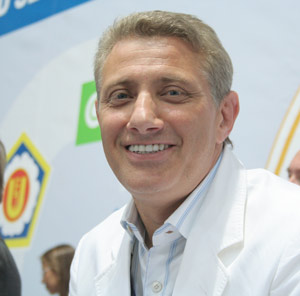 Boris Rotenberg
–
Boris Rotenberg
Boris Rotenberg's son Boris is a well-known footballer who plays for Moscow Dynamo, and who even played for a time with Hapoel Petah Tikvah in Israel. His second son Roman manages the events company that will now take care of the new hockey arena.