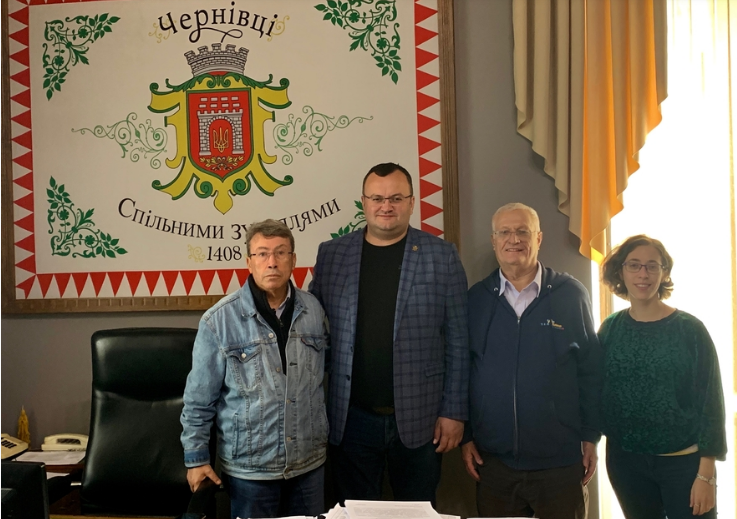 Limmud FSU initiates a request to Chernivtsi, Ukraine, for permission to place a memorial plaque in the city center in honor of Nava Semel, with the aim of dedicating it in 2020.
Dozens of local citizens, prominent officials and 70 members of the Limmud FSU Ukraine organizing committee have arrived in the city this past weekend, took part in the launch of an exhibition honoring two Israeli cultural icons. The writers Aharon Appelfeld and Nava Semel, both of whom had a close connection to the city of Chernivtsi, also widely known as Czernovitz, with its deep historical and important Jewish heritage.
Please help us out :
Will you offer us a hand? Every gift, regardless of size, fuels our future.
Your critical contribution enables us to maintain our independence from shareholders or wealthy owners, allowing us to keep up reporting without bias. It means we can continue to make Jewish Business News available to everyone.
You can support us for as little as $1 via PayPal at office@jewishbusinessnews.com.
Thank you.
Appelfeld and Semel wrote extensively about the city and an exhibition – "My Chernivtsi – two authors, two generations "- on display at the State University of Chernivtsi, tells the story of this connection and its effect on their creative work. The exhibition was initiated by Limmud FSU founder Chaim Chesler and curated by Dr. Joel Rappel, the founder of the Elie Wiesel archives in Boston University.
As part of the launch at the university a symposium on the life of the two writers was held with the participation of leading local officials, including the mayor of Chernivtsi, Oleksii Kaspruk, Vice – Governor of the Chernivtsi region, Vasilii Gostyuk, Chairman of the Jewish community of Chernivtsi, Ilya Hoch, the Chief Rabbi of the Chernivtsi region Menachem-Mendel Glitsenstein, the Vice-Rector of Chernivtsi State University, Tamara Marusik, among others.
Aharon Appelfeld
The acclaimed novelist, Ervin (later Aharon) Appelfeld was born in Bukovina near Chernivtsi (then in Romania) in 1932. In 1941, when he was nine years old, the Romanian Army retook his hometown after a year of Soviet occupation and his mother was murdered. Appelfeld was deported with his father to a forced labor camp. He escaped and hid for three years before joining the Soviet army.
After World War II, Appelfeld spent several months in a displaced person camp in Italy before immigrating to Palestine in 1946. One of Israel's most prominent literary figures, he won the Israel Prize in 1983. Philip Roth once called him a "displaced writer of displaced fiction who has made of displacement and disorientation a subject uniquely his own."
Nava Semel
Award-winning Israeli author and playwright Nava Semel, who died in 2017, wrote some 20 works of fiction, plays, scripts, and an opera libretto.
Her short story collection Kova Zekhukhit ("Hat of Glass") was one of the first literary attempts to address the topic of the so-called "Second Generation" – the children of Holocaust survivors. Semel's parents were from Chernivtsi, and she frequently mentioned the city in her stories. Her husband, Noam Semel, the long-time director of the Cameri Theater in Tel Aviv, attended the exhibition launch, together with their daughter, Ealeal Semel, also a theater director.
Noam Semel said: "This event was a very emotional for me, my daughter and for our family. Nava was not born in Chernivtsi and did not actually live there, but she wrote about it as if she did, with her parent's experiences beautifully reflected in her stories. We are very excited about the possibility of the city honoring Nava with a memorial."
"This is our first time in Chernivtsi, a city so full of rich Jewish history, and many notable people who were born or had deep roots here," Limmud FSU founder Chaim Chesler added. "Holding our Limmud FSU Ukraine volunteers' seminar and the special exhibition here – are proof that Jewish history is not forgotten."
Vice-Governor of the Chernivtsi region Vasilii Gostyuk remarked that: "We are grateful for this unique opportunity from which we can learn, so we can tell people more about our joint history and appreciate it."