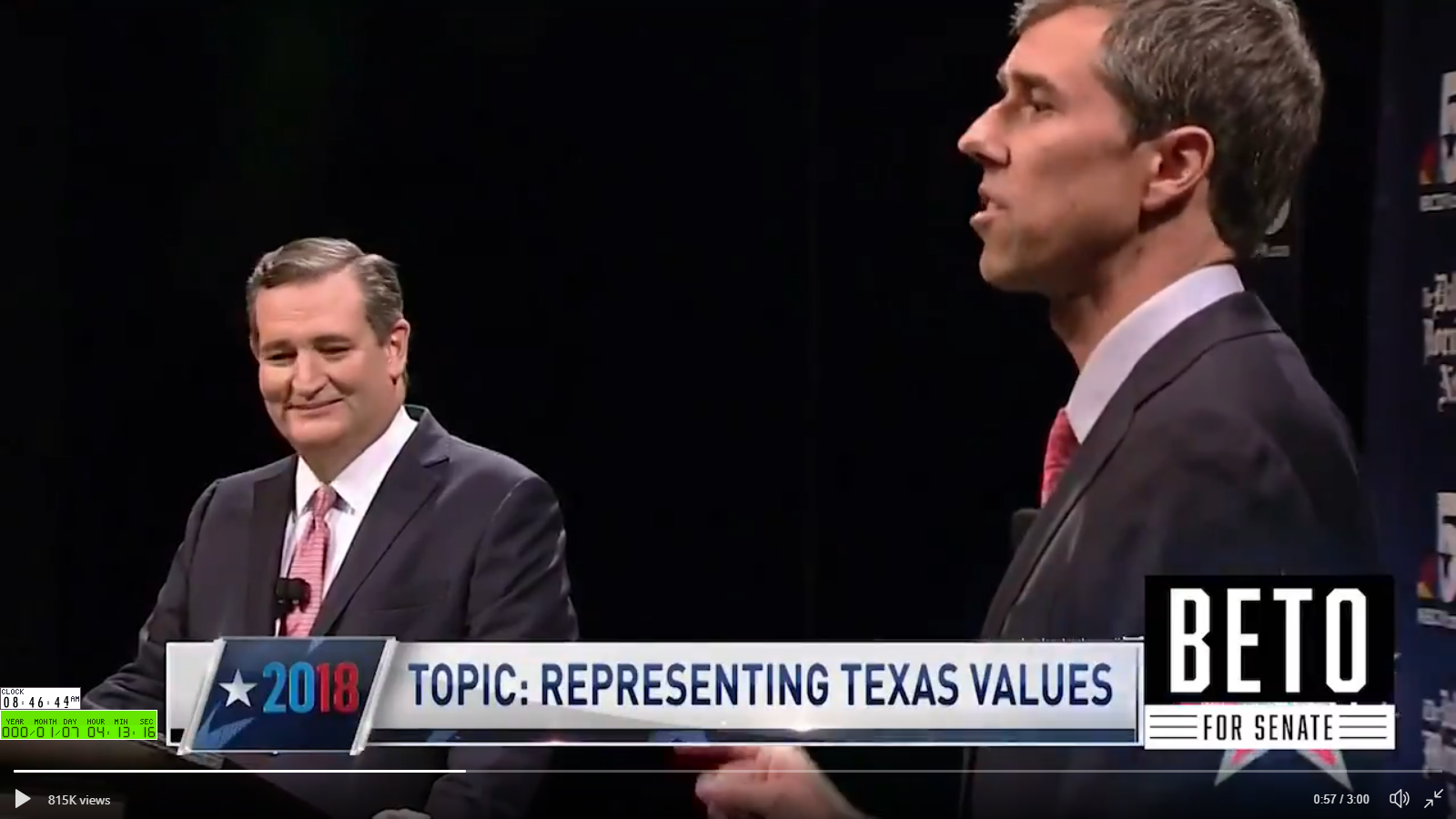 The Port of Galveston (Texas) must have a long cruise for Ted Cruz to take him far away from the US. Vancouver could be the place for him to go to.
The Trump Wall was breached 13 times in a week which made the news last week.
Texas is now the You Can't Count on a Black Quarterback state? Tell me that it isn't so!
Of course, everyone knows that the nickname volunteers belongs to Tennessee. Texas is the Lone Star state and Texas shares a border with Arkansas, Oklahoma, Louisiana, New Mexico, some Mexican states. My father and uncle served in the U.S. Army in Oklahoma. Dad was in Muskogee and my uncle in Fort Sill. Then my uncle served in Fort Bliss, Texas and he would often cross the border to go out and have a good time. Texas is hot right now as Beto O'Rourke is running against Ted Cruz. Ted Cruz still wants to build that wall that I keep talking about and now Trump even wants a wall built across the Sahara Desert. He advised Spain to do that. Now get this. Now hear this. Spain has these two territories (Ceuta and Melilla) in the Northern part of Africa far from the Sahara Desert. This may not be big news in Texas right now, but Republicans should be sharing this information with their constituents to fire up the voters. What is wrong with Trump anyway?
Ted Cruz is in favor of the construction of Trump's wall across Texas and the rest of our southern border. Do you need to see inflated steps going up to the small piece of wall that has been constructed and see the second half going down into the United States? When will reporters in newspapers share this information with constituents, with tax payers? We thank Jewish Business News for covering this over and over, Beto O'Rourke opposes the wall, which is important information to Independents. Maybe Trump should construct the wall for Spain across the Sahara and supervise its construction himself? Moses did that for pyramids, right? And later on, Jesus walked in the desert which had no wall, right? The word evangelical comes from the Greek and refers to good angel or messenger. Trump is not a good messenger, he lies, distorts things, and cares mostly about himself. This democracy is saving him from spending time in Siberia or some similar place. He is destroying democracy as I write this and we may have more on that later this week.
We took the stage last night for the first debate of this Senate race. Watch the recap video, RT to share it, and join us in running a campaign for this state, for this country, by and for each and every single one of us. pic.twitter.com/vBPIfTAqFq

— Beto O'Rourke (@BetoORourke) September 22, 2018
Ted Cruz was talking about jobs and 401(k) programs for Texans. Those things are important and I can assure you the latter has helped me over the last 18 years in my retirement and will continue to help me. It is true that the market is way up and it went up before the Election of 2016 and continues to rise due to investors that make it go way up. Keep an active eye on that, but take a look at the jobs report in the last year. From September 2017 to September 2018, the national unemployment rate went down three-tenths of one percent, but the Texas drop was only one-tenth of one percent. These numbers reveal a wall that has been imposed on Texas that people do not see, but Texans cannot be blind to it. The national unemployment rate has only worsened three times during those twelve months (June, July, August 2018). The Texas figures show eight months when the unemployment worsened (from December 2017 to July 2018). Texans have heard of "Deep State" but right here under your very noses, you can see some Deep What Ever You Want To Call It.
Just For Your Information, the letter that I sent to Senator John Mc Cain (see John McCain: A Kind, Important Letter From Senator McCain) was also sent to Senator Ted Cruz, but his office did not reply. I have since been on the email list of Ted Cruz and read his comments about Presidential Advisor Ivanka Trump touring NASA's Johnson Space Center in Houston. Ivanka Trump would never give you the knowledge or advice that I have given you here.
By the way, I already sent my article on Trump's Wall to the Foreign Minister of Spain. And Mamas I hope that all your children in Texas all grow up to smart cowboys and other things they want to be. Thank you, Willie Nelson, for your help in the middle of this movement to spread the truth about Trump.
When I watched the Republican Presidential Debates of 2016, I thought that Cruz did better than Trump when the New York values question came up and Trump said that New York values meant to him rebuilding New York City after 9-11. Any city or town would do that. Some of my own values are different from the majority in Texas, but when the hurricane hit Houston and other places in Texas last year I was advocating for much higher income tax refunds for the Texans (and others) who were the victims of those disastrous hurricanes including Hurricane Harvey. I did not think that Cruz would make a good president, but I have to give him credit. And I was not for Hillary Clinton who made some campaign mistakes and lost (Russia…Trump's Russia affiliations will be addressed soon and I hope that we can accept proof together as one people).
Take the time to read some of my other articles in Jewish Business News and let's stop things that remind us of the old days when people said that a Catholic could not be president (John F. Kennedy and Alfred E. Smith) and that the Pope would control America. Even as I write this article, a Texas school superintendent resigned for making a racist comment (about a Houston Texans quarterback) and people probably thought they could get away with it under Trump we trust. And a Texas town granted permission for a Muslim cemetery (Farmersville). I just wish that Fox News, the Republicans, and Rush had gotten the vast majority of Texans a larger income tax refund.
Trump news is that a small piece of his fence just went up. Have you checked it out? These are things for Texas volunteers to know.