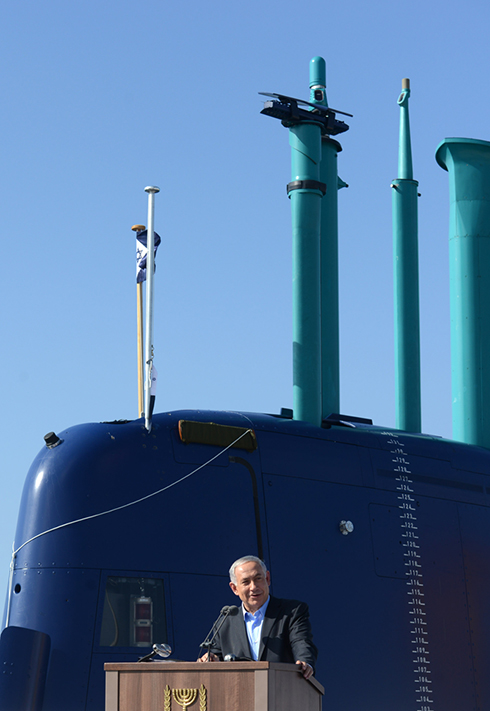 Submarine Scandal: Attorney David Shimron allegedly told state witness Miki Ganor that he would get Prime Minister Benjamin Netanyahu involved in a deal to purchase submarines for the Israeli Navy from German conglomerate ThyssenKrupp.
Police suspect a series of crimes was committed surrounding the deal, including bribery and money laundering.
Please help us out :
Will you offer us a hand? Every gift, regardless of size, fuels our future.
Your critical contribution enables us to maintain our independence from shareholders or wealthy owners, allowing us to keep up reporting without bias. It means we can continue to make Jewish Business News available to everyone.
You can support us for as little as $1 via PayPal at office@jewishbusinessnews.com.
Thank you.
While Attorney General Avichai Mandelblit has repeatedly stressed the prime minister was not involved in the affair, recent reports indicate the police want to question Netanyahu and hear his version of events as part of an investigation commonly referred to as Case 3000.
After questioning other suspects in the affair, several of them with close ties to the prime minister, police have been trying to get approval from the attorney general to question Netanyahu himself, so far unsuccessfully.
Ganor, a main suspect in the case who became a state witness, told police investigators that he hired the services of Shimron—Netanyahu's cousin, personal lawyer and close confidant—because of his ties to the highest echelons of Israeli leadership, particularly his close ties to the prime minister.
According to Ganor, in order to maintain secrecy and conceal the identity of those involved in the deal, he and Shimron used code names when discussing the matter.
Netanyahu was dubbed "the friend," while attorney Yitzhak Molcho, Shimron's partner and brother-in-law, who also until recently served as Netanyahu's special envoy on diplomatic affairs, was referred to as "the brother-in-law."
Ganor claimed that in one of his conversations with Shimron, he asked the lawyer if there were any progress in his work to promote the deal between ThyssenKrupp and Israel's Defense Ministry. To that end, he asked Shimron to get Netanyahu involved.
Shimron, Ganor said, responded with: "I'll ask the brother-in-law, he'll talk to the friend."
According to another testimony gathered by the police, Shimon and Netanyahu met in Caesarea to discuss the submarine deal. Shimron then allegedly updated Ganor on the meeting.
Ganor's testimony has already put several senior Israeli officials in the hot seat, including former Navy commander Elizer Maron, former deputy national security adviser Avriel Bar-Yosef, Netanyahu's former bureau chief David Sharan, and former minister Eliezer Sandberg. Shimron and Molcho are also suspects in the case.
Shimron has vehemently denied involving Netanyahu in the affair, while the prime minister has yet to provide his own version of events.
Police investigators cannot at this stage point to any concrete action Netanyahu may have allegedly taken to help Shimron promote the deal, but they believe there is still justification to collect his testimony, and, if the need arises, question him under caution.
"This issue has existed almost since the beginning of the investigation," a law enforcement official said, "and it appears to be just a matter of time before this move is approved by the attorney general."
Neither the Prime Minister's Office nor Shimon have responded to this report. On Sunday, in response to reports police wish to question him, the PMO said that "time and again, there are forced attempts to tie the prime minister to the submarine affair; while the Justice Ministry has already made it clear the prime minister is not suspected of anything."
By Ynet News