Published On: Thu, Mar 24th, 2016
Trail Mix: AIPAC Edition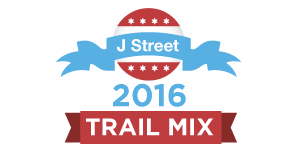 Monday was a big day for discussion of the Middle East and the Israeli-Palestinian conflict, as every one of the presidential candidates from the two major parties made speeches totally devoted to the issue, four of them at the AIPAC Policy Conference in Washington, DC. We heard a lot of hawkish platitudes and Obama-bashing — but also some support for the two-state solution and the importance of diplomacy.
Donald Trump's speech was the most anticipated of the day. He mostly followed the same lines as his primary competitors — with no further mention of American "neutrality" in the Israeli-Palestinian conflict, and only a little talk about the need to broker an Israeli-Palestinian peace deal.
Trump took his usual line on the Iran deal, bashing it as "catastrophic." He also won shockingly big applause from a friendly audience for his harsh attacks on the legacy of President Obama and Secretary Clinton:
"With President Obama in his final year — yea! He may be the worst thing to ever happen to Israel, believe me, believe me. And you know it and you know it better than anybody….You see, what President Obama gets wrong about deal-making is that he constantly applies pressure to our friends and rewards our enemies. And you see that happening all the time, that pattern practiced by the president and his administration, including former Secretary of State Hillary Clinton, who is a total disaster, by the way. She and President Obama have treated Israel very, very badly."
Trump claimed that Israel has always wanted peace, while the Palestinians have rejected it at every turn. He maligned the Palestinians as followers of a "culture of hatred."
Ultimately, the biggest news from Trump's speech was how well-received he was by the AIPAC crowd, despite his controversial and hateful rhetoric throughout his campaign. While a number of attendees walked out, many others gave Trump several standing ovations.
Republican candidates Senator Ted Cruz and Governor John Kasich refused to be outdone by Trump and made sure to tack as far to the right as possible — bashing the Iran deal, the Palestinians and the president.
Governor John Kasich reminded the audience that he has called for the suspension of the Iran deal due to Iran's ballistic missile tests. And as he has before, he placed all blame for the Israeli-Palestinian conflict squarely on the shoulders of Palestinians:
"If they truly want peace with Israel, then Palestinians cannot continue to promote a culture of hatred and death. We must make it clear that we will not tolerate such behavior. And I do not believe there is any prospect for a permanent peace until the Palestinian Authority and their friends in Hamas and Hezbollah are prepared to take real steps to live in peace with Israel and recognize Israel's right to exist as a Jewish state, and this violence is unacceptable."
Senator Ted Cruz declared to applause that "Palestine has not existed since 1948" and accused Palestinians of fostering "a genocidal hatred against Jews, " telling the crowd:
"All of us here understand that Israel is not the barrier for peace. It is the Palestinian Authority and the so called unity government with Hamas that celebrates the murder of women and children and compensates the terrorist attacks."
Cruz continues to insist that President Abbas' Fatah party and Hamas are part of a joint unity government, which isn't true.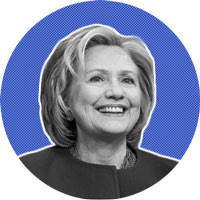 During a morning session at AIPAC, Secretary Hillary Clinton touted her unwavering support for Israel, promising that as president she would take the US-Israel alliance "to the next level." Attempting to position herself in sharp contrast to some of the prior statements by Republican frontrunner Donald Trump, she rebuked those who believe it's possible for the US to partially disengage from the Middle East, saying that "It would be a serious mistake for the United States to abandon our responsibility, or cede the mantle of leadership for global peace and security to anyone else."
Clinton also sharply denounced BDS on college campuses and international efforts to delegitimize Israel. She slammed Iranian support for terror and extreme hostility to Israel — but also defended the accomplishments of the nuclear deal with Iran, citing her own role in the diplomacy that led to the agreement:
"For many years, we've all been rightly focused on the existential danger of Iran acquiring a nuclear weapon. After all, this remains an extremist regime that threatens to annihilate Israel. That's why I led the diplomacy to impose crippling sanctions and force Iran to the negotiating table, and why I ultimately supported the agreement that has put a lid on its nuclear program. Today Iran's enriched uranium is all but gone, thousands of centrifuges have stopped spinning, Iran's potential breakout time has increased and new verification measures are in place to help us deter and detect any cheating. I really believe the United States, Israel and the world are safer as a result."
Clinton acknowledged that many Israelis don't believe Palestinians are a partner for peace, but spoke of the urgent need for a two-state solution — and cited settlements and Palestinian incitement as obstacles to reaching a solution.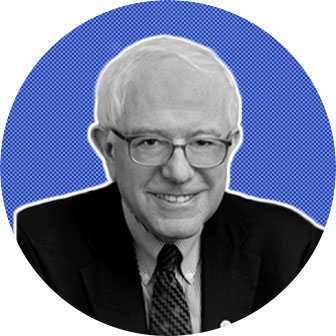 The one candidate who chose not to attend AIPAC, Senator Bernie Sanders, gave his own foreign policy speech on the campaign trail.
In his most extensive discussion of the Middle East in the campaign to date, Sanders' bottom line was clear: To be a true friend to Israel, the US needs to help lead the way to a two-state resolution of the Israeli-Palestinian conflict — and needs to be a friend to the Palestinian people as well.
He affirmed that peace will only come with major compromises from both sides. Palestinians must unconditionally recognize Israel's right to exist, and refuse to countenance violence against Israelis. Israelis must agree to end the occupation of the West Bank and the blockade of Gaza — and recognize Palestinians' right to self-determination and independence in a state of their own.
The Senator showed that he has little patience for settlement expansion and little sympathy for the arguments of the Netanyahu government:
"I join much of the international community, including the US State Department and European Union, in voicing my concern that Israel's recent expropriation of an additional 579 acres of land in the West Bank undermines the peace process and, ultimately, Israeli security as well. It is absurd for elements within the Netanyahu government to suggest that building more settlements in the West Bank is the appropriate response to the most recent violence. It is also not acceptable that the Netanyahu government decided to withhold hundreds of millions of shekels in tax revenue from the Palestinians, which it is supposed to collect on their behalf."
In strongly defending the Iran deal, Sanders did not hesitate to stand up for the effectiveness diplomacy, and to claim his support for diplomacy as the truly pro-Israel position — citing dozens of Israeli military and security experts who supported the agreement.
Read more about:
2016 election
,
AIPAC conferance
,
Donald Trump
,
Hillary Clinton
,
J street
,
Ted Cruz
About the Author