–
"Me, Inc.: Build An Army Of One, Unleash Your Inner Rock God, Win In Life And Business" will be released on October 21.
Please help us out :
Will you offer us a hand? Every gift, regardless of size, fuels our future.
Your critical contribution enables us to maintain our independence from shareholders or wealthy owners, allowing us to keep up reporting without bias. It means we can continue to make Jewish Business News available to everyone.
You can support us for as little as $1 via PayPal at office@jewishbusinessnews.com.
Thank you.
Gene Simmons wants to share his business-world-knowledge and financial expertise. The bassist of famed rock band Kiss/buoyant entrepreneur is releasing a marketing advice book, titled "Me, Inc.: Build An Army Of One, Unleash Your Inner Rock God, Win In Life And Business", on October 21, via Dey Street Books, an imprint of HarperCollins Publishers.
"The quintessential self-made man, master of brand identity, New York Times bestselling author, and award-winning executive — KISS' Gene Simmons —shares his manifesto for business success." The official book description reads.
"Kiss did not become one of the most successful rock bands in history by accident. Long before they first took the stage, Gene Simmons and Paul Stanley had a clear-cut operating plan for their business. Over the past forty years, Kiss has sold over 100 million CDs and DVDs worldwide and manages over 3, 000 licensed merchandise items. In addition to Kiss, Simmons' lucrative ventures include two hit reality shows, a professional sports team, a restaurant chain, and a record company. A recipient of the Forbes lifetime achievement award, this brilliant executive runs all of his businesses on his own — no personal assistant, few handlers, and as little red tape as possible."
The book will offer aspiring entrepreneurs tools and advice on how to build a business strategy, using thirteen "specific, easy-to-understand" principles for success, drawn from Simmons' own triumphs and failures.
Among his business ventures, Simmons was a principal investor in "Gene Simmons' Toyota" in Newbridge, New Jersey, and he served for two years in a marketing and publicity role with the Indy Racing League. He also starred in a long-running reality show on A&E, titled "Gene Simmons Family Jewels".
Simmons' book comes out just 2 months after the release of Kiss frontman Paul Stanley's memoir, titled "Face the Music: A Life Exposed", in which the singer argues that Simmons wasn't the creative force behind Kiss' success, as the long-tongued bassist has always claimed, stating that his bandmate was actually always more concerned with the Gene Simmons business, rather than the band's. Other managers, and not Simmons, asserts the singer, encouraged diversification into a wide and lucrative range of merchandising opportunities.
"He was no marketing genius." Stanley maintains in the book. "He just took credit for things. It was unwarranted, selfish, and hurtful, and there was no way to excuse it. Calculated strategist? Sure. Genius? No."
Despite these claims, Stanley said in a recent interview that he and his longtime bandmate and business partner are on good terms with one another. "We've always been very honest with each other, " he insists.
If the duo's continued work with the popular band is anything to judge by, then Stanley's interview claim is most likely right. Simmons and Kiss have just launched a co-headlining summer tour of North America with Def Leppard, which started on June 23rd, in West Valley City, Utah.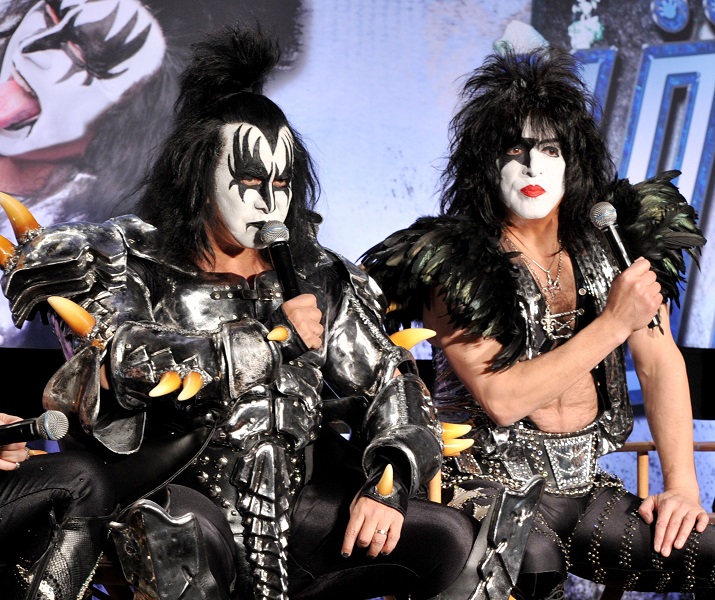 The band's latest greatest hits package, "Kiss 40", which presents one song from every major album release by the group and a selection of live recordings, recently debuted at No. 30 on the US Billboard 200.
Gene Simmons was born Chaim Witz in Haifa, Israel, and emigrated with his mother to the United States in 1957, when he was just eight years old.
Simmons founded the band Kiss in 1973, with Paul Stanley, Ace Frehley and Peter Criss. From the outset, the hard-rock band members were focused on designating themselves from other, more conventional acts of the time, wearing black and white face paints and the most flamboyant stage outfits, with their stage act featuring such spectacular effects as (simulated) fire breathing on the audience, and exploding instruments.
The formula certainly worked, with Kiss becoming one of the World's leading rock bands, selling in excess of forty million albums in the United States alone, as well as one hundred million records worldwide, making for one of the best-selling bands of all time.
–