–
Khodorkovsky's  revealing novel , "Meine Mitgefangenen" ("My Fellow Prisoners") will  be released  within the coming days.
–
Please help us out :
Will you offer us a hand? Every gift, regardless of size, fuels our future.
Your critical contribution enables us to maintain our independence from shareholders or wealthy owners, allowing us to keep up reporting without bias. It means we can continue to make Jewish Business News available to everyone.
You can support us for as little as $1 via PayPal at office@jewishbusinessnews.com.
Thank you.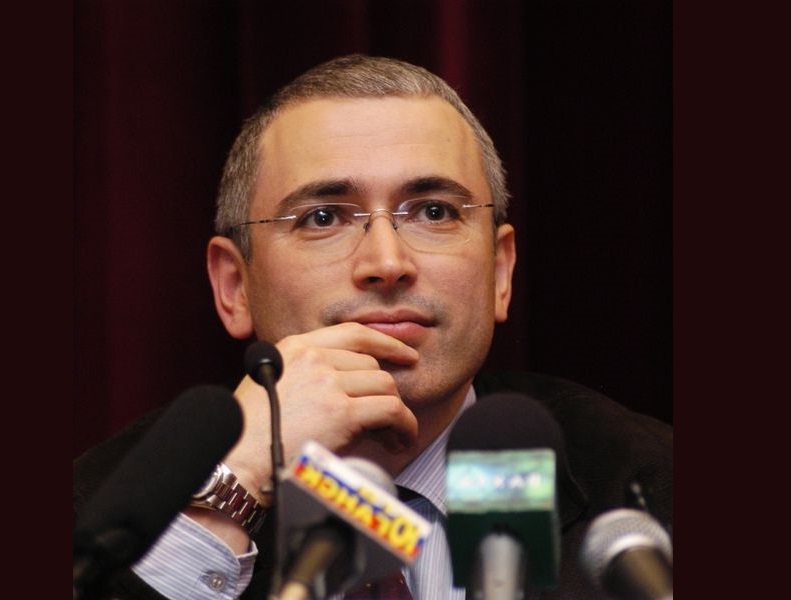 –
Prior to the launch of  his new book  in German, entitled  Meine Mitgefangenen (My Fellow Prisoners) Mikhail Khodorkovsky made the  short journey from his new home in Geneva to the city of Berlin to take part in an event  held at  the Literaturhaus in the city.
During the course of the event Khodorkovsky was interviewed by Professor  Wolfgang Eichwede, deputy president of the German Society on Eastern European Studies.
To an attentive audience Khodorkovsky provided insights  on the more than ten years  in prison, going on to explain that the conventions of Russian society and those in  Russian prisons are very alike, based around corruption, which he went on to  describe as "the supporting pillar of the Russian system but will eventually lead to an economic disaster."
Khodorkovsky wound up the question and answer session by  stating that  the Russian people "have to act and must not wait for a rescue from outside before  thanking the audience made up of around one hundred  guests from the world  of  politics, literature and media, among them Nobel literature laureate and former German Foreign Minister Markus Meckel for their  interest in a  promoting a just and democratic Russia.
During the course of the evening, selected chapters from Khodorkovsky's  book were read by renowned and award winning actor Ulrich Noethen.
–
–
"Meine Mitgefangene" will be published by German publishing house Galiani. The novel  is based around  21 short stories in which Khodorkovsky relates his experiences of meeting a number of  prisoners he encountered  during the  more than ten  years that he spent in various prisons around Russia.
Some of these often disturbing  stories were published in the Russian language magazine "The New Times" from August 2011 while Khodorkovsky was still incarcerated, with the German Sunday newspaper "Frankfurter Allgemeine Sonntagszeitung"  also taking them up, after having them translated into German, to the great interest of the public.
In 2004, Khodorkovsky was the wealthiest man in Russia and one of the richest people in the world, ranked 16th on Forbes list of billionaires.
Mikhail Khodorkovsky sprang to prominence in the business world as a Moscow student under Mikhail Gorbachev's heady days  of glasnost and perestroika during the Nineteen Nineties.
While only in his thirties Khodorkovsky succeeded in  established a number of successful industrial concerns from the privatization of former state assets under the umbrella of his holding company  Yukos , particularly based around  the development of oil fields in  Siberia, under the free hand of  Putin's predecessor Boris Yeltsin.
–