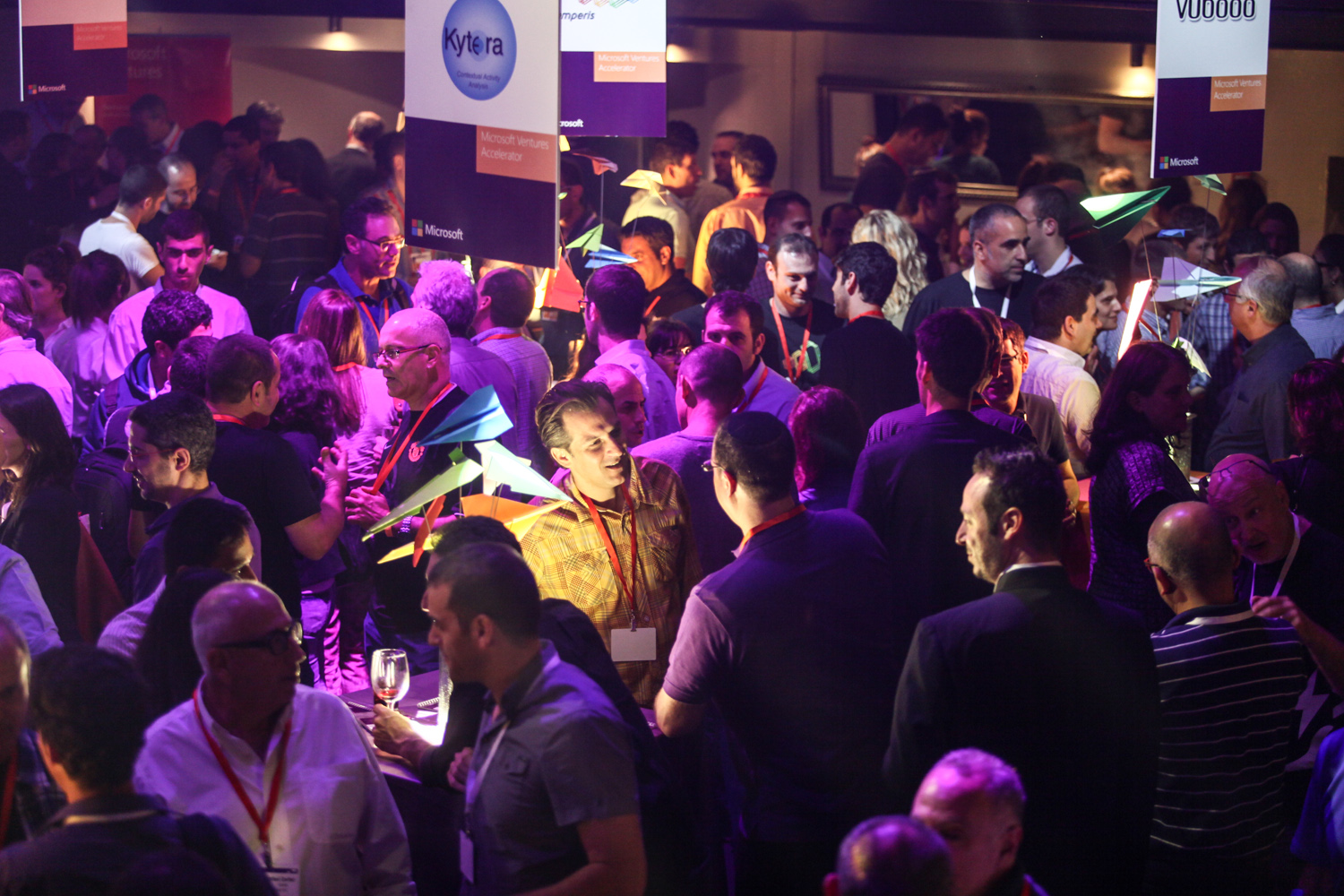 This week: Mingling at the Microsoft Ventures Tel Aviv Accelerator
The success of start-up accelerators like Y Combinator, Tech Stars and DreamIt has spawned hundreds of clones, including more than 15 in Israel. Now the Israeli R&D Centers of Fortune 50 giants like IBM, Citibank, Cisco, Orange innovation and Microsoft are crashing the Accelerator party, nurturing startups in search of an illusory dream: street cred. Demo Day This week at Microsoft Israel reflected some of the unique dynamics of corporate Accelerators- experienced founders, more funding, finished products and existing customers.
Please help us out :
Will you offer us a hand? Every gift, regardless of size, fuels our future.
Your critical contribution enables us to maintain our independence from shareholders or wealthy owners, allowing us to keep up reporting without bias. It means we can continue to make Jewish Business News available to everyone.
You can support us for as little as $1 via PayPal at office@jewishbusinessnews.com.
Thank you.
Corporate accelerators are a recent phenomenon, both in Israel and globally. Microsoft selected Israel last year to launch its very first accelerator program. The company takes no equity, with the emphasis on business and technical mentoring. This helps attract experienced entrepreneurs with products already in development. In fact, while the average age of founding teams in Y Combinator's latest group is 28 (up from 26 two years ago) the average at Microsoft is 35.
Although not nearly as successful as Y Combinator (Ingrid Lunden of TechCrunch estimates the value of Y Combinator's portfolio at more than $15 bilion), Microsoft is pleased with the outcome and has now launched accelerators in Bangalore, Beijing, Berlin and London, with programs planned for Seattle, Moscow, Paris and Rio de Janeiro. Rahul Sood, General Manager of Microsoft Ventures, identifies Microsoft's potential contribution. "The number one thing we can do is help them build and acquire a customer base. Show me satisfied customers and I promise they will find funding". In fact, half of the companies in this batch at Micosoft Israel raised $1 million or more by Demo Day.
 Zack Weisfeld , the Senior Director of Strategy and Business Development, Microsoft Israel R&D Center
Taking a page from Microsoft, other prominent corporates are choosing Israel to launch their world-first accelerator programs, albeit with a differentiation strategy. Citibank has just added an Accelerator, called Basecamp TLV, to its Israel Innovation Center. It covers all areas within financial technology, such as payments, markets, trading and analysis. Cisco has announced a Cloud-focused Accelerator, with the added benefit of $50, 000 in seed funding. IBM will operate an Accelerator in Haifa, drawing on the technical talent pool associated with Technion and University of Haifa.
One strategy these Accelerators should consider is integrating the support of other multinational corporations. For example, Microsoft collaborates with eBay, Comcast, Sears, Saatchi & Saatchi, Y&R and Deutsche Telekom.
"The rising number of major multinationals participating in the program and the significant amounts of funding already achieved all point to the increasing success of our program, " says Director of Microsoft Ventures Accelerator, Hanan Lavy.
Meet the recent graduates of Microsoft Ventures Tel Aviv Accelerator:
1. Appixia 
Allows small and medium sized retailers to build and promote their mobile presence.
2. CellMining 
Disrupts the way mobile operators monitor and fix network failures by providing a crowd-sourced optimization platform.
3. ConferPlace
Delivers a full conference experience online, enabling users to take part in any event anywhere in the world without leaving their desk.
4. KitLocate 
Location-detection tool using almost no battery power, enabling efficient location-based notifications and recommendations.
5. Kytera
Uses sensors to track seniors' activity patterns at home, with cloud-based big-data analytics to dynamically learn their routine and detect distress situations.
6. MetalCompass 
Augmented-reality gaming system for app-enabled devices that enable real-world game-play.
7. Navin
Software-based, crowd-sourced platform/app for indoor navigation.
8. Roojoom
Content management system that enables roughly 5x more online content consumption.
9. Semperis 
Enterprise security tool to manage Identity Platforms (Active Directory).
10. Vubooo
Interactive engagement platform for sports fans to communicate during live sporting events using emoticons.
–