–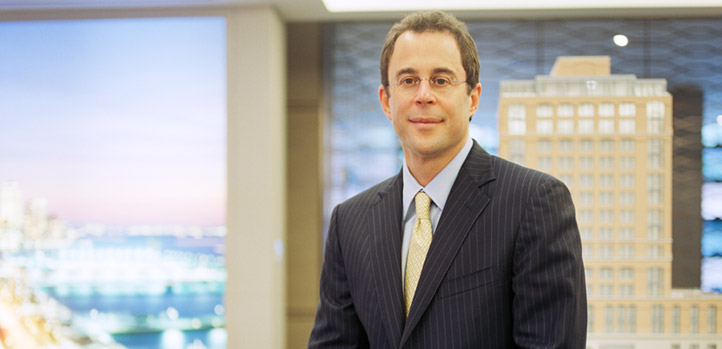 Jeff Blau CEO of Related Companies
Please help us out :
Will you offer us a hand? Every gift, regardless of size, fuels our future.
Your critical contribution enables us to maintain our independence from shareholders or wealthy owners, allowing us to keep up reporting without bias. It means we can continue to make Jewish Business News available to everyone.
You can support us for as little as $1 via PayPal at office@jewishbusinessnews.com.
Thank you.
–
A regulatory filing with the Securities and Exchange Commission reveals that an Arbitration Panel has issued its ruling in the latest episode of an activist shareholder battle that has been ongoing since early in the year between hedge fund firm Corvex Capital acting in partnership with the privately held developer the Related Companies, against giant publicly listed real estate real estate investment trust, CommonWealth REIT led by Barry and Adam Portnoy.
Unusually, the Arbitration Panel's ruling has been praised by both sides in the dispute, though it actually looks like Corvex and their Related friends probably have more cause to celebrate than CommonWealth REIT itself.
As is frequently the case in real estate matters it is a complicated story, so do fasten your seat belts and hold on to your hats as we take you through it all below.
Earlier this year, hedge fund Corvex Capital, run by Carl Icahn graduate Keith Meister, and the giant New York real estate developer Related Companies, controlled by Stephen Ross, announced in February they had purchased nearly 10% of CommonWealth REIT's shares, with Related's CEO Jeff Blau leading the charge.
The two investors then made a number of demands via a letter dated Feb. 26th to CommonWealth REIT's Board of Trustees, which was made public. When making the announcement they also criticized the company, and threatened to unseat its board and to buy all its outstanding shares at "a significant premium". Specifically, the Corvex Management and Related Companies letter also delivered a scathing critique of the management structure and financial policies at CommonWealth REIT.
–
Adam Portnoy
–
After Commonwealth tried to dilute them down with an equity offering, in April the activist shareholders then launched a proxy solicitation to remove the entire Board of Trustees (Trustees are the equivalent of Directors for a real estate trust), who until this point were alleged to have been in the pockets of the managers of the REIT, father and son Barry and Adam Portnoy who have controlled the management of the REIT for years.
Then after the investor group announced in June that the campaign was successful with a 70% vote to oust the board of trustees Commonwealth REIT parried by declaring the methods used to have been invalid.
It seems the formal procedural rules they had previously put in place for any such solicitation were so unusually strict it was practically impossible for anyone to abide by them. Under the articles of CommonWealth REIT's incorporation this then led to compulsory arbitration to decide the issue.
Essentially the Arbitrators have now found in favour of CommonWealth REIT but purely on matters of form, as the solicitation just carried out indeed did not meet the existing rules for such a process. Thus the panel which was chaired by, California-based, lawyer Henry J. Silberberg ruled that the consent solicitation initiated by the investors indeed "was not properly conducted and cannot be validated."
More importantly however, the Arbitrators also determined that on matters of substance the trust's bylaws "erect a complex wall of procedural hurdles, " and said that Corvex and Related can start a new effort this time under new guidelines established by the panel.
Among the rules the panel criticized was a bylaw adopted in March that required a shareholder to own at least 3% of the company for a minimum of three years before launching an effort to overhaul the board of trustees. Pretty drastic stuff perhaps, in today's era of transparency and shareholder enlightenment.
Hence the panel ruled Corvex should have the right for the whole process to be repeated, but this time under procedural rules that are indeed fair. Accordingly the Arbitrators have laid down a new set of rules which it considers to be fair and appropriate and also said it will scrutinize any such process to make sure their proposed new rules are indeed followed.
"No party may take any action that is intended or designed to impede or frustrate, or that has the effect of impeding or frustrating, the new solicitation process established herein, " the Panel said in its ruling.
While CommonWealth REIT did welcome the decision in their filing with the SEC, Corvex Capital on the other hand has reason to be delighted, saying as follows in a press release with their partner Related Companies:
"The Arbitration Panel's decision is a tremendous victory for shareholder democracy and for all CommonWealth shareholders. With the path cleared by the Panel's decision, we firmly believe it is a foregone conclusion that shareholders will take back CommonWealth. We are heartened by the previous endorsement of the holders of more than 70% of the outstanding shares who voted to remove the entire board, as well as by ISS and Glass Lewis.
ISS (Institutional Shareholder Services) and Glass Lewis are the two heavyweight institutional investor advisors on matters of corporate governance and their recommendations carry a lot of weight within the professional investment community.
–
Stephen M. Ross / Getty
–
So what happens next? The activist investors have confirmed in a statement that they will "expeditiously" notify CommonWealth REIT, its Trustees and the Arbitration Panel of their intent to pursue a new solicitation to effect change and file a preliminary consent solicitation statement with the SEC to get the ball rolling.
Adding fuel to the fire of the battle there has also been ongoing substantial criticism over very large fees charged for managing Commonwealth REIT by the Portnoys, which they do through an external management company under their majority control, and which has charged the REIT some US$336 million in such fees in the last five years.
In response CommonWealth REIT has already committed to improving that relationship so that such fees are partly based on performance by being tied to the price of the stock. It may however be a case of too little too late to assuage some of their angry shareholders.
Democracy can be a messy business and so, in particular, can shareholder democracy but at least now this conflict seems to be procedurally at least on course for a properly defined resolution. With the previous 70% vote in their pocket the outcome of the next round is more likely than not to favour Corvex and Related Companies at this point, too, one would have to think, unless the Portnoys can pull another rabbit out of the hat along the way.
Currently the market cap of CommonWealth REIT is about US$2.8 billion, with its shares trading at around US$24 per share on the New York Stock Exchange. The shares jumped nearly 50% in February from around US$16 per share after Corvex and Related announced their initial investment and their intentions to go after management in favour of reforms.
According to a presentation they made at the time to CommonWealth REIT shareholders, and which also became publicly available, the shares of the Trust could be worth as much as US$40 per share if it were managed properly, in their opinion.
With Monday's latest announcement the shares jumped only by a couple of dollars then gave up about half of the gain later on, hardly earth shattering but the continued overall price support since the dispute started, when the shares jumped 50% initially, likely indicates support within the investment community for the proposition that Corvex and Related may indeed now prevail.
How the end-game turns out is also not yet entirely clear either though, even if they do. Whether by a complete formal take-over bid, which some shareholders may be hoping for, and which Corvex and Related Companies earlier hinted at, or just with a new slate of Trustees (a.k.a. Directors) and changes in management that unlocks the value of the company for everybody, remains to be seen. First they have to win.
–