–
 Paul Reichmann/ photo CP
Please help us out :
Will you offer us a hand? Every gift, regardless of size, fuels our future.
Your critical contribution enables us to maintain our independence from shareholders or wealthy owners, allowing us to keep up reporting without bias. It means we can continue to make Jewish Business News available to everyone.
You can support us for as little as $1 via PayPal at office@jewishbusinessnews.com.
Thank you.
–
Paul Reichmann has died. According to a spokesperson for the family he died on Friday morning at the age of 83.
Paul Reichman was one of five brothers who left Tangier, Morocco to emigrate to Canada. Morocco had been a way-station for the family which had earlier fled from persecution in Vienna.
There he and his brother Albert built up the private development company Olympia and York into what became for a time the largest commercial property company in the world. Later it all collapsed in a sea of debt as the real estate crash of the nineteen nineties reduced rents and drained the company of the liquidity it needed to ride out the storms.
Nevertheless Paul Reichmann changed the commercial property map of three cities – Toronto, New York and London with three massive developments.
In Toronto he built the First Canadian Place complex smack in the middle of downtown, emulating successfully the earlier construction by the Bronfman family of the Toronto Dominion Center across the street.
–
First Canadian Place in Toronto
  –
In New York he built the Cesar Pelli designed World Financial Center on landfill at Battery Park. This was only across the road from the World Trade Center itself, but at the time was considered akin to being somewhere closer to the moon.
–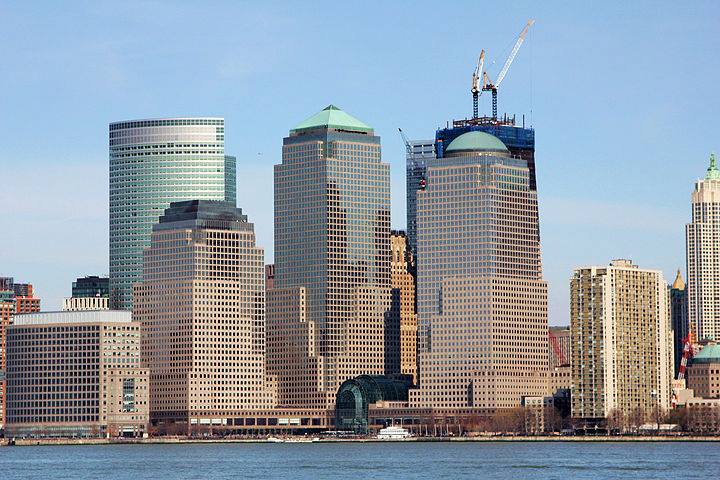 World Financial Center in New York
 –
In London he commenced the massive Canary Wharf  development in the east end of London which, when it was finished, totally shifted the financial center of gravity of the city. In the process he lost control of the project when it was still unfinished, after his company was forced into bankruptcy in 1992. He bought back in to the project a few years later though, only to hit the wall of the next major recession, triggered by the 2008 financial crisis, when he lost his stake a second time to a bank repossession.
–
 Canary Wharf  in London
–
As a life-long observant Jew his company Olympia and York always closed down completely for the Sabbath.
Reichmann was born in Vienna in 1930 to Samuel Reichmann, a wealthy egg merchant and his wife René. the family were Orthodox Jews who came originally from a small town in Hungary, but his father found success in Vienna as a merchant.
The family escaped the Nazi occupation of Austria, the "Anschluss", which took place on March 12th, 1938 by sheer chance as they had left, on that very fateful day in Austrian and European history, to visit Paul's grandfather in Hungary who had suffered a stroke.
Giving up their lives in Vienna at a stroke, they made their way from Hungary to Paris, initially settling there like many such emigrés. The Reichmann family were forced to flee again when France fell to the Germans, eventually making their way to the neutral city of Tangier. In Tangier, the family prospered as Samuel became a significant currency trader. After the war was over, by then a teenager Paul left home to study religion first in Britain and then in Israel, and he became a Rabbi. In 1953 he returned to Morocco to become a shirt retailer and to marry his wife Lea, and then in 1956 the whole family upped stakes one more time to come to Canada where Paul began to build his real estate empire from scratch.
–