–
Milner has persuaded Internet billionaire Jack Ma to join him in sponsoring the multi-million dollar prize fund that he founded in conjunction with Google's Sergey Brin and Mark Zuckerberg of Facebook.
–
Please help us out :
Will you offer us a hand? Every gift, regardless of size, fuels our future.
Your critical contribution enables us to maintain our independence from shareholders or wealthy owners, allowing us to keep up reporting without bias. It means we can continue to make Jewish Business News available to everyone.
You can support us for as little as $1 via PayPal at office@jewishbusinessnews.com.
Thank you.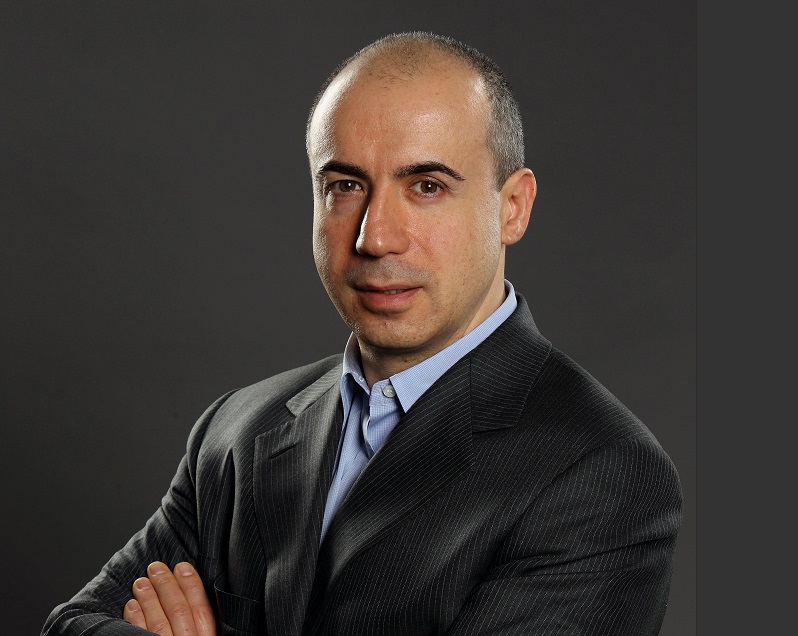 Yuri Milner / Getty
–
Yuri Milner the Russian born entrepreneur and venture capitalist, founder of investment capital firms Mail.ru Group and DST Global, with investments in some of the Internet's largest players including Facebook, Zynga, Twitter and Alibaba has pulled off a major coup on behalf of the life science prize fund that he established earlier this year.
Milner succeeded in bringing the former CEO of Alibaba Jack Ma and his wife Cathy Zhang into his group of sponsors of the Breakthrough Life Sciences Prize fund. Thanks to the latest injection of capital, the fund will now be able to award a generous $3 million prize to each of the eleven winning scientists.
Among the other cofounders and sponsors are Art Levinson, chairman of Apple, Sergey Brin, Brin's (currently estranged) wife Anne Wojcicki, Mark Zuckerberg of Facebook and Zuckerberg's wife Priscilla Chan.
The Breakthrough Prize in Life Sciences was launched to recognize and award excellence in research, particularly aimed towards curing noncompliant diseases with the aim of extending human life as well as its qualities. The Breakthrough Prize in Life Sciences is regarded as being amongst the largest scientific awards in the world
According to the fund chairman Art Levinson it was Milner, with his passion and drive, which was the catalyst who brought together Zuckerberg and Brin to form the fund.
In 2012 Yuri Milner achieved another of his personal goals, when he established the Fundamental Physics Prize, and thanks to his specialist knowledge was among the jury that selected the first nine winners of the prize for 2012. Each of the winners received a $3 million award, making it the largest academic prize in the world, more than the Nobel Prize and the equally prestigious Templeton Prize combined.
From 2013 onwards, a single award world will be selected by the previous winners will join the club. The 2013 Fundamental Physics Prize winner, Alexander Markovich Polyakov, was handed his prize at a ceremony held in March 2013 at the Geneva International Conference Centre. Hosting the ceremony was veteran Hollywood actor and well-known science enthusiast Morgan Freeman, while opera singer Sarah Brightman and pianist Denis Matsuev performed for the guests, which included most of the members of the international scientific community including Stephen Hawking.
In recognition of his efforts, not just in the field of business but also in philanthropy and the pursuance of excellence in the field of medical research and science, the highly regarded Foreign Policy magazine included Yuri Milner in their first ever "Power List", released in May, 2013 that catalogued the 500 most powerful people on the planet for 2013.
Yuri Milner was born and raised in Moscow, in the former Soviet Union. Milner's father, Bentsion was well known for his role as deputy director at the Institute of Economics of the Russian Academy of Sciences
Milner earned a degree in theoretical physics at Moscow State University, graduating in 1985.
After graduating Yuri began his professional career working at Lebedev Physical Institute, a satellite of the Russian Academy of Sciences, where one of his colleagues was the future Nobel Prize winner, Vitaly Ginzburg.
Thanks to thawing relationships between the East and the West, Yuri Milner was given the opportunity to be among the first exchange students from the former Soviet Union to be granted permission to study in the United States, graduating with an MBA from the Wharton School of Business.
Yuri Milner took his time returning to Moscow spending five years employed at the World Bank in Washington, D.C. specializing in the Russian banking industry which was going through a major expansion, due to the widespread privatization of government holdings.
Milner only returned home to Moscow in every 1995, after being headhunted by one of Russia's first oligarchs Mikhail Khodorkovsky to head his recently formed investment brokerage company, Alliance-Menatep.
Yuri remained with Menatep for two years until he was appointed Director General for another managing investment fund New Trinity Investments. It was during his time at New Trinity that Milner began to recognize the tremendous potential that the Internet could provide.
In partnership with a former colleague, Gregory Finger, Milner approached the US investment fund New Century Holdings for funding. The pair was awarded funding to the value of $4.5 million from New Century with Milner and Finger each personally investing $750, 000.
Milner and Finger's new company, NetBridge were an outstanding success thanks to Milner's knowledge of the rapidly burgeoning Internet business in the United States as well as his ability in transferring a number of U. S. –pioneered internet business models to the Russian market. Among NetBridge' successful online enterprises were merchant portal List.ru, online auction site Molotok.ru (mostly based on eBay), free web-hosting Boom.ru (with much of the business philosophy based on the now defunct GeoCities), and 24×7 (an online shop based on the Amazon.com formula).
In 2010, NetBridge, which by then had changed its name to Mail.ru Group, completed a successful initial public offering on the London Stock Exchange, valued at $5.6 billion.
–