–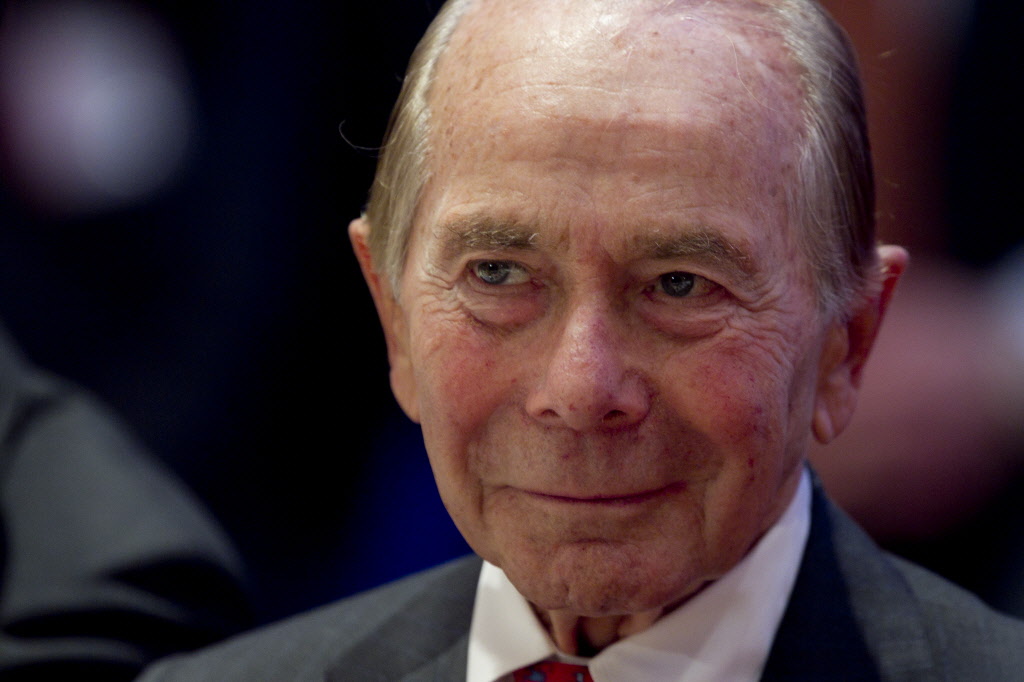 Hank Greenberg / Getty
–
Please help us out :
Will you offer us a hand? Every gift, regardless of size, fuels our future.
Your critical contribution enables us to maintain our independence from shareholders or wealthy owners, allowing us to keep up reporting without bias. It means we can continue to make Jewish Business News available to everyone.
You can support us for as little as $1 via PayPal at office@jewishbusinessnews.com.
Thank you.
/ By Clive Minchom /
Maurice "Hank" Greenberg ran insurance giant American International Group (AIG) for nearly forty years, before it was seized by the US government in 2008 in a rescue operation designed to limit the fall out of the financial crisis gripping the country at the time. AIG had provided insurance for derivatives contracts on a massive scale to the whole financial industry and was threatened with being swept away in the storm.
Yesterday Judge Thomas Wheeler of the U.S. Court of Federal Claims wrote in a ruling that Federal Reserve Bank Chairman Ben S. Bernanke will be required to give testimony in a lawsuit against the U.S. Government being brought by Hank Greenberg over the government's bailout of AIG.
Greenberg's private holding company Starr International had commenced suit for US$25 billion against the U.S. Government in 2011, claiming the assumption of 80 percent of AIG's stock by the Federal Reserve Bank of New York during the financial crisis was an unconstitutional seizure of property that violated shareholders' rights to due process and equal protection of the law.
One of Greenberg's arguments on filing suit was that Bernanke personally played a pivotal role as a key decision maker in the transaction, which therefore makes his testimony of critical importance.
Judge Wheeler now agrees with him: "The court is persuaded that Mr. Bernanke is a key witness in this case and that his testimony will be highly relevant to the issues presented"… he wrote in the ruling… "Because of Mr. Bernanke's personal involvement in the decision-making process to bail out AIG, it is improbable that the plaintiff would be able to obtain the same testimony or evidence from other persons or sources."
Judge Wheeler then stated that out of courtesy to Bernanke he would defer to his schedule in arranging the deposition and that, quite unusually, he would also personally attend it himself, again in deference to Mr. Bernanke.
The Judge pointed out that obtaining testimony from high-level U.S. officials has been a "relatively routine practice" in Federal Claims Court; still-serving officials who have testified in Claims Court proceedings include Secretary of Defense Dick Cheney, Chairman of the Joint Chiefs of Staff Colin Powell, and even William Casey head of the CIA at the time.
Hank Greenberg, who is now 88 and obviously still very vigorous and going strong will no doubt now be very much looking forward to Ben Bernanke's testimony.
"We are pleased that the court has permitted us to take Mr. Bernanke's deposition, " Alanna Rutherford of Boies, Schiller & Flexner, which represents Starr and Greenberg said in an e-mailed statement. "This case seeks compensation for the stock of AIG shareholders that the U.S. government took in 2008 without authorization and without compensation."
Joe Pavel, a spokesman for the Federal Reserve Board in Washington have not commented on the ruling. Allison Price, a spokeswoman for the U.S. Justice Department, also declined to comment.
In another case this week Hank Greenberg is the defendant rather than plaintiff, but he may be making headway there too, in a case where the US Government has sued him and ex AIG CFO Howard Smith for fraud over certain reinsurance transactions.
Their lawyers filed motions yesterday asking a New York court to dismiss charges dealing with the reinsurance deal that occurred ten years ago, or, if not for another judge to be given the case.
The essence of the prosecution's case is that Greenberg and Smith, engineered an allegedly sham transaction crossing over between 1999 and 2000 in order to make its financial statement look better.
So far the transactions at issue have led to several different New York and federal court cases.
In the original criminal case, four former reinsurance company General Re executives and a former AIG executive were found guilty in 2008 of engineering the reinsurance deal. In 2011, however, a federal appeals court threw out the convictions and ordered a new trial, citing errors by the judge.
Then last year, the same former executives admitted to conducting the fraudulent transaction and cut deals with the prosecution to end the criminal case against them.
New York Attorney General Eric Schneiderman is now still pursuing a case against Greenberg and Smith even though it seems two former state governors stepped in and asked him in May to drop it. Then just last month New York's highest court, the Court of Appeals, finally cleared the case for lower court action.
The case against Greenberg was originally filed by former attorney general and governor Elliot Spitzer in 2005 and at the time Greenberg resigned his post as Chairman of AIG because of it.
However, it is reported that the key damage claims of the Government are no longer part of the case anyway because of an unrelated 2008 Court of Appeals ruling.
Hence the motion for summary judgment in the case, filed Friday, which also included a second motion asking that the judge in the case, Judge Charles E. Ramos, transfer it to another judge.
Finally just to whet the legal appetite, it is reported that a third motion seeks a delay in further proceedings until the recusal motion is heard and it is finally clear who the Judge will be if the case should still proceed.
The lawyer for the defendants David Boies of Boies, Schiller & Flexner, New York, is quoted as saying the case should be dismissed "because the attorney general, who no longer seeks damages, should not be allowed to prop up his meritless case by seeking remedies to which he is not entitled as a matter of law. "
In their motion to have Judge Ramos recuse himself, Greenberg and Smith have alleged that during prior proceedings in 2010, Ramos "made a number of statements that continued to demonstrate his partiality against defendants."
Both cases are now out there and the testimony of Ben Bernanke in particular should be something we can all look forward to reading in due course.
Read More about Hank Greenberg:

Hank Greenberg Can Sue US Government For $25 Billion Judge Rules