–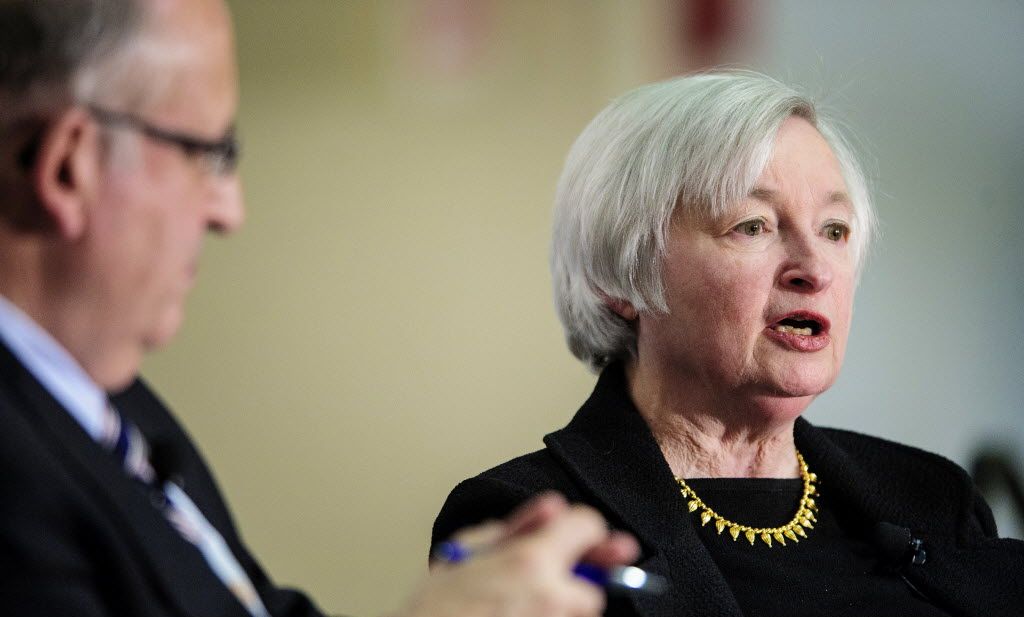 Janet Yellen / Bloomberg
/By Clive Minchom/
Please help us out :
Will you offer us a hand? Every gift, regardless of size, fuels our future.
Your critical contribution enables us to maintain our independence from shareholders or wealthy owners, allowing us to keep up reporting without bias. It means we can continue to make Jewish Business News available to everyone.
You can support us for as little as $1 via PayPal at office@jewishbusinessnews.com.
Thank you.
Ben Bernanke's term as Chairman of the US Federal Reserve Bank expires only next January, yet speculation remains intense, and is increasing, as to who will succeed him as Governor of the world's most important Central Bank. One candidate of course is Stanley Fischer, Bernanke's own former economics professor, who is just finishing up his own stint as successful Governor of the Bank of Israel. When asked Mr. Fischer refuses to rule himself out as a candidate, but otherwise appropriately declines to comment further.
A perhaps stronger candidate lies much closer to home at the Federal Reserve itself, where Janet Yellen already sits as Vice Chairperson of the Fed and is the number two official at the Bank. Indeed Yellen may actually be the favorite to lead the Federal Reserve, according to a survey of economists, however she would need to overcome 100 years of history in which the Central Bank's No. 2 official has never in the past been appointed to the top job.
Bloomberg however reports that, according to a survey taken last week of 54 economists who follow the Central Bank, Yellen, the Fed's Vice Chairman since October 2010, was given pretty good – 65 percent – odds of taking the helm at the Fed in January 2014 when Chairman Ben S. Bernanke's second four-year term expires. Her appointment would also break another 100 year pattern by making her the first woman ever to lead the Fed if it should come about.
"It's often been the case that the members, including the Vice Chairman, are much less prominent than the Fed Chairman, " Bloomberg quotes Allan Meltzer, a professor of political economy at Carnegie Mellon's Tepper School of Business in Pittsburgh and the author of a multivolume history of the Fed. Yet the most important consideration may be the president's relationship with the person he ends up appointing, Meltzer said. "Presidents look for people who will be congenial to them, and the Vice Chairman might be somebody appointed by a previous administration, " he added.
Yellen's Chances : Always the Bridesmaid ?
That is certainly not the case with Yellen, whom Obama himself nominated to be Vice Chairperson in 2010, which means she may have a better chance of getting a job that has eluded all her predecessors.
Speculation over succession at the US Central Bank has only grown after President Barack Obama said last week that Bernanke, 59, has stayed in his post "longer than he wanted, " one of his clearest signals yet that the Fed chief will leave, and firmly leaving him as a "lame duck" Governor in the mean time. Obama hasn't indicated who might replace Bernanke, and there are no signs that the White House has even begun a formal search.
As a result a lot of attention has focused on Yellen, 66 "Among people who have been Vice Chairman, I can't think of any who have been more qualified than Janet, " said J. Alfred Broaddus Jr., former Richmond Fed president. "She's got more experience in the Fed than maybe anybody else you could think of."
Appointment of the Chairman of the Federal Reserve requires Senate confirmation, making it likely that the White House will announce a nomination several months before Bernanke's term officially expires in January, especially in order to avoid market turmoil that might result in the mean time.
Adam Posen, a former member of the Bank of England's rate-setting Monetary Policy Committee, said Yellen's apparent lack of a personal relationship with Obama could be an impediment to her appointment. "It's not a question of qualifications, " Posen said on a panel at a Bloomberg Washington Economic Summit in April. "I'm sure President Obama has high regard for Vice Chair Yellen, but I don't get the sense that they're particularly close."
Personal Relationships
"In general, Presidents appoint Federal Reserve Chair people whom they have some personal relationship with, " said Posen, who is President of the Peterson Institute for International Economics. Posen said today in an e-mail that his views haven't changed since April.
Two other possible Fed picks have close ties to the president. Timothy F. Geithner, 51, Treasury secretary during Obama's first term, was given a 10 percent chance of becoming the next chairman. Lawrence Summers, 58, who was an adviser to Obama on economic policy and served as Treasury secretary under Clinton, was given 9 percent odds, according to Bloomberg's survey. Ferguson, 61, the chief executive of TIAA-CREF, has 7 percent odds, while the Bank of Israel's Fischer, 69, has only an outside 4 percent chance, according to the surveyed economists.
On grounds of policy continuity none of the other candidates potentially spoken of is as closely tied to current policy as Yellen. As Vice Chairman, Yellen led a subcommittee that helped implement the Fed's communications strategy and has never dissented from an FOMC action under Bernanke.
"I certainly think on the grounds of continuity, she is the obvious choice, " Danny Blanchflower, a former Bank of England policy maker and a professor at Dartmouth College, said in a June 21 interview with Kathleen Hays on Bloomberg Radio. "I think she's highly capable and presumably would sail through confirmation."
About Janet Yellen
Janet Yellen was born in Brooklyn, New York, daughter of Anna (née Blumenthal) and Julius Yellen, a doctor. She graduated from Fort Hamilton High School in the Bay Ridge section of Brooklyn and later graduated summa cum laude from Brown University with a degree in economics in 1967. She later received her Ph.D. in economics from Yale University in 1971. Yellen is married to George Akerlof, a Nobel prize-winning economist and professor emeritus at the University of California, Berkeley. Their son Robert is also a professor of economics at Warwick University in the UK.
Janet Yellen was an assistant professor at Harvard in 1971-76 and an economist with the Federal Reserve Board of Governors in 1977-78. Beginning in 1980, Yellen began conducting research at the Haas School and teaching macroeconomics to full-time and part-time MBA students. She is now a Professor Emeritus at the University of California, Berkeley's Haas School of Business, where she was named Eugene E. and Catherine M. Trefethen Professor of Business and Professor of Economics.
Yellen served as Chairperson of President Clinton's Council of Economic Advisers from 1997 to 1999. From June, 2004 until 2010 Yellen was the President and Chief Executive Officer of the Federal Reserve Bank of San Francisco. She became a voting member of the Federal Open Market Committee (FOMC) in 2009. On April 28, 2010, President Obama nominated Yellen to succeed Donald Kohn as vice-chairman of the Federal Reserve System, and later in July the Senate Banking Committee voted 17 to 6 to confirm her.